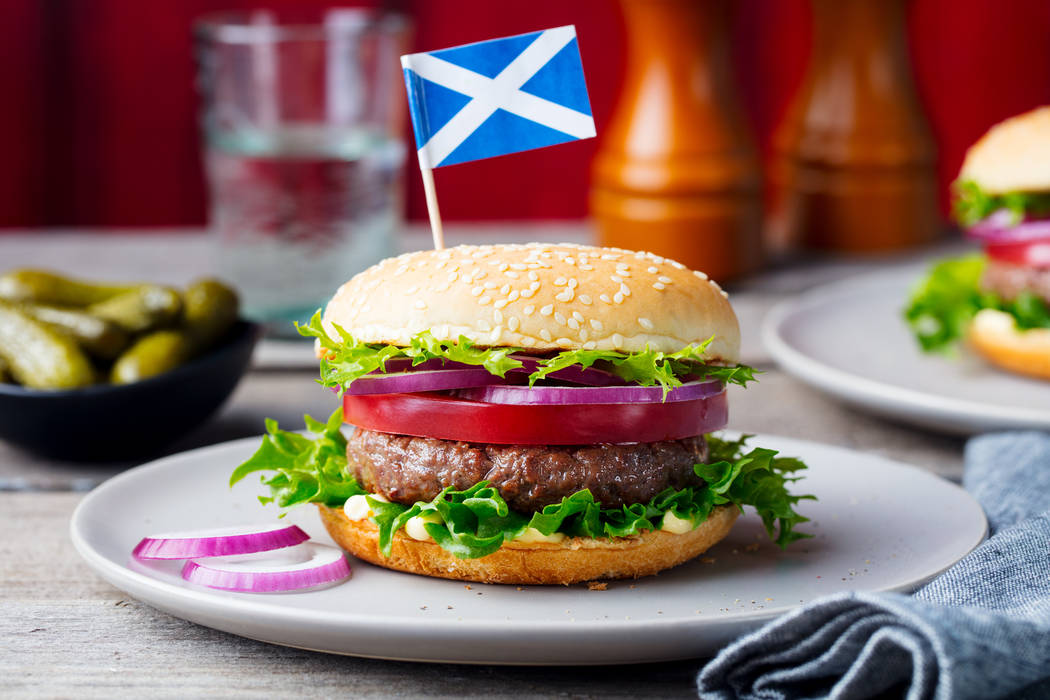 Dec. 12, 2018
Hot news for hot dog lovers from reader John Bisci Sr.: After hearing from his son in St. Louis that Sahlen's of Buffalo, NewYork, had indicated its products were going to be available here, he spotted them at Albertsons at 5882 E. Charleston Blvd. Sahlen's has been a frequent request in Taste of the Town over the years, especially for its snappy natural-casing dogs.
For David Braun, who's looking for reader suggestions for good places to get latkes, Kristine Segura recommended Bagel Cafe at 301 N. Buffalo Drive, where she said they're served with applesauce and sour cream. And CeCi Schreiber recommended the frozen ones at Trader Joe's.
Bad news for Tricia Millwood, who's looking for Yuengling beer: Bill Harper, who expressed an appreciation for it, said it's not available anywhere near Nevada. Yuengling, which says it's America's oldest brewery, is based in Pottsville, Pennsylvania, andTampa, Florida.
More on lefse: Craig Carr found Mrs. Olson's brand in the center freezer section at the International Marketplace, 5000 S.Decatur Blvd.
More reader requests
For the pigs in a blanket he likes to make for New Year's Eve, Bob White is looking for Hebrew National Cocktail Franks — not the frozen ones wrapped in dough.
B. Riemenschneider is looking for spiced apple rings.
Angie Reiss is looking for Ronzoni or any other brand of pastina, which she said is good for infants.
And North Carolina native Linda Valkenburg, missing her country ham biscuits, is looking for a local source for vacuum-packed center-cut country ham slices.
Readers?
Dec. 5, 2018
Richard Rosenheim wrote in search of a half-pound burger from a non-chain restaurant that ranked with those he used to enjoy at the now-closed Triple Play, and readers were ready with suggestions.
Ann Brown recommended the build-your-own Black Angus burger at Lakes Lounge, 2920 Lake East Drive in The Lakes. Grant Turner of The Dillinger Food & Drinkery at 1224 Arizona St. in Boulder City suggested theirs. And Kenny Harper said the former Triple Play chef is at the Tap House, 5589 W. Charleston Blvd.
For Mary Zordani, who's looking for a good coffee cake made with yeast dough, Linda and Joe DiRosa recommended New York Bagel N Bakery, 840 S. Rancho Drive, where the bakery is by Steven Montesano, former owner of Montesano's on Eastern Avenue.
For Phillip Lecato, Helene Campton said she has bought salt-rising bread from Heitzman Pink Box Bakery in Louisville, Ky., via amazon.com, adding that it's "a bit pricey because shipping isn't cheap, but a very good product."
And for Giorgio Cerruti, who's looking for ready-to-bake focaccia dough he used to get at Fresh & Easy Neighborhood Market, Jan Visser emailed that he has used fresh store-bought pizza dough and it worked great.
More reader requests
Gene Schnose is looking for a source for frozen lutefisk, or a restaurant that will be serving it during the holidays.
Hal DeQuardo is looking for Cento diced tomatoes.
Angie Reiss is looking for teriyaki-flavor Rice A Roni, which she used to get at Smith's.
And Larry Urbanek is looking for Alessi brand thin breadsticks, which he used to get at Glazier's, and veal bouillon cubes, Maggi or another brand.
Readers?
Send requests to Heidi Knapp Rinella at hrinella@reviewjournal.com or 702-383-0474 (put "Taste of the Town" in the subject line). Follow @HKRinella on Twitter.