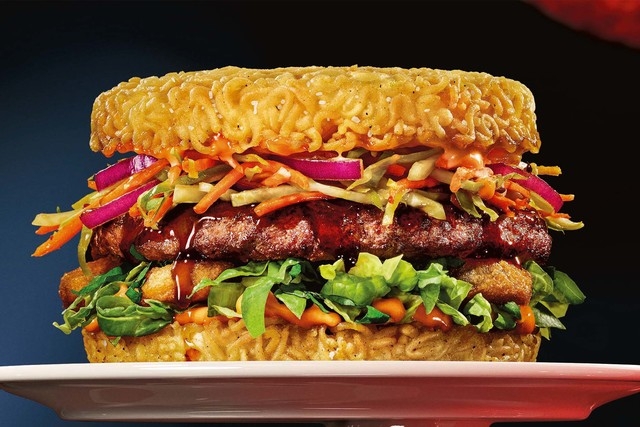 You've no doubt seen them online as a creation of those zany food bloggers. You may have heard that they're available at an admittedly small number of restaurants in Brooklyn, N.Y., and Los Angeles. But have you ever tasted a ramen burger?
Here's your chance — actually, your chance will start Monday. That's the day Red Robin Gourmet Burgers and Brews will debut its version of the ramen burger, the Red Ramen, at its restaurants nationwide, including the four in Southern Nevada.
The Red Ramen starts, as you would imagine, with a ramen bun; if you're not familiar with this creation, that's a crispy bun formed from, believe it or not, ramen noodles. The burger inside is topped with teriyaki and chiu chow aioli, chili-infused shredded cabbage, carrot, onion and fresh basil, and it'll be available only through June 5.
If you're a spring breaker, you'll be happy to know that on April 19, which the company has dubbed Red Ramen Day, college students with student ID can get the Red Ramen and Bottomless Steak Fries for 22 cents, which they figure is the average cost of a pack of ramen. Anyone else can get it for $2.22 off on that day.
Contact Heidi Knapp Rinella at Hrinella@reviewjournal.com. Find more of her stories at www.reviewjournal.com, and follow @HKRinella on Twitter.