November 25, 2009 - 10:00 pm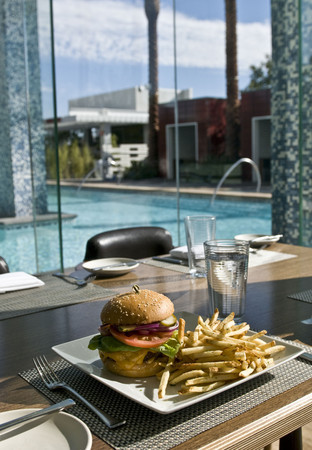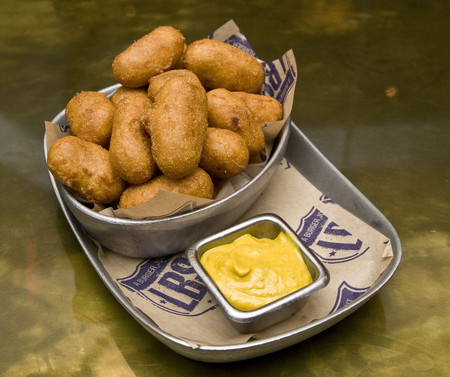 We used to think of it as cheap junk food, the burgers and corn dogs and chicken wings and the like, but such American standards have gone decidedly upscale, and local chefs say it's because of the boomers and Gen X'ers.
"The food my generation's eating is kind of throwback food, reinventions of childhood favorites," said Brian Massie, the 34-year-old corporate chef for the Light Group, which has Fix at Bellagio, Stack at The Mirage and Brand Steakhouse at the Monte Carlo.
There's a practical reason, too, he added.
"I think we're going out more," Massie said. "The foie gras, the super-high-end truffles have a place, but I don't think it's an everyday kind of meal.
"There's less fine dining than there used to be. There's more fun dining now."
Which is not to say that we, as a whole, want those fun, retro foods to be exactly as they were back in the day.
"We've taken ideas like corn dogs and we've upgraded those," said Anthony Meidenbauer, executive chef at LBS: A Burger Joint at Red Rock Resort. "We're taking the idea of the fried, quick stuff and doing it the best way we know how."
"Everyone's taking it to another level by using great product, executing it well and still giving you all those bold, great flavors that you had as a kid, hopefully with a little more cleanliness and freshness," said Kim Canteenwalla, executive chef of Society Cafe at Encore.
Some examples? Fix made its mark with the Kobe slider Bobby Baldwin Burgers, Very Adult Fried Mac and Cheese, and truffle Parmesan steak fries; Stack with a roasted tomato soup with grilled cheese minisandwiches and pigs in a blanket. At LBS, there are mini corn dogs, at Society a lobster roll club sandwich and a grilled ham and cheese made with Kurobota ham and Gruyere.
Inspiration, the chefs said, comes from some fairly unconventional sources. Massie said he'll take one of his mother's old cookbooks and look through it for ideas.
"Maybe I'll do mini beef Wellingtons with truffle puff pastry, just to make it different," he said.
Canteenwalla said he recently got an idea from a server who loves to bake. She brought in some pumpkin whoopie pies with marshmallow-maple cream filling.
"Honestly, that's inspired me to put this dish on the menu and give her love and credit for it and put her name to it," he said.
Kerry Simon, executive chef of Simon Restaurant & Lounge at Palms Place, said his association with fun dining began years ago with a much-lauded meatloaf at a Miami restaurant. He has since become known for tinkering with things including cotton candy and Rice Krispie Treats.
He makes chicken wings, but "we cook them slowly and confit them and put them in a barbecue sauce that's lightly spicy, sweet and sour," he said. "It's great for 'Monday Night Football.' "
Prices for the new interpretations are generally higher than for the back-in-the-day versions, but Meidenbauer said there's a reason for that.
"It's a lot to do with the quality of the product," he said. "We use a lot of all-natural and organic products, as many as we can. Those things cost more, but they taste a lot better, too. When you're reinventing something, you want to do it the best you can."
What's next? More and better interpretations, no doubt. And more whimsy; Simon has started using room-service containers that resemble TV dinners.
"I think the chefs are becoming so creative with this type of cuisine," Massie said. "Wherever you go someone's doing it, so you just have to be on your edge all the time. You have to create, because otherwise people are going to be on your back."
Contact reporter Heidi Knapp Rinella at hrinella@review journal.com or 702-383-0474.
What's old is new again
Here are a few examples of the sort of fast-food-goes-upscale dishes being served at Las Vegas restaurants. Note that this is a representative list and the specific dishes may not be available at a given time.
LBS: A Burger Joint, Red Rock Resort
• Warm sourdough pretzel sticks with spicy mustard and cheese fondue
• Turkey sliders with herb mayo, cucumbers and alfalfa sprouts
• Frenchie burger with brie, grilled wild mushrooms, lettuce, alfalfa sprouts and horseradish cream
Simon Restaurant & Lounge, Palms Place
• Toad in the Hole with toasted brioche, sunny side up eggs, applewood-smoked bacon
• Pizza with beef carpaccio, arugula, blue cheese and truffle oil
• Surf and Turf Tacos with New York strip loin, grilled halibut, guacamole and fire-roasted salsa
Society Cafe, Encore
• Lollipop Chicken Wings, Buffalo style with blue cheese dipping sauce
• Lobster roll club with bacon and tomato confit on challah roll
• Warm doughnut bites with chocolate, caramel and raspberry dipping sauces
Fix, Bellagio
• Kobe chili cheese fries
• Creamed spinach with boursin cheese
• Thin-crust pizza with prosciutto, figs and Gorgonzola
Stack, The Mirage
• Grilled meatball pizza
• Adult Tater Tots with bacon and brie
• Lobster tacos with grilled mango and cilantro