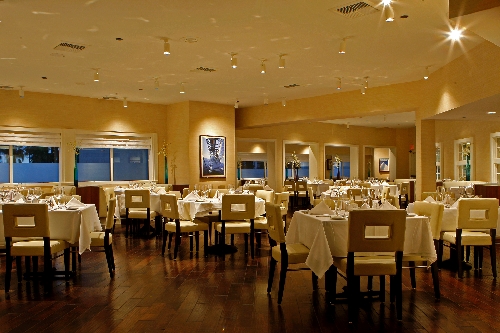 Take a classic Las Vegas steakhouse and mix in an ample helping of Florida's South Beach, a soupcon of the American Southwest and a dash of the Mediterranean.
The result: Biscayne Steak|Sea|Wine at the Tropicana, which executive chef George Bargisen says brings "the ocean to the desert."
Biscayne is "not your typical steakhouse," Bargisen continues, "and we don't want it to feel that way."
Thus the bright, airy vibe, the modern, clean lines and a color scheme that gives the room "a little bit of a nautical feel," he says.
Similarly, while the menu offers a complement of steakhouse classics — including T-bones, lamb chops and prime rib, with king crab legs, lobster tails and shrimp scampi as add-ons for surf-n-turfers — "we've taken some classic (dishes) and put our own spin on it," Bargisen says.
"We've also taken some stuff that's indigenous (to Florida). Like, we do a Cuban spring roll and we have conch fritters on the menu."
"But we have stuff that's a little Mediterranean, too, like lamb-and-eggplant tacos," Bargisen says, and those even are given a Southwest twist via roasted poblano tomato jam.
"The idea was to have some fun with food and put some flavors together that work, and also to allow (guests) to have some creativity," he says.
Offerings will change as the seasons do, Bargisen adds, and Biscayne also offers a four-course tasting menu with wine ($39.99).
The restaurant seats about 160. Reservations are not required but are recommended on weekends.
Hours are from 5 to 10 p.m. Sundays, Mondays and Thursdays, and 5 to 11 p.m. Fridays and Saturdays at 3801 Las Vegas Blvd. South. The restaurant is closed on Tuesdays and Wednesdays.
Starters: Duck and chorizo hash, $15; lamb eggplant tacos, $14; conch fritters with avocado ambhar aioli, $11
Soups and salads: Atlantic lobster salad, $26; Key lime smoked chicken chili, $9
Entrees: 16-ounce rib-eye steak, $33; banana leaf wrapped mahi mahi, $30; Kobe burger, $23; roast half-chicken with chorizo yellow tomato sofrito sauce, $25
Desserts: Key lime tart with chantilly cream, poached strawberries and tequila gelee, Coconut Candy Bar (marcona almond horchata and bittersweet chocolate) and Manjari chocolate fondant (dark chocolate mousse, ginger, five spice, hazelnut and caramel gelato), $9 each
Information: 739-2376
By JOHN PRZYBYS