Restaurant names sometimes a mouthful for patrons
September 28, 2011 - 1:01 am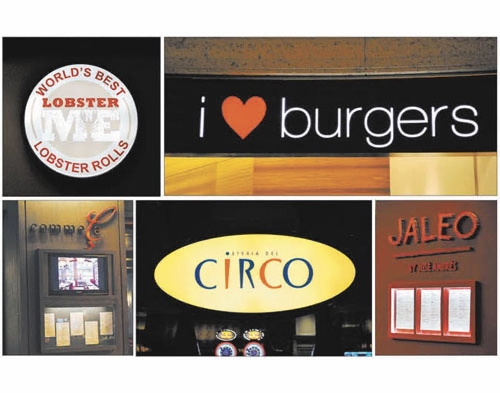 Alex Taylor had a feeling that people would mispronounce the name of the restaurant he opened in February with partner Carlos Buscaglia.
"When we were putting it together, that was the first thing we thought of — people are not going to call it the right name," said Taylor, managing partner of Due Forni at 3555 S. Town Center Drive.
And, as it turns out, they were right. While the correct pronunciation is "dù-e fornì-è," most first-timers are more inclined to say something along the lines of "doo forny." And Taylor wouldn't have it any other way.
"There are two ways of looking at it," he said: "Do you want to be so available that there's no distinction, or do you want to be so unique that it would actually hinder your brand awareness?"
The third and best choice, local restaurant owners say, lies somewhere in the middle — a name that is accessible but not easily forgettable.
"People would mispronounce it, and the mispronunciation would help further the brand," Taylor said. "That ambiguity would help deepen the customer relationship,"
In the case of Due Forni, the name is literal, referring to the restaurant's two ovens, which cook pizzas at different temperatures for different styles.
"It literally describes the restaurant, just in Italian," Taylor said.
That's also the case at L'Atelier Joël Robuchon at MGM Grand, except in French. The first word is pronounced "l'atelyay."
"They pronounce it differently," said general manager Yannick Augy. " 'L'ata-leer. 'K' instead of 'ch' for Robuchon. And Joel pronounced the American way, like Billy Joel."
"It's quite entertaining," he said with a laugh, but without a trace of the fabled French hauteur.
"Part of our job is to educate the guest on who's Joël Robuchon, what is L'Atelier," he said. "What does it mean? Workshop — the open kitchen. As soon as they sit down, they understand the meaning.
"For them it's a like a free French lesson. You don't need to buy Rosetta Stone."
It's not a literal translation at Jaleo at The Cosmopolitan of Las Vegas, but it comes close, because Jaleo — pronounced "ha-LAY-o" — "means revelry, commotion or a party," said general manager Michael Ploetz.
"People will come in and say, 'Is this 'Ja-Lay-O?' or 'Is this Jalleo?' " he said. "We often respond enthusiastically, 'This is 'ha-LAY-o.' The next conversation becomes, 'What is Jaleo? What is the word in Spanish?' It's always a funny conversation."
The issue is not a burden, he said, "because the word is so synonymous with what we're trying to do — throw a party every night. Other tapas restaurants have different names. I think ours is very fitting."
Franck Savoy, director of restaurants for Caesars Palace and the opening general manager of Restaurant Guy Savoy, named for his father ("Obviously, now my dad is my employee," he quipped), is used to hearing Savoy Sr.'s name pronounced in a very different way than he heard growing up — "Ghee Sav-wah."
"People usually say 'Guy Savoy,' " phonetically, he said. "This is the very English pronunciation of my dad's name."
Does he ever correct anyone?
"It depends," Savoy said. "It's kind of, 'We're here in the USA, so I kind of respect, of course, the accent and the pronunciation of the English-speaking people. When I feel they want to pronounce it well, I correct them. Otherwise, I would not risk mentioning it."
Savoy points out that even some French-speaking people pronounce Savoy phonetically. And while the French pronunciation of his own name is "Fraank," "A lot of people call me 'Frank' here. I don't mind."
Does he ever feel burdened by the confusion?
"Absolutely not," Savoy said. "It would be like Elton John changing his name in French. But we're not offended at all when people say 'Guy Savoy.' It's amusing, a little, because it's kind of exotic for us."
Andre Rochat, executive chef of Alize atop the Palms, is used to mispronunciation of his restaurant's name, which is pronounced "aleeZAY" in French and refers to a very light morning and evening breeze.
"All sorts of people call it 'Aleez,' because you don't have the accent in English," he said.
Does he correct them?
"Sometimes. You don't want to be rude."
That's also the case at Osteria del Circo, most commonly called Circo, which is pronounced "cheer-co" in Italian but usually ends up pronounced phonetically.
"If somebody says 'Circo,' I have a tendency not to correct them," said general manager Fabian Forlini. "We do get, 'Is that the correct pronunciation?' We do say, 'cheer-co.' In Italian, depending on what the next letter is following the 'c', it's usually 'ch.' "
So, Italian lessons as well.
But sometimes there can even be confusion when the restaurant's name is in English. Examples of that are Lobster ME at the Miracle Mile Shops and I (heart) Burgers at the Palazzo.
"We found some people assume that it's 'Lobster, Maine;' some people are saying 'Lobster Meat,' " said Zach Conine, vice president of research/analytics/development for the LEV Restaurant Group.
"We're trying to evoke the 'Maine' part of it but not have it be part of the name," Conine said. "We think Lobster ME is cute and funny, and people can walk up to the counter and say 'lobster me!' shouting out for what they want."
I (heart) Burgers, he said, is properly pronounced "I Love Burgers."
"We find it's very generational," he said. "There's a subset with an age range, 17- to 25-year-olds, who are used to saying 'I heart.' In that group we are creating a lot of confusion. Once you get kind of past that, the heart is 'love'." The name, he said, came from the old "I (heart) New York," "which is one of the most famous branding slogans of all time."
And then there's Comme Ça, the Cosmopolitan restaurant with the French name but an American chef/partner, David Myers. Myers has a Comme Ça in Southern California, as well as Pizzeria Ortica.
"It seems like I have an absolute knack for finding a name for a restaurant that nobody can pronounce," Myers said with a protracted sigh. 'What the heck is Ortica?' I get so many different versions of that. Comme Ça has been a challenge for some people as well."
For the record, it's pronounced somewhere between "come" and "comb," and "sah." What people call it: "Commie Ka," "Commie California," "Come California," "Commie Ka."
"Those are the top ones," Myers said.
His business partner, he said, "will give me grief until the end of time, but he loves it as well."
Because, Myers said, the name absolutely makes sense.
"To me, it was the perfect name," he said. " 'Comme Ça' means 'like that.' When we were doing a brasserie, how great was it to have a restaurant that was named, 'It's like that.'? For us creative types — chefs — it makes perfect sense."
Once people do understand, he said, they link it to the popular French saying, "Comme çi, comme ça."
"After they hear the name, they ask, 'When are you going to open Comme Çi?' " Myers said.
Another sigh.
"I'll let you know."
Contact reporter Heidi Knapp Rinella at hrinella@reviewjournal.com or 702-383-0474.