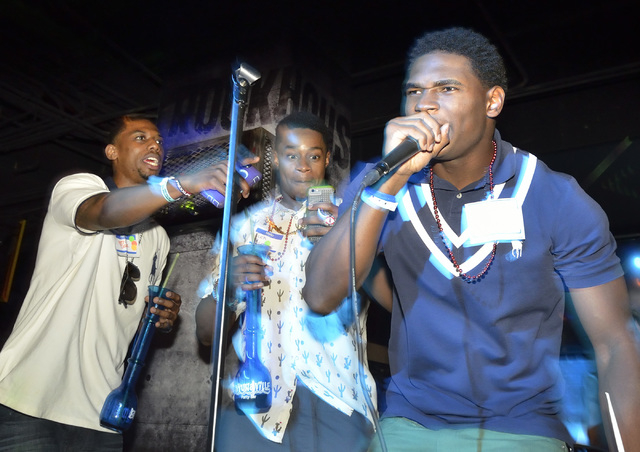 Todd Nigro knew he wanted live music when he bought the building on Green Valley Parkway in Henderson that would become Elixir in the fall of 2013.
"That location actually had a small stage; it was built to have live music," said Nigro, who also owns the two Remedy's and two Distill locations in the valley. "It was always in our plan to use it in support of the overall operation, and we kind of designed a theme that would fit well with live music."
And it worked: "The place fills up on Friday and Saturday nights."
So when they opened sister property Distill on West Charleston Boulevard, music was in the cards. There was no stage, but the building — the former Agave — had an expansive patio that was a natural for Saturday afternoon gigs, which they started last fall and recently continued after a winter hiatus.
It seems that more and more restaurants in the valley, from celebrity-chef spotlights to mom and pops, are offering live music these days. That might seem to be another positive sign of Las Vegas finally pulling out of the recession, but representatives say it's more often just a simple marketing decision.
For local chef and businessman Kim Canteenwalla, who, with his wife, restaurant developer Elizabeth Blau, owns and/or operates several valley restaurants, the decision to add music had more to do with nostalgia than the economy.
"I grew up with live music," Canteenwalla said. "I wanted to capture that in the restaurants."
While he doesn't go to clubs, he said, "if you go to the clubs, it's all about DJs spinning records. I miss live music. I really miss live music."
But bringing it in involves more than finding somebody who can play well and is available. There's also the issue of chemistry with the customers, finding the right musicians for the right place, he said.
Canteenwalla said when looking for someone to play at Made L.V. in Tivoli Village, he talked to some agencies and put the word out, and musicians started coming to him. Among them was a duo, the Fabulous Baker Boys. Although he liked the musicians and wanted to employ them, they weren't quite right for the restaurant. But all was not lost.
"They had just the right fit for Buddy V's," Ristorante at the Grand Canal Shoppes, Canteenwalla said. "We put them in Buddy V's and talked with The Venetian management. No restaurants in The Venetian were having live music."
Ah, but one would, and very soon. Kevin Fritz, who's in marketing for Rockhouse, also at the Grand Canal Shoppes, said the Fine Entertainment team also was thinking of getting some musicians onstage.
"The first reason is we are the Rockhouse," Fritz said. "For name's sake, we need to include the rock theme. Now we have four days of live music — Tuesdays, Wednesdays, Thursdays and Saturdays."
And they weren't done.
"Not only did we want to do it, we wanted to add a new twist," he said.
And so Tuesday night is karaoke night, but with live music accompaniment. Wednesdays is ladies' night, with '90s music from the likes of the Back Street Boys, 'N Sync and Michael Jackson. On Thursday nights, they bring in Metal Shop, a hard-rock tribute band, and rock is performed during Sunday brunch.
"One of the main reasons we added it is mainly because we want Rockhouse to be a destination," Fritz said. "There are about a million places you can drink in Las Vegas. Incorporating live music gives locals and tourists a reason to come in.
"We're trying to give locals initiative to come visit us, to give them something else besides just beer."
Nigro said Distill's music on the patio is a daytime event because the space is in high demand for private parties on Saturday evenings.
"It's designed for people kind of lounging around at lunchtime," he said. "This is our first opportunity to explore live music at a place that wasn't initially created to have live music. So far, it's been well-received."
As for Canteenwalla, he found a fit for Made L.V. For a while he had a female performer, but her repertoire wasn't as broad as he was looking for. After a successful St. Patrick's Day appearance, he booked musician Jeremy James twice a week.
Then, during a TV appearance, he got to talking to the lead guitarist of a local band, who asked him about opportunities.
"I don't have space for a band," Canteenwalla said. The guitarist said he and his wife performed as a duo, and now Cinco appears on Sundays.
"We're trying to figure out all the days," Canteenwalla said. "It's early days, and it's growing."
Contact Heidi Knapp Rinella at Hrinella@reviewjournal.com. Find more of her stories at www.reviewjournal.com and bestoflasvegas.com and follow @HKRinella on Twitter.