Restaurants use price as well as food to attract diners
October 1, 2013 - 9:25 pm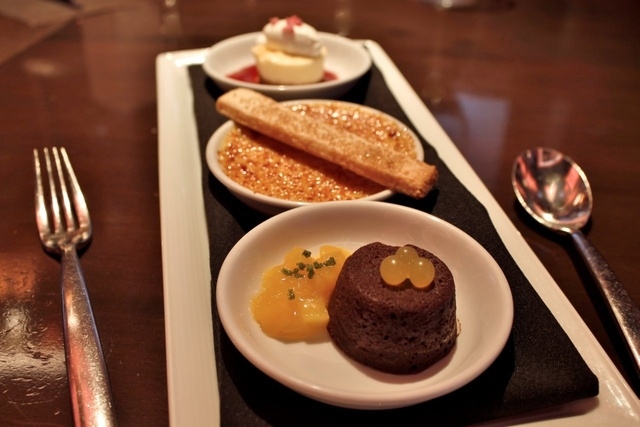 DINING OUT
PLAKA, 2550 S. RAINBOW BLVD.
Plaka opened in August in the former location of Opa. "We took it, renovated it, spent a lot of money and made a nice place," said co-owner Angelo Giouzelis, who used to have the Golden Greek near Maryland Parkway and Sahara Avenue. Giouzelis said he's been in Las Vegas for "many years," and was at Caesars Palace for 30 years as maitre d'.
"I want to have a nice, ethnic Greek restaurant," he said. "We brought in chefs from Chicago. We would like to keep serving authentic Greek food at very reasonable prices." Entertainment is offered on Fridays and Saturdays.
Here's a sample from the menu:
Appetizers: hummus, $6; tzatziki, $6; grilled octopus, $10.75; fried calamari, $7.95; dolmades, $8; cheese saganaki, $7.95; shrimp saganaki, $10.95
Salads: Plaka Gyro Salad, $10.25; Greek salad, $7.75; salmon salad, $13.50
Entrees: Gyro plate, $12.25; pastitsio, $13.25; moussaka, $13.25; roast leg of lamb, $18; vegetarian plate, $9; combination plate, $14.95; kokkinisto (braised lamb shank in tomato sauce), $23; grilled salmon, $18; bakalao skordalia, $15.75; grilled beef kebab, $17; filet mignon, $28
Hours are 11 a.m. to 9 p.m. Mondays through Thursdays, 11 a.m. to 2 a.m. Fridays and Saturdays. Call 702-471-0270.
MORE DINING OUT
Some local restaurants are fighting the high cost of dinner out by giving customers a break with special prix-fixe menus.
One of the newest to join the trend is Tender Steak and Seafood at Luxor, which offers a $45 three-course menu from 5 to 7 p.m. Sundays through Thursdays. The first course is a choice of a mesclun salad, wild mushroom soup or short-rib ravioli; entree choices are an Angus tri-tip steak, organic free-range Jidori half-chicken or Lake Superior whitefish; and dessert is a trio of vanilla bean cream brulee, chocolate souffle cake and New York-style cheesecake. Two-glass wine pairings are $15 extra.
Charlie Palmer Steak at the Four Seasons, 3960 Las Vegas Blvd. South, has been offering a $48 weekly prix-fixe Cut of the Week menu for a while. The menu changes each week; a recent offering was a Tuscan salad followed by marinated grilled flatiron steak with clamshell mushroom ragout, side dishes of smashed potatoes and haricots verts with pancetta, with tiramisu cheesecake for dessert. The price includes bottomless wine pairings.
— Heidi Knapp Rinella