Restaurateur endures ever-changing Las Vegas scene
August 8, 2016 - 11:08 am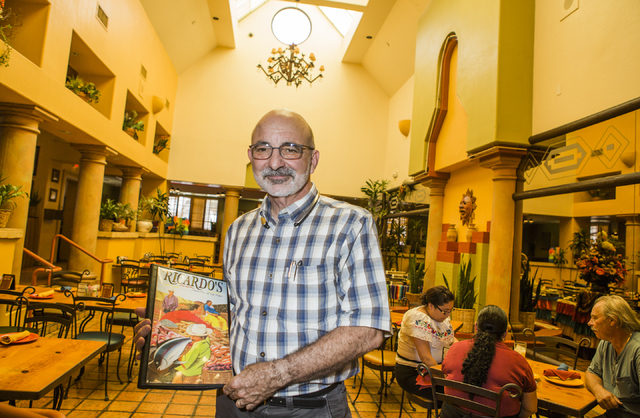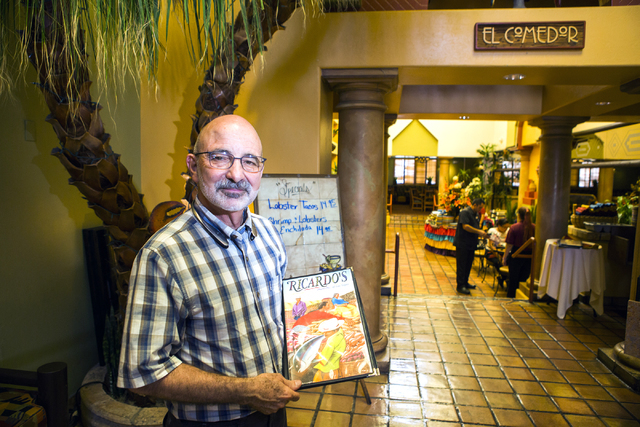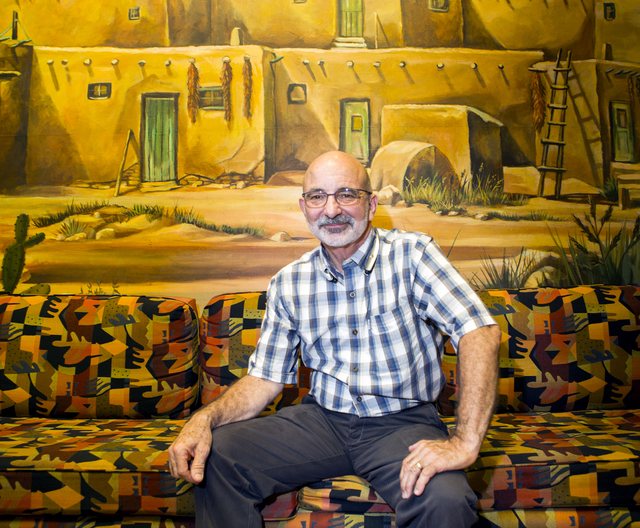 Bob Ansara has been involved in Las Vegas restaurants for more than 35 years.
He moved to Southern Nevada from California in 1978 to take over a project after a friend's financing fell through; that restaurant, Ricardo's, opened at Meadows mall in 1979. A number of now-closed restaurants followed: one at Tropicana and Eastern avenues in 1982, one at the Fashion Show mall in 1986 and one at Sahara Avenue and Valley View Boulevard in 1990.
Ricardo's opened at its current location at 4930 W. Flamingo Road (at Decatur Boulevard) in 1987 and at the MGM Grand on the Strip in 1997. Ansara sold the Flamingo restaurant in 2003, but took it over again in 2004, and it remains open today.
Review-Journal: How have you seen Las Vegas dining change over the years?
Ansara: 1) If you think back to 1979, the landscape was not so chain-dominated. We had Denny's, Caro's and all of the fast-food restaurants, but for the more full-service ones, I'm hard-pressed to give you a quick list of names. There was a lack of the chain dominance that exists today. 2) Even though Vegas then had a few hundred thousand people, it was still, from a culinary standpoint, relatively simple. We weren't necessarily a cowboy town, but sort of. If you think back to the culinary options in the hotels, you had fine dining, which was always the gourmet room; Asian, which was almost always Chinese; not everybody had a buffet; and there were coffee shops and Italian — the spectrum was pretty narrow. In each food category, we have gained diversity. Asian now has 15 subheadings, Indian now has three or four, pizza used to be pretty much two kinds, and now we have six. There's been great diversity of offerings within each food category. 3) And we've become one of the meccas for fine dining, and you really couldn't say that before.
RJ: How have you seen your clientele change?
Ansara: We've always had everything from strollers to wheelchairs. There's always been a beat-up VW next to a Rolls-Royce. If we had restaurants in other parts of the city, I'd probably answer this question differently, but in our location, we are much more diverse than we were in 1979. We still basically specialize in middle America. Our tourist base is all over the board — people coming back from EDC (Electric Daisy Carnival), people going to the Smith Center.
RJ: When you opened, Mexican-American, as opposed to Mexican, reigned supreme. We've since had an influx of native Mexican restaurants. How do you all fit together?
Ansara: Twenty percent of our customer base is Latino. That's up from 2 percent 35 years ago. You've seen less full-service Mexican restaurants and more hybrid-service ones. We've gone from zero taquerias to like 500 taquerias. In our case, our menu has evolved to include Mexican shrimp cocktail, menudo, pozole — things we'd have never dreamed of serving 37 years ago. We probably serve 50 gallons of menudo a week, and not just to Latinos. The Mexican food category has segregated into three or four. There's the gringo quick-service, the Taco Bells of the world. The taquerias quadrant, which is varied in and of itself. There's the La Salsas, Wahoos, even Chipotles — there's a lot of authentic flavors, but they're not necessarily owned and operated by a Latino. And there's the full-service world that we live in.
RJ: Where do you like to go when you eat out?
Ansara: We tend toward family-owned and -operated holes in the wall. We love to go to Nora's, we love to go to Metro, we love to go to Chinatown and eat Thai food, Korean food. Like other locals we don't go to the Strip often, but when we've gone to the Strip, we've enjoyed Giada, Bouchon. The older we get, the more dear time gets. The more dear time gets, the less I'm willing to risk an eating opportunity.
Read more from Heidi Knapp Rinella at www.reviewjournal.com, Contact her at hrinella@reviewjournal.com and follow @HKRinella on Twitter.