Ricardo Zarate to open Japanese, Peruvian Once on Sunday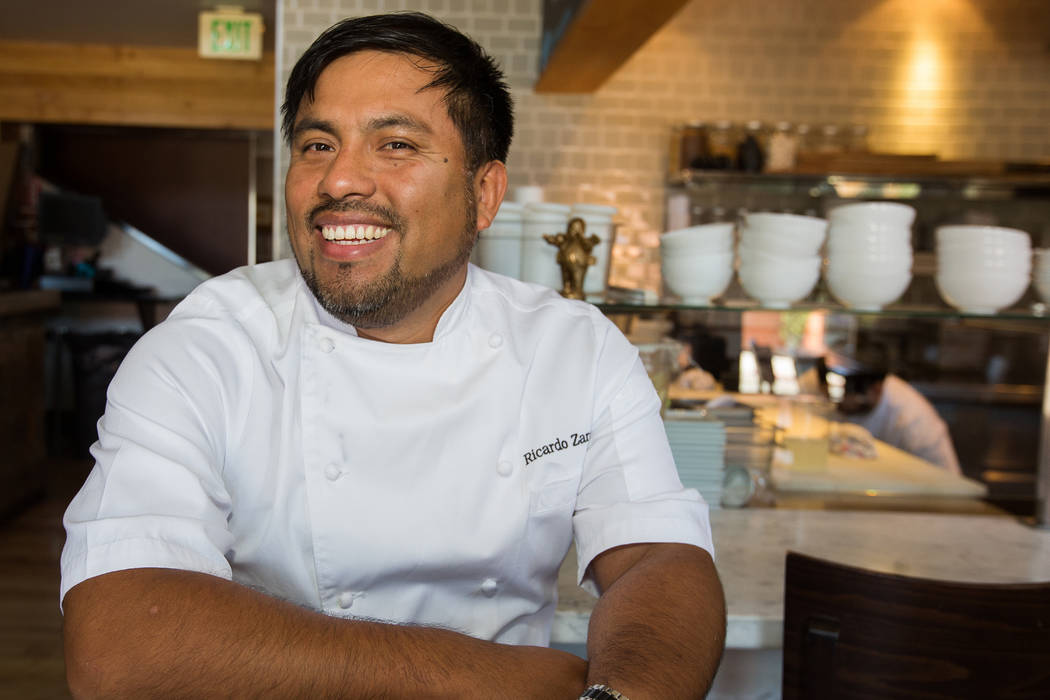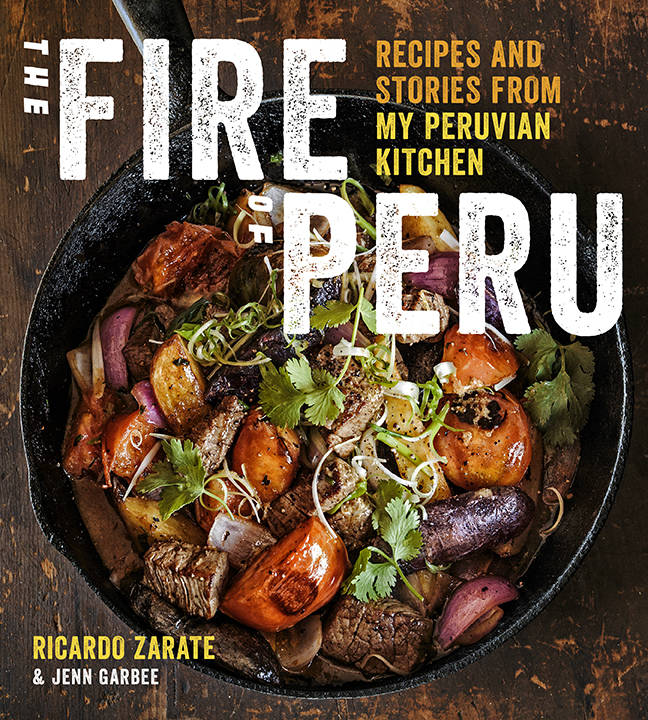 Ricardo Zarate is bringing his Japanese-influenced Peruvian cuisine to Las Vegas, where he expects his reach will be wider than our 2 million residents and the 42 million people who come here every year.
"Vegas is a bigger window; it's a window to the world," said Zarate, who earned four James Beard nominations for his Los Angeles restaurants. "My adrenaline's going through the roof. This is a great opportunity to showcase not only to Vegas, but to show Peruvian cuisine around the world. I'm super-excited."
Zarate's Las Vegas restaurant, Once (pronounced on-seh) is scheduled to open Sunday at the Grand Canal Shoppes at The Venetian and Palazzo. The date — March 11 — is fitting, because "once" is Spanish for "11." That's a number that clearly resonates with Zarate, representing his birth order among 13 siblings.
While he says the home cooking of his mother and grandmother was his biggest influence, there were more to come. Once's style will be Peruvian Nikkei, a term that represents the impact on the country's cuisine by Japanese immigrants who began arriving in the late 19th century as the first of numerous cultures to leave their mark.
"Peru was a sponge, accepting so many influences," Zarate said. "The Japanese were the first to arrive. The Japanese taught Peruvians more deeply about how to use the seafood in Peru."
Zarate, who was born in Lima, grew up with those influences, but didn't even realize it at first. The Japanese immigrants opened restaurants in Peru, but they weren't Japanese restaurants.
"They were opening Peruvian restaurants, but putting extra ingredients into the Peruvian cuisine," he said. "They were adding these secret ingredients."
Zarate's awareness grew, he said, after he graduated from culinary school in Peru and went to London to cook for 12 years. Among his posts was Zuma, a Japanese landmark in the Knightsbridge district that has a sister restaurant at The Cosmopolitan of Las Vegas.
"I opened my eyes because I got to work in a Japanese four-star," he said. "When I went to London I realized it; 'I see the connections now; I've seen this before, of course, in Peruvian cuisine.' I was using Japanese ingredients most of my life. It's exciting to me, because then I realized, 'Oh, that was the little flavor I didn't understand.' "
Zarate said when he left Peru for London, it was with the intention of eventually showcasing his native cuisine to the world. He left for the United States in 2009 and opened Mo-chica, followed by Picca in 2011 and Paiche and the Blue Tavern in 2013."
He split from his partners in 2014 (he opened Rosaline in West Hollywood last year) and wrote a cookbook, "The Fire of Peru." The book, he said, "was more focused on the recollection of all the restaurants I did before. It was more like the introduction of the Peruvian cuisine to America. It comes with all the influences. That's pretty much my style. I've always been cooking with all of these influences, especially Asian."
The book was released in October 2015. The summer before, he launched a pop-up, Once, that reflected the book. The Las Vegas restaurant grew out of that.
"It's going to be fun, a food-based history; a marriage between the Peruvian and the Japanese," he said. "Through the ingredients, I'm going to tell the story of Peru."
The focus of the menu will be 11 shared plates, which will rotate seasonally. Examples are Arroz Chaufa, Peruvian fried rice with snow crab, crispy calamari and yuzu aioli, and Anticucho Miso, black cod with roasted cauliflower puree and Japanese pickled radish. He promises "beautiful Peruvian ingredients" and is working on a seafood platter and a special fish dish.
"I'm still making my decisions about whether it's going to be a whole fried fish," he said last month. "I'm super-excited about that one. It's going to be a really nice family style, where you can share it."
There will be 11 signature cocktails and a gin-and-tonic slush machine.
As far as decor, he said, "We're trying to be very humble. The location's perfect (at the top of the escalators entering the Grand Canal Shoppes from Palazzo), but it's going to have a lot of green. You associate Peru with nature. That's the kind of thing we're going to bring in there."
Accents will include floor-to-ceiling walls of live plants and, on the patio, five communal tables surrounded by greenery.
"I'm going to be showcasing my cuisine," Zarate said. "Basically, I feel like I'm going to put the Peruvian flag up there."
Betarragas al Horno (roasted beet salad with burrata and aji-orange vinaigrette)
1 1/2 pounds baby or medium beets (8 to 10 small or 4 or 5 large), trimmed
Olive oil
Kosher salt
1 (8-ounce) round burrata or fresh mozzarella, or more, if you like a lot of cheese
Ají-orange vinaigrette (recipe follows)
4 or 5 handfuls of frisée or other crispy, small-leaf lettuce
4 or 5 radishes, thinly sliced
2 scallions, including the tender green stems, thinly sliced on an angle
2 medium blood oranges or 1 large orange, separated into sections (membrane removed)
Good-quality extra-virgin olive oil
Heat oven to 400 degrees. Put beets in a small baking dish and toss them with a little olive oil and salt. Cover the dish snugly with foil and roast beets until tender when pierced with a knife, about 45 minutes if very small or up to 1 1/4 hours if large. Use tongs to remove the foil (be careful of steam). When cool enough to handle, peel the beets. Halve the beets if they are small or cut them into bite-size pieces if large, and let cool completely. Use the beets right away, or cover and refrigerate them for up to two days.
Cut the burrata into two or three chunks, more if making side salads, or cut the mozzarella into several meaty slices. In a medium bowl, toss together the beets with about 1/4 cup of the ají-orange vinaigrette (darker beets will stain both your fingers and lighter-colored beets; if that bothers you, use a rubber spatula and toss each color separately). In another bowl, gently toss together the lettuce, radishes, scallions and orange sections with 3 to 4 tablespoons of the vinaigrette. Add more to taste.
Mound the lettuce mixture on plates and arrange the beets on top. Lay the burrata off to one side of the salads, and drizzle the extra-virgin olive oil over both the cheese and salad. Serve immediately.
Serves 2 to 4 as a main dish or 4 to 5 as a side.
Aji-orange vinaigrette
Zest of 1/2 orange
3/4 cup fresh orange juice
2 to 3 teaspoons ají amarillo paste, store-bought or homemade
2 teaspoons honey
2 tablespoons champagne or white wine vinegar
1/4 teaspoon kosher salt, or to taste
3 tablespoons extra-virgin olive oil
Place the orange zest in a small bowl. Bring the orange juice to a boil in a small saucepan and boil until reduced by half, about five minutes. Pour the juice into the bowl with the orange zest and let cool for 10 minutes. Whisk in the ají amarillo paste, honey, vinegar and salt until well incorporated, then slowly whisk in the olive oil so the dressing emulsifies. Use right away, or cover and refrigerate for up to 3 days. Let the dressing come to room temperature and shake or stir it well before using.
Makes a generous 1/2 cup.
Chicha Morada (purple corn punch)
1 (15-ounce) bag maiz morado, or dried purple corn (2 1/2 or 3 ears)
Core and rind of 1 pineapple, both top frond and bottom discarded
2 large Granny Smith or other tart apples, quartered
2 cinnamon sticks
4 whole cloves
2 star anise
1/2 teaspoon whole black peppercorns
3/4 cup sugar, honey or agave syrup, or to taste
3/4 cup fresh lime juice, or to taste
Put the maíz morado, including the cobs and any loose kernels, into a large pasta pot or stockpot. Add the pineapple rinds and core, apples, cinnamon sticks, cloves, star anise, peppercorns and 5 quarts water. (If your pot is too small for so much water, a little less is fine.) Bring the water to a boil and cook until the liquid has reduced by a solid inch, about 1 hour.
Turn off the heat, stir in the sugar and let steep for 30 to 45 minutes. Strain the punch into a pitcher and discard the solids. Stir in the lime juice. Taste and add more lime juice and/or sugar, if you'd like. Refrigerate the chicha morada for up to 1 week. Serve the punch over ice.
Serves 16.
Recipes from "The Fire of Peru"
Contact Heidi Knapp Rinella at Hrinella@reviewjournal.com or 702-383-0474. Follow @HKRinella on Twitter.