Rick Moonen helps home cooks stay sharp in the kitchen
September 20, 2016 - 5:02 pm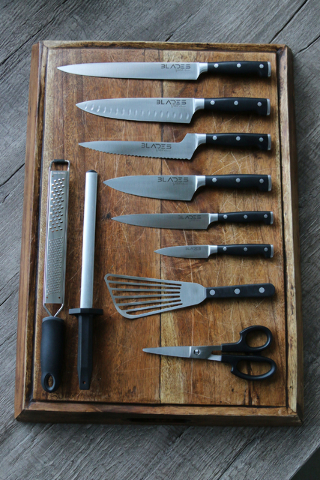 Other celebrity chefs may have long lines of kitchen equipment, some of it clever (like Wolfgang Puck's combination measuring bowl/digital scale), some of it a little silly (Rachael Ray's Garbage Bowl comes to mind). Now Rick Moonen is carving out his own niche.
Moonen, who has RM Seafood and Rx Boiler Room at Mandalay Bay and who has become such a leader in the seafood-sustainability movement that he's known as "The Godfather of Sustainability," has introduced a line of signature kitchen knives and other tools.
"I was traveling a lot, doing kitchen demonstrations and lectures, and I always took my knives with me," said Moonen, adding that that's a common practice among chefs.
One day, a friend who works for a manufacturer asked why he always carried the same ones.
"I pulled each one out and explained what they do," Moonen said Friday from Dulles International Airport in Washington, D.C., the morning after preparing dinner for the Our Ocean, One Future conference hosted by Secretary of State John Kerry at the John F. Kennedy Center for the Performing Arts. "Pretty much this set of knives can handle any of the challenges you meet in the kitchen."
The friend convinced Moonen to create his own knife set, which his company, Lake Industries, produces. The knives retail at $199 for the 12-piece set. Moonen said the knives aren't as pricey as the ones he uses at his restaurants, which would cost 10 times as much, but "they are a really good set of knives for your house.
"These are designed to stay sharp," he said. "They're really, really great quality."
The set has a 9½-inch carving knife, 8-inch Granton Edge chef's knife, 8-inch offset serrated knife, 6-inch chef's knife, 6-inch utility knife, 3½-inch paring knife, diamond sharpening steel, combination zester/grater, flexible fish spatula, kitchen scissors, storage block and chef's roll. It's available for preorder now at www.bladesbymoonen.com and through Amazon Oct. 3.
— Heidi Knapp Rinella
Have an item for Bites? Email hrinella@reviewjournal.com.