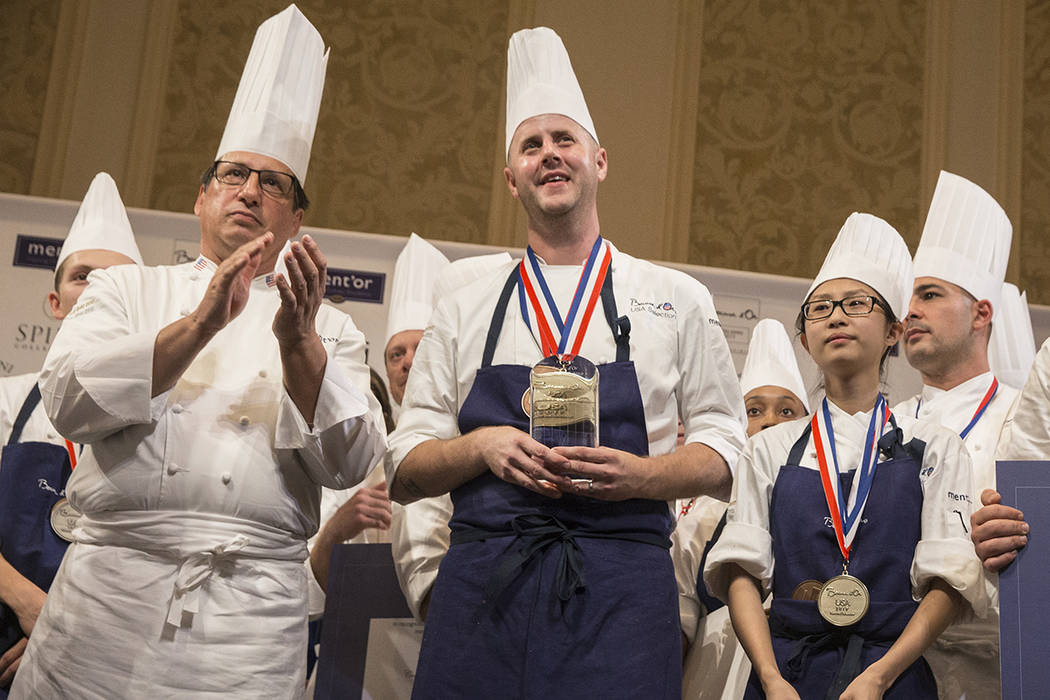 Chef Matthew Kirkley has been chosen to represent the U.S. in the 2019 Bocuse d'Or cooking competition, which will take place in January of that year in Lyon, France. Commis Mimi Chen will assist him. The team hails from Coi restaurant in San Francisco.
The pair achieved the honor by defeating teams from Elaia & Olio in St. Louis, Missouri, and Mourad in San Francisco, in cooking a competition today at Palazzo that lasted five hours and 35 minutes. During that time, each team prepared two full platters of food, one based around American wagyu beef, the other around steelhead trout. The event was judged by an all-star panel of chefs.
The U.S. is expected to be the defending champion at the biennial international competition, after a team lead by Matthew Peters became the first U.S. team to take home the gold earlier this year. But unlike in previous years, when the U.S. was guaranteed a spot at the international championship in France, the road to Lyon this year runs through Mexico City. On April 12 and 13, a qualifying event for the Americas will be held in the Mexican capital, during which teams from North, South and Central America will battle it out for only three available spots at the main event.
Speaking immediately after the win, Kirkley said he was relieved and "humbled for the opportunity (and) deeply appreciative of all the support I've had."
Read more about today's competition and the road ahead for Kirkley and Chen in the Taste section of next Wednesday's Review-Journal.
Contact Al Mancini at amancini@reviewjournal.com.