Search for flavorful vegan burger leads to opening of VeggieWay restaurant
September 20, 2016 - 10:59 pm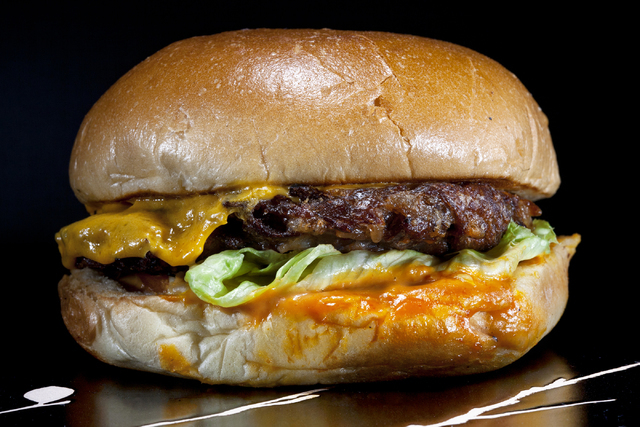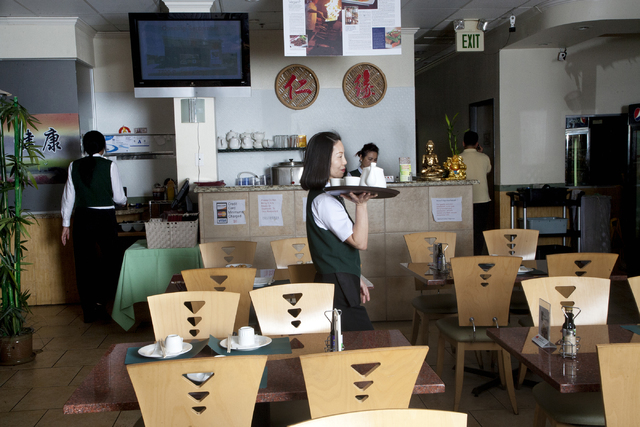 Kenny Chye isn't thinking too big. He just wants his restaurant to become the vegan version of In-N-Out Burger.
He remembers well his first In-N-Out Burger, in San Diego 25 years ago.
"Their burger is very good," he said of the cult favorite. "Simple, but the price is good." And the idea of a vegan In-N-Out took root.
VeggieWay had a soft opening Sunday in a former Dunkin Donuts at 7790 S. Jones Blvd. (at Robindale Road). The centerpiece is the vegan burger that for Chye evokes memories of that first In-N-Out all those years ago.
He said it was two years in the making.
"I've been talking, working, tasting, testing with all my customers," said Chye, who also is the chef/owner of Veggie House at 5115 Spring Mountain Road.
During his research, he tasted a lot of veggie burgers. And despite the vast improvements chefs have made in recent years — The New York Times recently heralded the veggie burger's "ascent" — Chye wasn't impressed.
"A lot of times, they taste almost the same," he said. "I don't want to buy any pre-made veggie patty, I want to make it myself."
And so he started experimenting, with more than 20 combinations. His burger patty has 10 ingredients, of which he'll disclose soy, cabbage, vegan eggs, starch and "a little bit of rice." The testers loved the final product; Chye had his burger.
Diana Edelman, founder of the www.vegansbaby.com site, an online guide to the vegan lifestyle in Las Vegas, has tasted the burger and was impressed. She said she thinks it would appeal even to meat-eaters.
"Honestly, for people who have thought about giving up meat or trying it, it's shocking how good it is," Edelman said. "For people who do eat meat, I don't think they're going to notice too much of a difference."
The burger is $4.69, or $8.89 with fries and a drink. There's a sort of Double Double, which he calls the Double Vegan Burger. But the burger is not the only thing on the menu at VeggieWay, which also offers vegan popcorn chicken, vegan fish tacos, vegan chicken wrap, vegan beef sandwich, fried zucchini, salads, three kind of fries and vegan milkshakes made with almond milk.
Chye, a native of Malaysia who came to the United States in 1982, has been in the restaurant business for decades. He owned three Asian restaurants in San Diego from 1988 to 2000.
But Chye said it is possible to get tired of San Diego, and he did. Seeking a change, he moved to Las Vegas in 2001 and opened a wholesale company catering to Asian restaurants.
There was one problem: The wholesale business involved the consumption of a lot of meat — tasting meat from suppliers, tasting meat with customers, entertaining and on and on. Before he knew it, Chye's cholesterol had shot up to 335. He knew he had to do something.
At about the same time in 2012, Chye visited a friend in Los Angeles who was a colon cancer survivor. The friend said he had saved his health by changing his diet. He encouraged Chye to do the same and, knowing he was a good chef, figured he'd find a way.
Chye had noticed that there weren't a lot of vegan and/or vegetarian restaurants in Las Vegas, and the wheels started turning. He went to some vegetarian restaurants in Los Angeles and realized that some of the customers at his Asian restaurants back in San Diego had been vegetarian, and he hadn't even known it.
"I didn't realize this group is getting bigger," he said.
So Chye decided to open a vegetarian restaurant in Las Vegas, and Veggie House was born in 2012. He said he knew that since it was a simple vegetarian restaurant he'd need to spiff it up a bit, so he added a water feature, a gazebo, lots of bamboo.
Initially, he used eggs, and still consumes them himself. But his customers wanted no eggs, cream or milk in any of their dishes. For variety, he continued to create more vegan dishes. And before he knew it, he had a following of vegans (and nonvegans and nonvegetarians, which he estimates are 25 percent of his clientele) from all over the world.
They came for the orange chicken that didn't contain any chicken. And the spicy Cajun fish that had never seen a body of water. King Pao chicken, spicy crispy beef, roasted pork — all vegan. And straightforward vegetarian dishes, such as the spicy crispy eggplant that he said differs from most in that his version actually is crispy.
"They all sell very well every day."
He kept cranking the creativity.
"Most people think vegan, vegetarian food is bland," Chye said, but he worked to dispel that notion. Even his rice is interesting, a blend of brown, red and black rices.
One common refrain from customers was that they wished vegan fast food was available.
"Give me two years, I'll open a vegan restaurant with a drive-through," he promised customers, opening the way to VeggieWay.
"I think it's wonderful," said Edelman of www.vegansbaby.com. "There is nothing like it in the valley. Las Vegas' plant-based community is really growing and I think it's a fantastic step in the right direction to make Las Vegas more vegan-friendly."
If it takes off, Chye foresees a fully vegan commissary equipped to produce frozen foods to be shipped overnight and wholesale products for airlines and casinos.
Convincing more people to go vegan, he said, "would change a lot," in terms of animal welfare and human health.
"I think it's good for me to start this concept," Chye said. "A lot of people like junk food. This is healthy junk food."
Contact Heidi Knapp Rinella at Hrinella@reviewjournal.com. Find more of her stories at www.reviewjournal.com, and follow @HKRinella on Twitter.