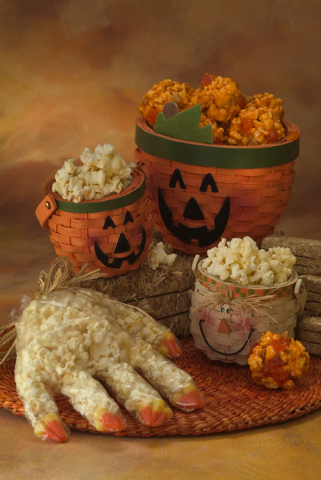 Halloween means candy, and mostly that candy is chocolate. So why not change it up this year and make the holiday all about popcorn instead?
October is National Popcorn Poppin' Month, but there are more solid reasons for popping some popcorn into your Halloween celebration.
"Popcorn is a whole-grain food," said Wendy Boersema Rappel. "It provides energy in the form of carbohydrates, and fiber. It's a good food that will fuel you along the way as you're racing from door to door on Halloween night."
Of course, Boersema Rappel has a reason to be particularly fond of popcorn: She's the spokeswoman for The Popcorn Board. But she's not quick to bash popcorn's candy competition.
"When you look at foods in terms of food value, candy's value is fun, so that's great," she said. "And as a mom I appreciate my share of chocolates as well. But, from a nutritional perspective …"
Popcorn's naturally low in fat and calories, according to The Popcorn Board, although few of us eat it completely unadorned. Then again, Boersema Rappel said, that's part of the appeal.
"There's a lot of things you can do with popcorn," she said. "People love it plain, but it's also fun to dress up. You can make all kinds of little treats, add some dried fruits and other bits to sneak in some health."
Another plus, she said, is that it's relatively economical.
"It's really pennies per serving," she said. "I think people are always looking for ways to serve up fun. It fits into any kind of a budget and fits almost anybody's dietary needs. It's gluten-free, diet-friendly, recipe-friendly.
"And it's fun."
There's that word again.
"Popcorn has always been an American classic," said Olivier Morowati, who, as co-owner of Popped, knows very well how fond of our popcorn we are.
"There's the nostalgia of having had popcorn as a child," Morowati said. "It's a comfort snack food that's relatively healthy, and it's fun. It's a great vehicle for flavors."
At Popped, which has stores on Eastern Avenue and Hualapai Way and sells online and at some local retail outlets, those flavors are many. Among them are a few Halloween specials, such as Witch's Brew, a buttery caramel corn with candies; R.I.P., a cookies-and-chocolate popcorn with gummy worms; and Smashing Pumpkin Spices, with a special spice blend and white chocolate.
Morowati said Popped employees pop their corn with coconut oil and very high heat. High heat also means treats such as caramel corn can be hazardous, he said, and he urges caution if you're making it at home, but offers a Halloween suggestion.
"If you make caramel corn at home, you can make a flat tray of it in a cookie sheet and cut them out with stencils," he said. "You can make like little gingerbreads. It breaks nicely as long as the caramel is semiwarm. If the caramel sets, that's when you have an issue that it's going to start cracking."
In Popped's stores, he said, Dilly Pickle is one of the most popular flavors, as is the Chi City Mix.
"And any of our chocolate selections," he said, "especially around the holidays."
Even with popcorn, it seems, we don't want to completely abandon that chocolate.
HAPPY HALLOWEEN MINI POPCORN BALLS
10 cups popped corn
1 cup diced dried fruit (papaya, mango or peaches)
1 cup butterscotch chips
1 (1-pound) bag miniature marshmallows
¼ cup (½ stick) butter or margarine
Orange food coloring
Place popcorn, fruit and butterscotch chips in large bowl; set aside.
Heat marshmallows and butter in a large saucepan over low heat until melted and smooth. Stir in several drops of food coloring.
Pour over popcorn and candy, tossing to coat evenly. Cool 5 minutes.
Grease hands and form into 3-inch balls.
Makes about 16.
— Recipe from The Popcorn Board
HAUNTED POPCORN HANDS
Clear Polyethylene food service gloves
Candy corn
Popped popcorn
Ribbon or yarn
Place 1 to 3 pieces of candy corn at the end of each finger (depending on size of glove), pointy side first, to make fingernails. Fill the glove with popcorn and tie it off with ribbon or yarn.
— Recipe from The Popcorn Board
SPOOKY POPCORN CAKE POPS
5 cups popped popcorn
Half of an 11.5-ounce store-bought pound cake
¾ cup canned vanilla frosting
8 ounces candy melts (assorted colors) for coating (or use white candy melts with oil-based candy color)
½ teaspoon vegetable oil
Miniature chocolate chips, blue and red food gels, miniature chewy chocolate candies, food-safe markers
Process popcorn in food processor until coarsely chopped.
Crumble cake into large bowl. Add popcorn and frosting, stirring with fork until mixture is evenly moistened.
Form mixture evenly into 18 balls (for ghosts, roll into an elongated triangle creating a distinct head and body).
Place on waxed-paper-lined baking sheet; freeze 20 minutes.
Melt candy melts according to package directions. If using white, stir in vegetable oil. Color as desired using candy color.
Remove popcorn cake balls from freezer. Dip tips of lollipop sticks into candy melts; insert no more than halfway into center of balls. Let sit 3 minutes until set.
Dip one ball into melted candy melts to cover completely. Gently tap stick against side of bowl so excess drips off. Immediately decorate as desired, as candy melts harden quickly.
Poke sticks into polystyrene foam block to dry completely.
Note: To decorate, use white candy melts for ghost (orange for pumpkins, purple for one-eyed monsters), miniature chocolate chips for eyes and mouth, a small piece of chewy chocolate candy shaped into pumpkin stems (attach with candy melt), melted white candy melts in center of ball for monster eye with blue gel for iris, red gel for veins.
Makes 18.
— Recipe from The Popcorn Board
PUMPKIN SPICE POPCORN BARK
3 cups popped popcorn
1 cup mini-marshmallows
1 cup chopped pecans
½ cup "O"-shaped crisp cereal
½ cup pepitas (salted pumpkin seeds) or shelled sunflower seeds
½ cup dried sweetened cranberries
1 teaspoon pumpkin spice mix
2 packages (6 ounces each) white baking chocolate, chopped
Line a large baking sheet with foil and spray lightly with cooking spray; set aside.
In a large bowl, combine popcorn, marshmallows, pecans, cereal, pepitas, cranberries and pumpkin spice mix.
Place chopped chocolate in a microwave-safe bowl and heat in microwave 1 minute. Stir to melt; microwave an additional minute. Stir until chocolate is melted and smooth. Pour melted chocolate over popcorn mixture. Mix until well coated and spread in an even layer into prepared pan. Cool at room temperature until firm (or refrigerate). Cut into squares to serve. Store in an airtight container.
Serves 12.
— Recipe from The Popcorn Board
WITCHY POPCORN BALLS
16 chocolate wafer cookies
3 quarts popped popcorn
4 tablespoons (½ stick) butter or margarine
3 cups miniature marshmallows
3 tablespoons (half of a 3-ounce box) lime gelatin dessert mix
Green food color (optional)
¾ cup chocolate chips
8 chocolate ice cream cones
Orange sugar sprinkles, placed in a small dish
Jelly beans, candy corn, licorice string
Spread a sheet of wax or parchment paper over a work surface and place the wafer cookies on it.
Spray a large mixing bowl with cooking spray and place popcorn inside.
In a medium saucepan, melt butter over low heat. Stir in marshmallows and gelatin dessert powder until marshmallows are melted and mixture is smooth. If desired, adjust color with a drop or two of food color. Pour over popcorn and mix well until coated.
Spray hands with cooking spray and press firmly to form into 8 balls. Place balls on 8 of the wafer cookies. Press candy decorations into popcorn balls to form eyes, nose and mouth.
Place chocolate chips in a small microwave-safe bowl. Cover and heat for 10 seconds. Stir chocolate to aid melting. Repeat as needed until chocolate is melted and smooth.
Spoon about ½ teaspoon melted chocolate onto the top of each popcorn ball. Press a few licorice strings into chocolate to form "hair."
Dip cone edges into melted chocolate and then into orange sugar sprinkles. Place on remaining wafer cookies to form witches' hats. Place hats onto popcorn balls. Allow chocolate to set for about 45 minutes before serving.
Serve or seal individually in plastic wrap for storage.
Makes 8.
— Recipe from The Popcorn Board
HALLOWEEN POPCORN TREATS
Vegetable cooking spray
3 tablespoons vegetable oil
1/3 cup popcorn kernels
3 tablespoons butter
1 teaspoon pure vanilla extract
6 cups (12-ounces) mini marshmallows
6 fun-size caramel peanut chocolate bars (such as Snickers), cut into ¼-inch pieces
3 (3-inch) chocolate chip cookies, crumbled
1/3 cup chopped salted almonds
½ cup orange and black chocolate candies (such as M&M's)
Spray the inside of a large mixing bowl with vegetable cooking spray, and lightly spray a baking sheet. Set aside.
In a heavy-bottomed pan, 3-quart or larger, heat the oil and popcorn over medium-high heat. Cover the pan and shake gently. Cook until all the kernels have popped, about 3 minutes. Place the popcorn in the prepared bowl.
In a medium saucepan, heat the butter over low heat. Add the vanilla extract and marshmallows. Stir constantly until the marshmallows have melted and the mixture is smooth, about 5 minutes. Pour the melted marshmallow mixture over the popcorn. Using a spatula sprayed with cooking spray, stir until the popcorn is coated. Spread the mixture over the prepared baking sheet. Sprinkle with the chocolate-bar pieces, cookies, almonds and chocolate candies. Using a spatula, gently press the toppings into the popcorn. Allow the mixture to dry for 1 hour.
Break into 2-inch pieces and store airtight in a plastic container.
Serves 6 to 8.
— Recipe from the Food Network
CARAMEL APPLE MONSTER MUNCH
2 tablespoons vegetable oil
1/3 cup popcorn kernels
Nonstick cooking spray, for spraying the bowl and spatula
1 cup salted cocktail peanuts
¾ cup packed light brown sugar
6 tablespoons (3 ounces) unsalted butter
¼ cup light corn syrup
¾ teaspoon kosher salt
1 teaspoon vanilla extract
2 cups lightly crushed red and/or green apple chips
Heat the oil in a large heavy-bottomed pot over medium heat until very hot and shimmering. Add the popcorn and immediately cover with a lid. Shake the pot constantly, holding the lid on with a heatproof holder, until the popping starts, about 1 minute. Reduce the heat to medium and continue to shake the pot until the popping slows to just a few per 5 seconds, 1 to 2 minutes more. Remove from the heat and let stand for another minute to allow any last kernels to pop.
Spray a very large bowl with nonstick cooking spray. Put the popcorn in the bowl and remove any unpopped kernels. Add the peanuts. Spray a rubber heatproof spatula with the cooking spray and place next to the bowl.
Combine the brown sugar, butter, corn syrup and salt in a medium saucepan and set over medium heat. Cook, stirring, until melted and the edges of the mixture begin to bubble. Clip a candy thermometer to the pan so the bottom of the thermometer is resting in the sugar syrup but not touching the bottom of the pan. Boil, stirring, until the thermometer registers 300 degrees (the hard-crack stage), about 8 minutes.
Turn off the burner and add the vanilla. Stir briefly (about 5 seconds) being careful not to burn yourself as the mixture bubbles up.
Immediately pour the caramel evenly over the popcorn and quickly stir with the prepared rubber spatula until the pieces are mostly separated, about 3 minutes. Pull apart any larger clumps, being careful because the caramel will still be hot in spots. Stir in the apple chips.
Note: Lightly spraying the measuring cup with cooking spray before measuring helps prevent the corn syrup from sticking.
Serves 10 to 12.
— Recipe from the Food Network
MAPLE PECAN POPCORN
About 8 cups plain popcorn
1 cup pecans (3½ ounces), coarsely chopped and toasted
¾ stick unsalted butter
1½ cups pure maple syrup
½ teaspoon salt
Toss popcorn and pecans in a large bowl.
Line bottom of a 17-by-11-inch 4-sided sheet pan with foil, then lightly oil foil.
Melt butter in a small heavy saucepan over medium heat. Add maple syrup and salt and boil (still over medium heat), without stirring, until thermometer registers 300 degrees, 15 to 20 minutes.
Pour syrup over pecans and popcorn, stirring briskly with a lightly oiled spoon or silicone spatula to coat, then immediately spread popcorn in pan in 1 layer. Cool completely, then break into bite-size pieces.
Note: Maple pecan popcorn keeps in an airtight container at cool room temperature 1 week.
Makes about 10 cups.
— Recipe from Gourmet
Contact reporter Heidi Knapp Rinella at hrinella@reviewjournal.com or 702-383-0474.