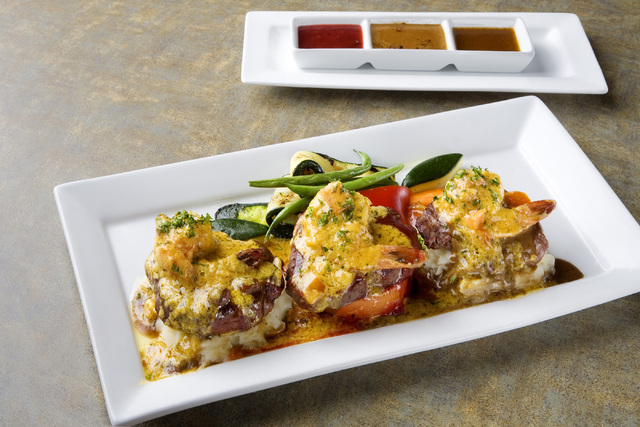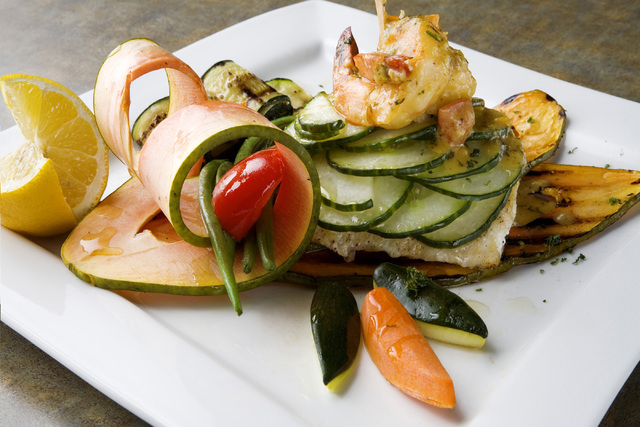 DINING OUT
BERNARD'S BISTRO, 2021 W. SUNSET ROAD, HENDERSON
Bernard's Bistro, which has been at Lake Las Vegas since June 2009, opened a second Henderson location on Sunset Road in late January. Roger Mora, manager of the Sunset restaurant, said he and chef/owner Bernard Tordjman, who's a native of Versailles, France, decided to open a second restaurant because of the demand for Tordjman's cuisine. Mora said they weren't daunted by the location's history as the site of a long series of failed restaurants. "We came to the conclusion that if you produce wonderful food like he does, that it will not be a problem with the location," he said. "We've been blessed with having great neighbors supporting us." Bernard's Bistro is open for lunch and dinner; here's a sample of the dinner menu:
Starters: Classic onion soup, $6.50; gazpacho, $5.25; Escargot Belle Epoque, $7.50; bufala mozzarella caprese, $7.25; roasted farm beets and herbed goat cheese, $10.95.
Quiches, crepes and entree salads: Quiche Lorraine, $10.95; chicken and mushroom crepes, $10.95; crepes filet mignon Stroganoff, $11.95; vegetarian spinach and artichoke crepes, $10.95.
Sandwiches: Marinated shrimp and avocado, $11.50; turkey and brie Tour de France, $10.95; organic curried chicken salad sandwich, $9.95; Bistro Prime Cheese Burger, $11.95; vegetarian burger, $10.95.
Pastas and entrees: Spaghetti with meatballs, $8.95; chicken Milanese, $13.95; pistachio salmon in lavender wine sauce, $19.75; prime New York steak and frites, $17.95; herb-crusted lamb chop, $24.75; tandoori chicken in curry masala sauce, $17.50; Signature Bistro Barbecue Meatloaf, $14.50; Rib Eye Steak au Fromage Roquefort, $23.95.
Hours are from 11 a.m. to 10 p.m. Mondays through Saturdays and 10:30 a.m. to 9 p.m. Sundays. Call 702-558-3366 or visit www.BernardsBistro.com.
NEW BOOKS FOR COOKS
KUNG PAO CASHEW CHICKEN PIZZA
¼ cup uncooked grits or polenta, for rolling the dough
1 ball prepared pizza dough, at room temperature
2 tablespoons olive oil
½ cup hoisin sauce
1 teaspoon red pepper flakes
1 cup cubed cooked chicken
3 scallions (white and green parts), thinly sliced on an angle
¼ red bell pepper, seeded and cut into paper-thin strips
½ cup grated mozzarella cheese
¼ cup fresh cilantro leaves
½ cup unsalted dry-roasted cashews
Kosher salt and freshly ground pepper to taste
1 tablespoon toasted sesame oil
Preheat the grill, roll out and shape the dough and brush with olive oil before grilling the first side of the crust with lid closed (over direct medium heat for 3 to 5 minutes on a gas grill, or on indirect heat for about 4 minutes over charcoal). Use tongs to transfer to a pizza peel or rimless baking sheet. Flip the crust to reveal the grilled side.
Spread the entire surface with the hoisin and sprinkle with the red pepper. Top with the chicken, scallions and pepper strips. Sprinkle with the cheese.
Finish grilling the pizza on indirect heat, with the grill closed, for 7 to 10 minutes, until cheese is bubbly.
Remove from the grill, sprinkle with the cilantro and cashews and season with salt and black pepper. Drizzle with the sesame oil, slice and serve immediately.
Serves 2 to 4.
Recipe adapted from "Pizza on the Grill Expanded," by Elizabeth Karmel and Bob Blumer (The Taunton Press, $17.95)
— Heidi Knapp Rinella