Small Plates: Bier Garten and 'The Nolan Ryan Beef & Barbecue Cookbook'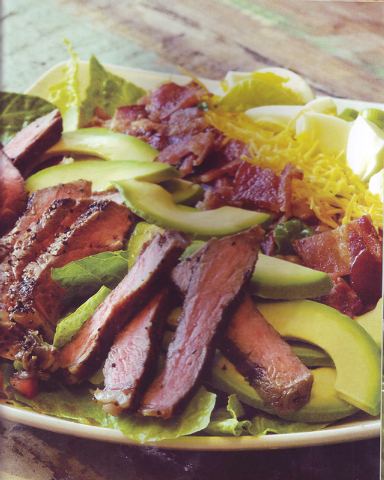 DINING OUT
BIER GARTEN, PLAZA, 1 MAIN ST.
The Bier Garten, which opened in early spring, is outdoors on the Plaza's frontage on Main Street. Its site includes almost 3,000 square feet of grass, trellises with vines and a wall of more than 900 plants, which help create an atmosphere reminiscent of the leafy beer gardens of Bavaria. Authentic beer-garden tables and chairs, which were used in an Oktoberfest in Munich in the 1980s, add to the oom-pah-pah vibe. The Bier Garten is a project of Sam Cherry and Grant Garcia, the team behind the Plaza's Pop Up Pizza, and the pizza is available there along with the Bier Garten's wurst-centric offerings. Here's a sample of the menu:
Beer snacks: Extra giant sized German pretzel (serves four), $10.99; hand-cut fries with one sauce of choice, $3.99; crispy onion strings with one sauce, $2.99. Extra sauces, 75 cents each.
Signature wursts: The Western (smoked Polish with roasted jalapeno, crispy onions and chipotle aioli), The Golden Slipper (andouille sausage, bacon, cream cheese and fried egg), The Hacienda (sweet Italian sausage, roasted sweet peppers, caramelized onions, spicy giardiniera), The Stardust (bratwurst, caramelized onions, sauerkraut and German sweet mustard), the El Rancho (all-beef hot dog topped with hand-cut fries, cole slaw and ketchup, on a pretzel bun), or The Naked City (veggie Tofurky sausage, roasted sweet peppers, chopped raw onion, kosher relish, German sweet mustard and sriracha ketchup), $7.99 each, with fries, onion strings or coleslaw.
Create your own wurst: Eight sausage choices, two bun choices and multiple topping choices, $6.49.
Salad: Kitchen Sink Salad, romaine with roasted sweet peppers, chopped onions, Cajun blue cheese crumbles, bacon and choice of dressing, $6.99.
Hours are from 11 a.m. to midnight daily. Call 702-366-0889 or visit wwwbiergartenlv.com for further information.
NEW BOOKS FOR COOKS
COBB SALAD WITH SIRLOIN
12 slices bacon
2 pounds sirloin steaks, 1 inch thick
1 teaspoon kosher salt
1 teaspoon freshly ground black pepper
2 heads romaine lettuce, cut into 1-inch chunks
6 plum tomatoes, sliced
3 avocados, peeled, pitted and sliced thin
8 ounces sharp cheddar cheese, shredded
6 hard-boiled eggs, chopped
1 cup chopped scallions
Creamy dressing of your choice
Cook the bacon in a frying pan over high heat until crisp. Pat the bacon dry with paper towels. Dice the bacon and set aside.
Preheat the grill to high and lightly oil the grill grates.
Season the steaks with salt and pepper. Grill the steaks (in batches, if necessary) for 4 minutes per side for medium-rare. Transfer steaks to cutting board to rest for 10 minutes, then slice into thin strips.
Place the salad ingredients in a large bowl in the following order: lettuce, tomato, steak, avocado, bacon, shredded cheese, chopped egg, scallions. Serve with your favorite salad dressing.
Nolan's tip: Don't slice the avocados until you are ready to serve the salad. This way, the avocados won't turn brown by the time the plates arrive at the table.
Serves 4.
Recipe from "The Nolan Ryan Beef &Barbecue Cookbook" (Little, Brown &Co.; $25)
— Heidi Knapp Rinella