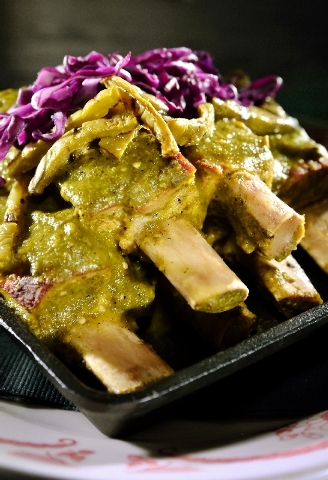 Combining Mexican cuisine with a serious amount of funk.
DINING OUT
LA COMIDA, 100 SIXTH ST.
La Comida, from the Morton Group (led by Jenna and Michael Morton) opened in April with Mexican native Pablo Sanchez-Ortiz, formerly of Wynn Las Vegas and The Cosmopolitan, as executive chef. Designed to blend authentic Mexican cuisine with a serious amount of funk and a variety of specialty margaritas, it takes its name from the traditional pre-service "family meal" shared by restaurant staff. Its old-school distressed-industrial look is updated by touches such as a 7-foot metal monkey sculpture with pink-neon bones. Here's a sample from the menu:
Starters: pozole, $6; queso fundido with chorizo, $11; Mexican street corn, $8; shrimp ceviche, $12; trio of ceviches, $18
Entrees: carnitas tacos, $11; shrimp and mango tacos, $13; pulled-chicken enchilada, $13; red snapper with roasted red pepper sauce, $18; marinated skirt steak, $20; chicken burrito, $14; sea bass Vera Cruz, $22
Brunch: Mantecado French toast with guava puree, $12; huevos Benedict, $13; huevos rancheros, $11; tacos de pollo, $10; shrimp ceviche, $12; bottomless Champagne, $12; bloody marys, $10.
Hours are from 11 a.m. to 11 p.m. Sundays through Thursdays and 11 a.m. to 2 a.m. Fridays through Saturdays. The brunch menu is available from 11 a.m. to 3:30 p.m. Saturdays and Sundays. Call 463-9900.
NEW BOOKS FOR COOKS
ENGLISH SUMMER CUP
¼ cup superfine sugar
4 tablespoons Pimm's
1 cup ginger beer (or lemonade)
¾ cup sliced strawberries
¼ cup sliced apples
18 small mint leaves
Place the sugar and ½ cup water in a saucepan and slowly bring to a boil, allowing the sugar to dissolve. Let simmer gently for 5 minutes, then remove from heat.
Add the Pimm's and ginger beer or lemonade. Let cool completely.
Divide the strawberries, apple slices and mint leaves among six popsicle molds. Pour over the Pimm's mixture and insert the popsicle sticks.
Place the molds in the freezer for six hours, until frozen solid.
Makes 6.
— Recipe from "Poptails: Over 40 Alcohol-Infused Popsicles, Ices and Slushies" by Laura Fyfe (Spruce; $12.99)
— Heidi Knapp Rinella