Small Plates: Dining out at Yusho
December 9, 2014 - 10:51 pm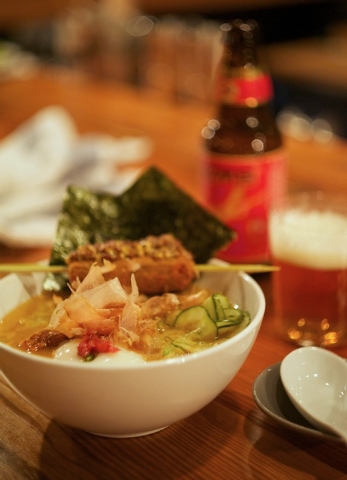 DINING OUT
YUSHO, MONTE CARLO, 3770 LAS VEGAS BLVD. SOUTH
Yusho, from Chicago chef Matthias Merges, opened in April on the new plaza at the Monte Carlo. The 150-seat restaurant has a high-energy, industrial-infused interior with touches of anime and ramen shacks and an open kitchen and offers views of the Strip. It serves house-made pickled vegetables, noodles and steamed buns and a variety of seafood, poultry, meat and vegetable dishes. Here's a sample of the menu:
Classics: Mushroom miso, $6; seasonal salad, $11; DIY spicy tuna, $13; half-dozen oysters, $18.
Grilled dishes: Chicken wings, $8; duck breast with shiitake marmalade, $11; shishito peppers, $7; Xinjiang lamb, $13; hamachi with Thai peanut and coconut slaw, $29; aged New York steak with funky pesto and vegetable, $36.
Noodles: Cold soba with salmon roe, $15; Logan Poser Ramen, $16; shrimp ramen, $17; maitake ramen, $15; Monster Ramen, $40.
Crispy: 2X fried chicken, $15; chicken skin with beer mustard, $8; chicken drummies, $9; beignet shrimp, $14; duck leg, $21; veggie tempura, $16.
Buns: Crispy cod, $8; charred eggplant, $7; pork shoulder, $7; fried oyster, $8; choice of three, $20.
Hours are from 5 to 11 p.m. Sundays through Thursdays, 5 p.m. to 1 a.m. Fridays and Saturdays. Call 702-730-6888 or visit yusholv.com.