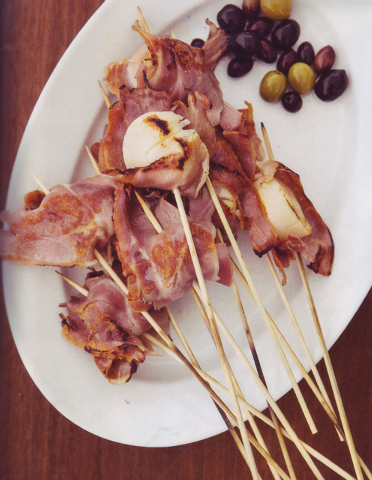 DINING OUT
EL DORADO CANTINA,
3025 S. INDUSTRIAL ROAD
July 24 will be the grand opening of El Dorado Cantina, which had a soft opening last month. The restaurant, which serves food representing various regions of Mexico, offers more than 100 tequilas, house-made sangrias, craft beers and nonalcoholic beverages including horchata and fresh tamarind, hibiscus, pineapple, watermelon and mango juices. It's decorated in woods with red and wrought-iron accents and leather seating. Here's a sample of the menu:
Breakfast (served all day): Huevos divorciados, $7.50; breakfast quesadilla, $8.50; breakfast burrito, $7.50; seasonal fruit, $7.50.
Small bites: Tableside ghost chili salsa, $10; El Corado nachos, $7.50, plus $4 for chicken, carnitas or steak; imperial shrimp, $13.50; gorditas, $8; shrimp taquitos, $12; shrimp cocktail, $15; empanadas, $6.
Soups and salads: Pozole, $5; albondigas, $5; Caesar salad, $9; house salad, $6.50; tostada salad, $9; tropical salad, $9.
Street tacos: Carne asada, carnitas, al pastor, cochinita or pulled chicken, three, $7.50.
Signature tacos: Grilled mahi, $9.50; shrimp, $12.50; veggie, $7.50; lettuce wraps, $7.50.
Burritos, tacos, enchiladas: Carne asada burrito, $12.50; carnitas rajas burrito, $12.50; torta de milanesa, $14.50; cheese enchiladas, $9.50; seafood enchiladas, $13.50.
Signature plates: Chipotle chicken, $17.50; Mexican squash chicken, $17.50; steak al cilantro, $26.50; pork carnitas, $18.50; pork mole verde, $19.50; chile verde con nopales, $17.50; pineapple shrimp, $20.50; cedar chipotle salmon, $24; veggie plate, $9.50; fajita platters, $18.50 for grilled steak, $17.50 for chicken, $24.50 for shrimp or $20 for any two.
Hours are from 10 a.m. to 2 a.m. daily through July 23, 24/7 thereafter. Call 702-749-7881 or visit www.eldoradovegas.com.
NEW BOOKS FOR COOKS
SEA SCALLOP LOLLIPOPS
WITH SPICED OLIVES
2 pounds very large, super-fresh sea scallops
1 pound presunto (Portuguese air-cured ham) or prosciutto, sliced extremely thinly
For olives:
8 ounces mixed olives
1 small hot dry chili
½ teaspoon cumin seeds
½ teaspoon black peppercorns
3 cloves garlic, lightly crushed
3 tablespoons extra-virgin olive oil
A few sprigs parsley, minced
A few slices lemon
As long as three hours ahead, prep the lollipops: Lay out a sheet of presunto or prosciutto. Set a single scallop at one end on edge and roll it up like a wheel. Fasten through with a skewer, lollipop-wise. Continue with the rest and stack them carefully in an airtight tub. Keep chilled until cooking time.
Spiced olives can be made four hours to two days ahead. Drain the olives of their brine and put in a jar. Heat a small griddle or cast-iron pan over a medium flame. Toss in the dry chili, cumin seeds and peppercorns. Toast for about 30 seconds or until aromatic; do not scorch. Add to olives along with garlic and olive oil. Close the jar and shake to coat the olives with the flavorings. Chill until needed.
When you're ready to serve, put the olives in a serving bowl, toss in the parsley and squeeze the lemon slices, tossing in the rinds, too. Stir.
Set up a griddle over a (preferably wood) fire and get it pretty hot.
Line up the lollipops, one flat side down, on the griddle. Cook until some surfaces are golden brown and crispy, then flip. When the second side is done, serve on a heated platter.
Note: The scallops don't have to be cooked through; just sear them to take the chill off.
Serves 10 to 12.
Recipe adapted from "Cooking with Fire" by Paula Marcoux (Storey Publishing; $19.95)
— Heidi Knapp Rinella