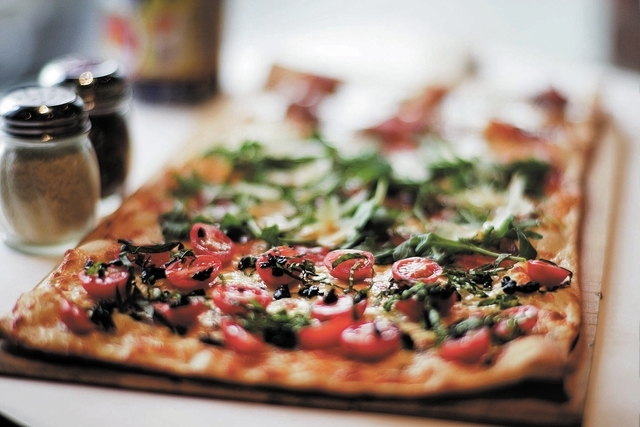 DINING OUT
PIZZA ROCK, 201 N. THIRD ST.
Pizza Rock, from 11-time World Pizza Champion Tony Gemignani, opened downtown last month, offering (besides pizza) calzones, stromboli, pasta dishes, antipasti and salads, much of it made in one of Pizza Rock's four ovens. Pizza styles include Napoletana, Romana, California, New York 22-inch, New York/New Haven, Sicilian, Chicago Cracker Thin, Classic Italian, American Originals and Farmers Market and gluten-free. Award-winning pies include the Burratina De Margherita, with burrata, cherry tomatoes, basil, olive oil and balsamic reduction; Napoletana Margherita, with San Marzano tomatoes, Mozzarella Fior de Latte, basil, olive oil and sea salt; and Cal Italia, with Asiago, mozzarella, imported Gorgonzola, sweet fig preserve, Prosciutto di Parma, Parmigiano-Reggiano and balsamic reduction. Pastas all are made in-house, as is the vanilla soft-serve, with toppings including olive oil, sea salt, Fernet reduction, seasonal berries, hazelnut and Valrhona chocolate. Here's a sample of the menu:
Starters: salumi and formaggio board, $10; Italian fries, $6; white wine clams, $11; fried string beans, $7; chorizo mussels, $12; Italian wedding soup, $6, or $3.95 with entree; Gorgonzola and apple salad, $11; classic Caesar salad, $10; and Buffala Caprese salad, $12
Sandwiches and burgers: Burrata burger, $13; Gorgonzola burger, $13; PLT (pancetta, lettuce and tomato), $11
Pastas: spaghetti and meatballs, $16; lasagna, $16; mostaccioli, $16; linguine and clams, $17; mac and cheese, $8
Pizzas: quail egg guanciali, $18; classic pepperoni or cheese, $14; Napoletana Margherita, $16; Romana (long and thin, serves 2 to 4 and is made three ways, including with prosciutto, arugula, Parmigiano, white cream sauce, chopped garlic, meatballs, olive oil, Gorgonzola, dates, pecans, apples, honey and Nutella), $32; Cal Italia, $18; Sam Giancana Chicago Cracker Thin, $22.
Hours are from 11 a.m. to midnight Sundays through Thursdays, 11 a.m. to 4 a.m. Fridays and Saturdays. Call 702-385-0838 or visit www.PizzaRockLasVegas.com.
FROM THE INBOX
Here's a novel way to celebrate Thanksgiving: Rice &Co. at Luxor, 3900 Las Vegas Blvd. South, is featuring the Thankful Dumpling, made with duck breast, cornbread stuffing, dried cranberries, onions and celery wrapped in a soy sheet and topped with crisp sweet potato, micro-celery and cranberry-yuzu sauce. It's $16 and available through the end of November.
And here's something for last-minute Thanksgiving planners. Weber-Stephen Products LLC, which reported as a result of its 25th annual Weber GrillWatch Survey that 18 percent of U.S. grill owners will grill their Thanksgiving turkeys this year, offers help through its Weber Grill-Line. It's open from 5 a.m. to 7 p.m. today and 5 a.m. to 2 p.m. Thursday and can be reached at 800-GRILLOUT (or 800-474-5568).
— Heidi Knapp Rinella