Sonrisa Grill worth the trip to Lake Las Vegas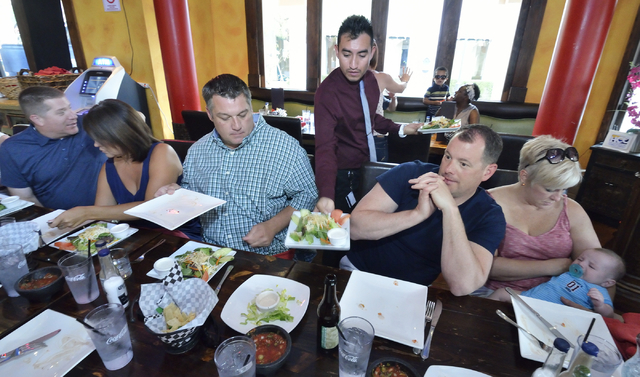 Walking through Montelago Village at Lake Las Vegas in Henderson is kind of sad these days.
OK, this never was a particularly bustling area — and I suspect it won't be until residential development increases — but it used to be fun to check out the shops and other businesses during wine walks and concerts. Now, in one of the last pockets of the valley still fighting to emerge from the recession, the casino is closed, as are many of the other businesses. Positive signs are that the former Ritz-Carlton has been given new life as a Hilton and there are a couple of new restaurants joining stalwarts the Auld Dubliner and Luna Rossa Ristorante.
And Sonrisa Grill, where we were surprised to find a beehive of activity on a recent Monday. And then we realized why: On Mondays, happy-hour prices are in effect all day.
Which is a pretty bright thing to do, since Mondays tend to be a slow day for restaurants. The promotions abound: All-you-can-eat tacos on Tuesdays, kids-eat-free Wednesdays, ladies' night on Thursdays, extended happy hours on Friday afternoons and $5 sangria on Sundays.
But we're guessing that in a less moribund location Sonrisa wouldn't have so many specials, because the food and service would be enough to draw in the crowds.
Sonrisa's owners hail from San Diego and call their cuisine "San Diego Mexican." That translates mostly to an emphasis on seafood, such as the excellent shrimp ceviche ($5 during happy hour), with chips and avocado.
And a blackened salmon ($24.95), a thick fillet, the blackening seasoning not so assertive as to mask the flavor of the fish. It was napped with a really nice, slightly spicy cream sauce, which gave it some depth. And topped with mango salsa, though just a little, which was kind of disappointing because we'd ordered it just for that. On the side: plain steamed jasmine rice and lightly sauteed, still-crunchy vegetables.
Sonrisa's fajitas have a little plus in that mushrooms are sauteed with the onions and peppers, and the steak and prawns fajitas ($24.95) didn't disappoint, the steak perfectly medium-rare, the shrimp a tad overcooked but really just a tad.
Service was great, and we liked the atmosphere, which has color and character without resorting to south-of-the-border schtick. And a view of the lake, of course, the centerpiece of the whole community.
"Sonrisa," the restaurant's website tells us, means "smile" in Spanish. Until better days come there aren't a lot of things to smile about at Lake Las Vegas, but Sonrisa Grill is one.
Las Vegas Review-Journal restaurant reviews are done anonymously at Review-Journal expense. E-mail Heidi Knapp Rinella at Hrinella@reviewjournal.com. Find more of her stories at www.reviewjournal.com and bestoflasvegas.com, and follow @HKRinella on Twitter.