State's first distillery brewing plans for whiskey and spirits bar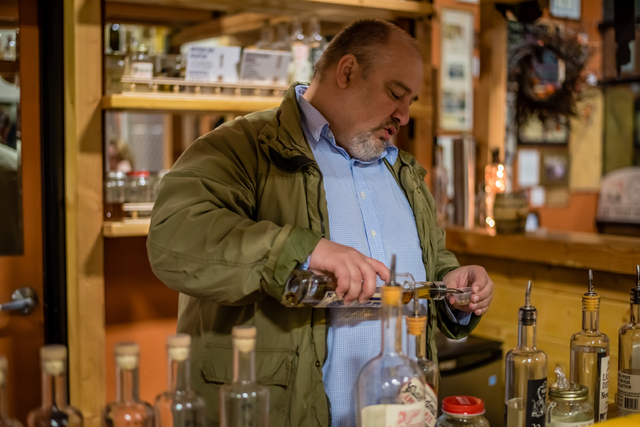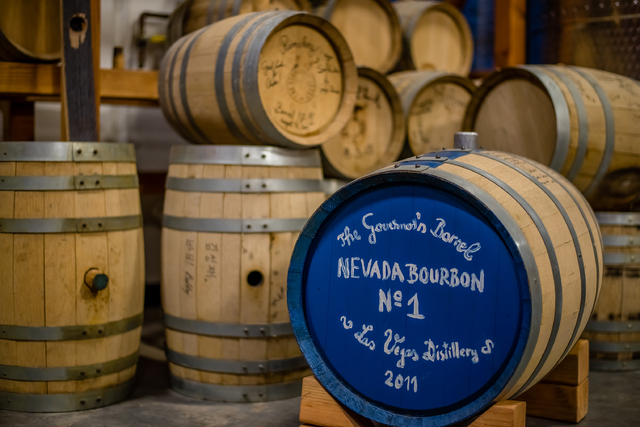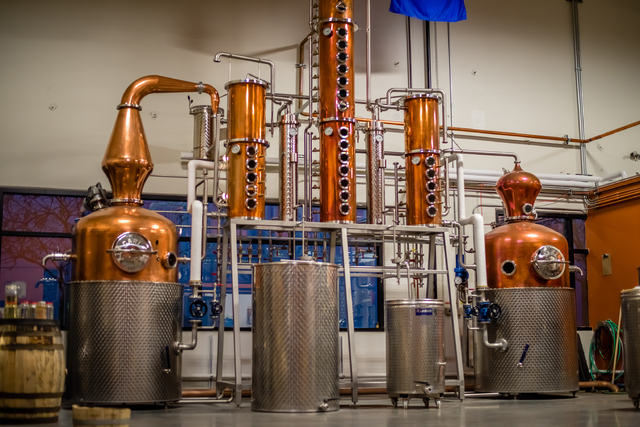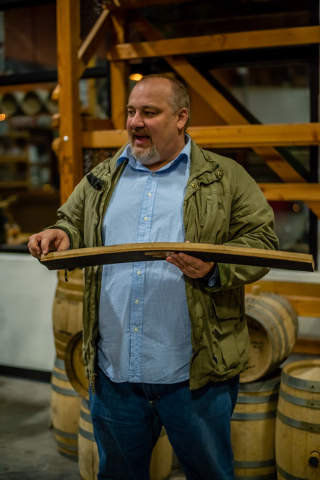 Henderson resident George Racz is living the American dream.
Ten years ago, he couldn't speak a word of English; today, he owns and operates the Las Vegas Distillery, the first in the state.
"While making bourbon here in the house, I still get goosebumps," Racz said. "Who are we that we are making whiskey in America? It's still a big deal for me."
Coming a long way since the first legal distillation in 2011, Racz plans to open a whiskey and spirits bar Friday and Saturday evenings starting in April at the distillery, 7330 Eastgate Road, Suite 110.
In addition to a revised whiskey mixing program and new spirit flavors, Racz is also brewing plans for something a little sweeter.
"In the Booze District, we have two breweries, the winery and the distillery, and I'm planning to open a little chocolate factory to put our whiskey in," Racz said. "So between wine, beer, whiskey and chocolate, that pretty much covers everyone on planet Earth."
The distillery produces whiskey, vodka, gin, rum and moonshine in its two pot stills, dubbed the Las Vegas Copper Angels for Racz's grandfather's "not so legal" Transylvanian distillery. Despite the unusualness of aging spirits in a dry climate, Racz believes it adds to the products' uniqueness.
"Our climate is a very hot and dry desert, which is absolutely an unusual climate compared to the four seasons in Kentucky or the long winters and salty air in Scotland," Racz said, "but I'm not controlling the climate. I just believe in it. I believe in nature."
A Hungarian transplant, Racz followed his wife to New York City in 2002 after meeting her at church in his home country. During a trip to a nearby distillery, the couple fell in love with the idea of manufacturing whiskey.
"That night, we put down a map of the United States on the carpet in the living room, and we started to Google which state never had a distillery before," Racz said. "First, Montana came up, but we were not going there because it was too cold. The second one was Nevada."
In January 2009, Racz and his wife moved west to pursue their American dream of starting the state's first distillery in the Las Vegas Valley.
"In many places, like where I was born, people do not get the opportunity or possibility. Life is just flying away," he said. "In America, you will not just get one chance but many, and you create your own opportunities. That is wonderful and unbelievably unique to the rest of the world."
Starting a business is generally difficult, but in Racz's case, being the first in an industry came with its own set of challenges. There were no Nevada laws or regulations for manufacturing alcohol because no one had done it. The health district and fire department struggled to tell him which permits the distillery needed because there were no precedents.
"Las Vegas is a cocktail city," Racz said. "Alcohol is a multibillion-dollar industry, and all the spirits, until now, were just imported. We hoped that by being the first, it would be a good business to get into."
In 2011, Racz drafted a bill for the state legislature that outlined the conditions for licensing and operating distilleries, but it failed to pass the Senate. In the meantime, he was required to work through a distribution company in order to sell products to customers due to Nevada's three-tiered system, which includes the manufacture, wholesaler and retailer.
"We went with one of the two big distribution companies, but after a year, we were in a hard situation because we weren't selling enough," Racz said. "We were too small, and they were too big. We weren't matching each other."
Enter Racz's friend, Justin Wallin, a local construction company owner who asked how he could help support Racz.
"I told him the most useful thing would be to make a distribution company to sell my products," Racz said. "It was a half-joke, half-serious comment, but he came back a few days later and said, 'OK, I'll do it.' "
Through Wallin, Booze Brothers Beverages was born, and Racz overcame his distribution woes while complying with state laws. In June 2013, Racz's bill passed the legislature, allowing him sell bottles directly to customers and host tastings on site.
"It's great we can give tastings because, until then, everyone had to listen to my crazy Transylvanian vampire English, and no one could understand a word of it," Racz said jokingly.
With the arrival of Grape Expectations Nevada School of Winemaking, Crafthaus Brewery and Bad Beat Brewing in same the industrial complex, the companies banded together and formed the Booze District.
The city of Henderson also helped Racz and the breweries change the buildings' zoning to including not only manufacturing but also small retail shops and tap rooms.
"We realize the value that each of these businesses brings to Henderson," said Mayor Andy Hafen. "The hundreds of small businesses in our community are a big part of the lifeblood of our city. These companies contribute to the growth of our local economy and help keep valuable dollars and jobs in our community."
Although Racz continues to own the only distillery in Southern Nevada, he said five have opened up north in the past year.
"Jim Bean and Jack Daniel's — these brands started with a crazy human being just thinking outside the box, and we share that kind of crazy thinking," Racz said. "This has been a very up and down kind of journey, but I would do it again because I am not alone anymore."
The distillery's products are also sold at Costco, Albertsons, Vons, Smith's, Whole Foods, Total Wine, Lee's Liquor and Khoury's Fine Wine & Spirits.
Tours are available at 11 a.m. and 1 and 3 p.m. Mondays through Thursdays or from 11 a.m. to 5 p.m. Fridays through Sundays. The tours last about an hour and cost $15 for visitors and $7.50 for locals.
For more information, visit lasvegasdistillery.com or call 702-629-7534.
To reach Henderson View reporter Caitlyn Belcher, email cbelcher@viewnews.com or call 702-383-0403. Find her on twitter: @caitlynbelcher.