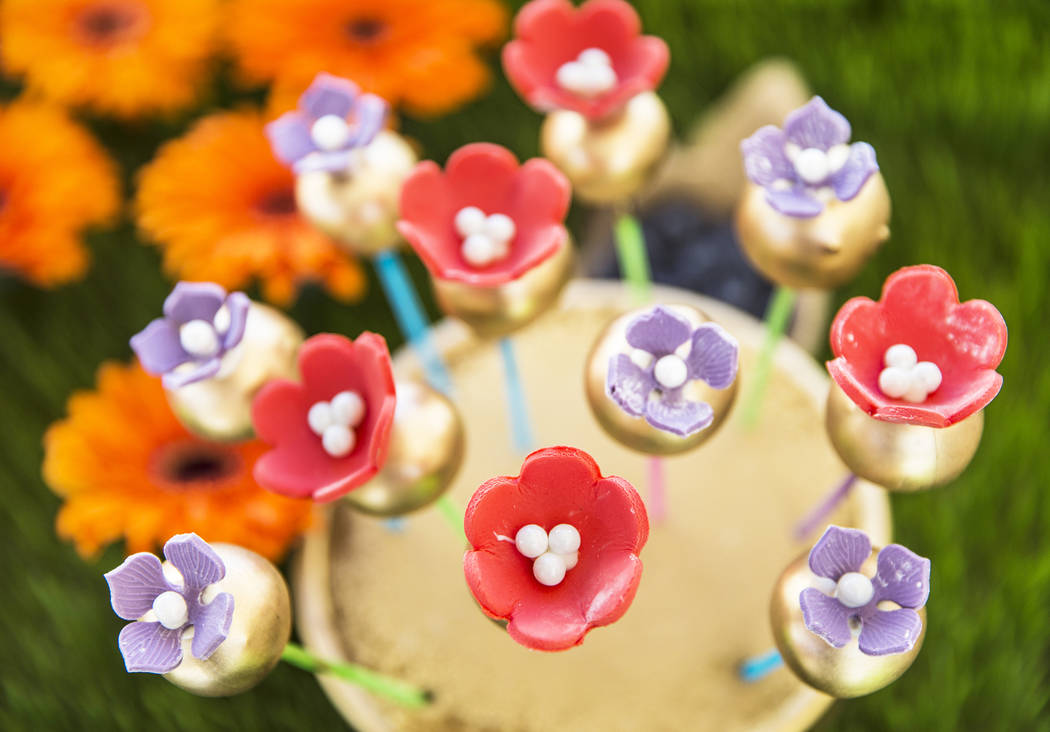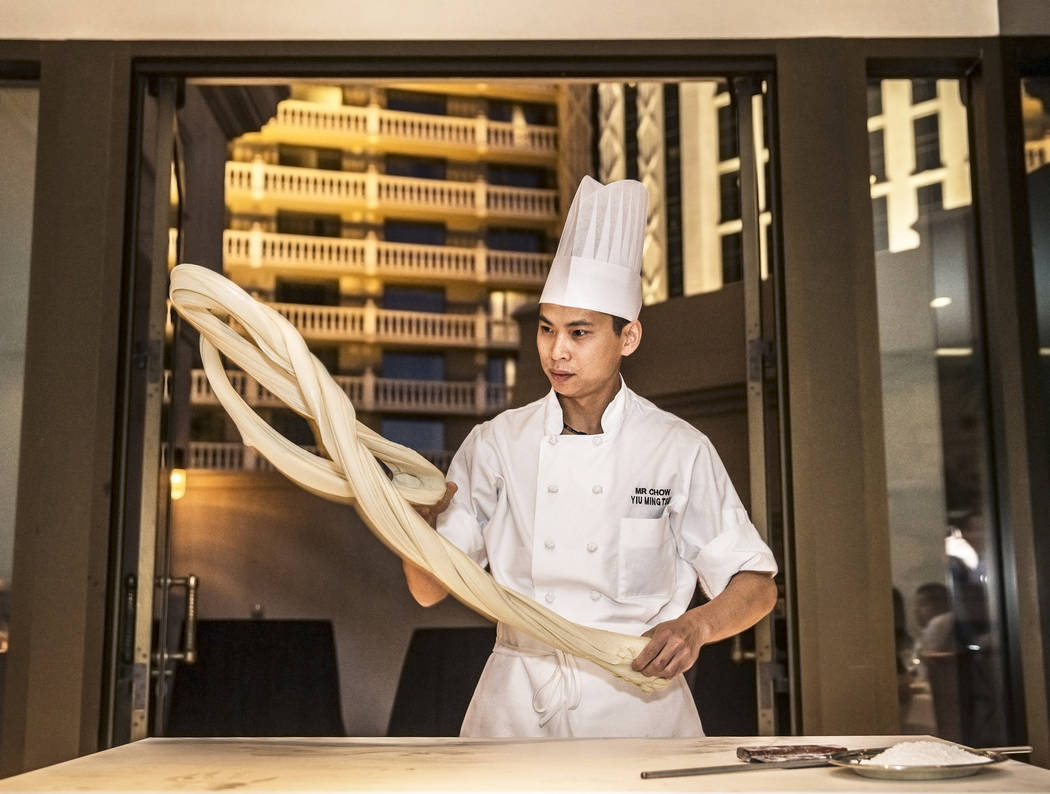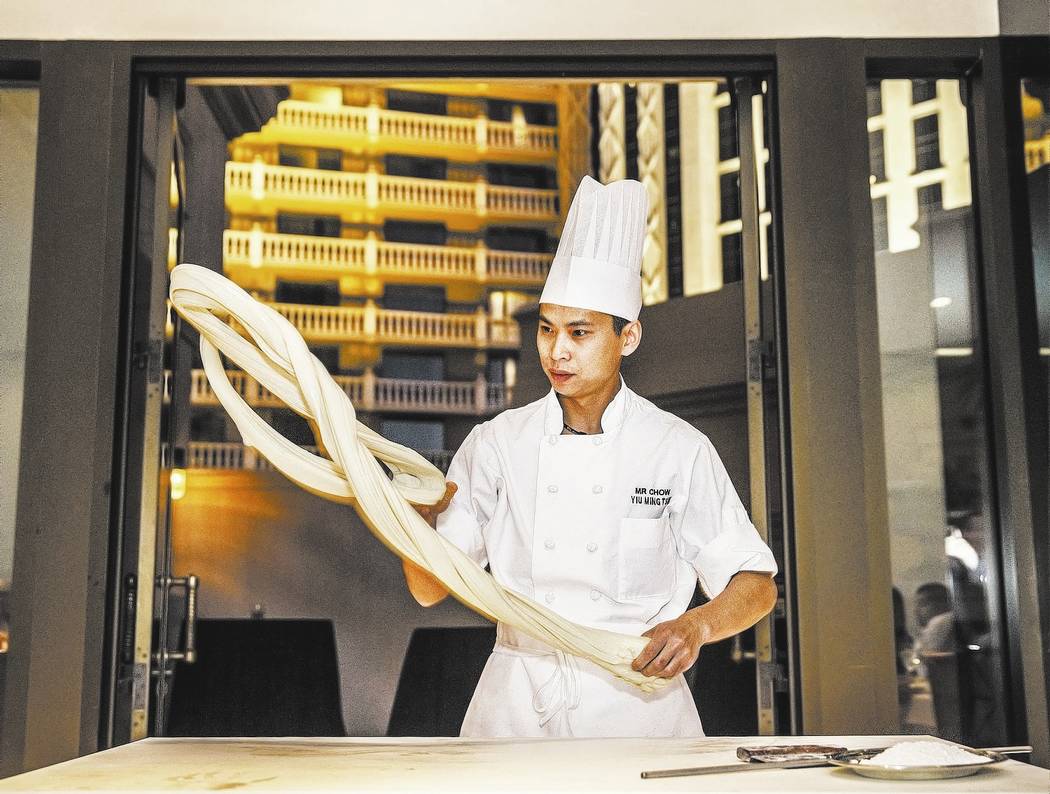 Kitchen Confidante visited the 2017 edition of Bon Appetit magazine's Vegas Uncork'd festival, which ran from Thursday through Sunday with a series of meals, seminars and outdoor dine-arounds hosted by some of Las Vegas top celebrity chefs. Here's a bit of what was seen and heard around town.
■ Susan Feniger and Mary Sue Milliken, co-owners of the Border Grill chain, became the first women to open the event when they simultaneously used a pair of ceremonial sabers to pop the tops of two bottles of bubbly at the star-studded saber-off.
■ While he was in town for some Uncork'd events, Gordon Ramsay held a surprise press conference to announce the opening of a new restaurant called Gordon Ramsay Hell's Kitchen at Caesars Palace.
■ Friday night's Grand Tasting at the Caesars Palace pools was once again the most popular event of the series, despite chilly weather.
■ With live music, open-fire cooking, top chefs and a laid-back vibe, the inaugural Picnic in the Park at The Park between New York-New York and Monte Carlo proved to be the surprise hit of the festival. One casino exec from a rival property in attendance admitted it was making him think about how to up his own game for next year's Uncork'd.
■ At one of the two brunches he hosted on Saturday, Bobby Flay told us he would once again be attending the Kentucky Derby. "I love thoroughbred horse racing," the chef explained. "It's one of my favorite things to watch and participate in. And listen, there's nothing better than watching two minutes of 150,000 people yelling and screaming at a horse race."
Flay also revealed he has a new book coming out at the end of the year called "Bobby Flay Fit" which, he says, "kind of talks about how I stay in shape as a chef, which is not an easy thing to do – there's lots of hazards in this kitchen, like butter."
■ Guests at Wolfgang Puck's lunch at Spago received some bad news at the last minute, learning the celebrity chef, who had been in town that morning, had been called home unexpectedly for a family emergency.
Restaurants show their best
■ The menu for Old Homestead Master's Series Dinner included an essence of chocolate in every dish, from the lobster through the steak. Co-owner Greg Sherry said the inspiration was "because no one's ever done it, and every year we have to do better for Bon Appetit." Sherry also revealed the brand is in talks with the Four Seasons to possibly bring their brand to Dubai and to cruise ships.
■ Guy Savoy not only sold out every seat in his dining room for his Master Series Dinner, he also managed to book the ultra-exclusive Krug Chef's Table, in an alcove in the kitchen. The price: a cool $6,450 for six people.
■ At Mr. Chow's, guests were treated to dishes from throughout the chain's 49-year history, and got to watch noodles stretched right in the private dining room.
■ Guests at the Culinary Journey Around The World in the Bacchanal Buffet's private dining room, received a surprise appearance by Guy Savoy, who offered them a taste of his famed truffle and artichoke soup.
■ Tom Colicchio spoke to us at length about several topics, including his political efforts to fight hunger. And he wanted to make it clear that, despite headlines to the contrary, he has not joined a lawsuit against President Trump and his Washington, D.C., hotel for illegally taking business away from independent restaurants and hotels. The chef is, however, a member of one of the groups involved in the suit, and he says he does support their actions.
Have an item for Kitchen Confidante? Email hrinella@reviewjournal.com or amancini @reviewjournal.com.