Story of Honey Salt in Las Vegas to be told in new cookbook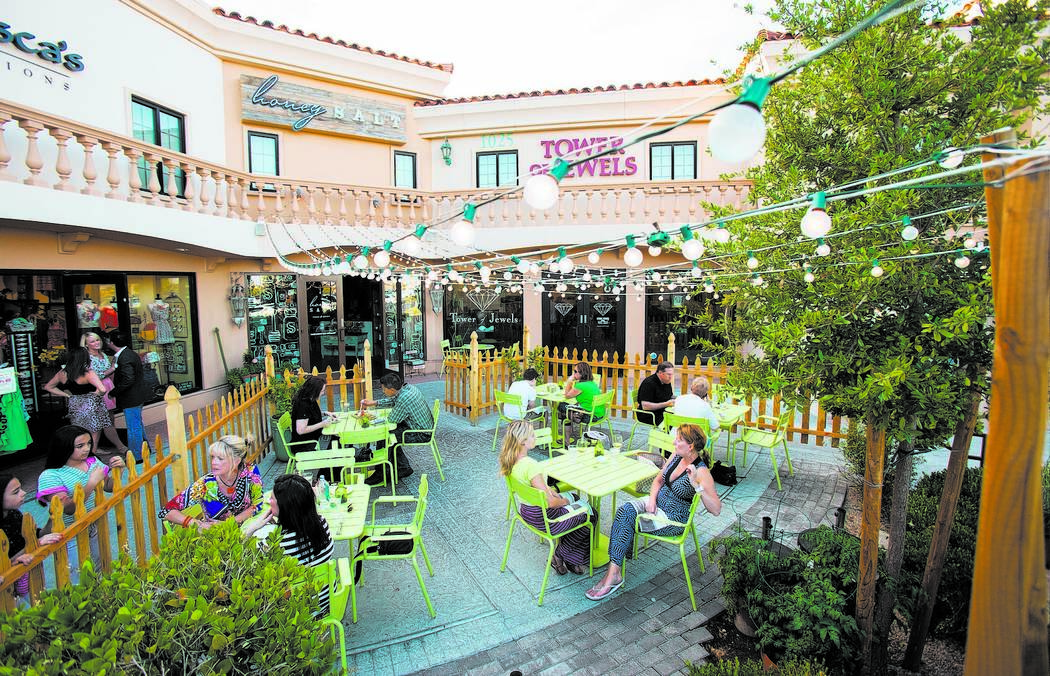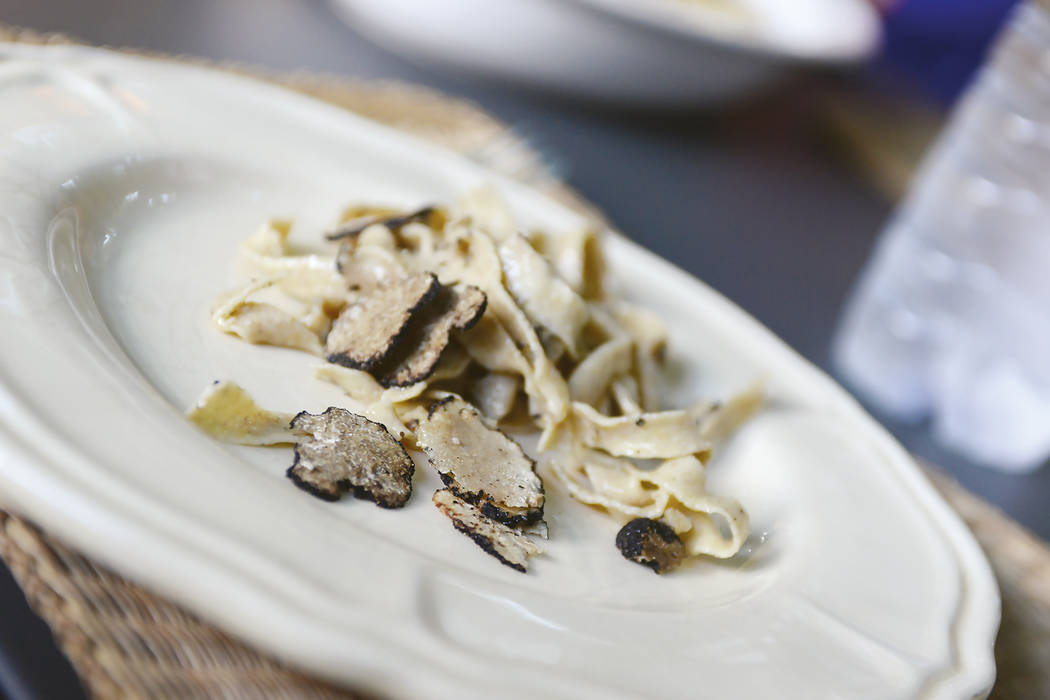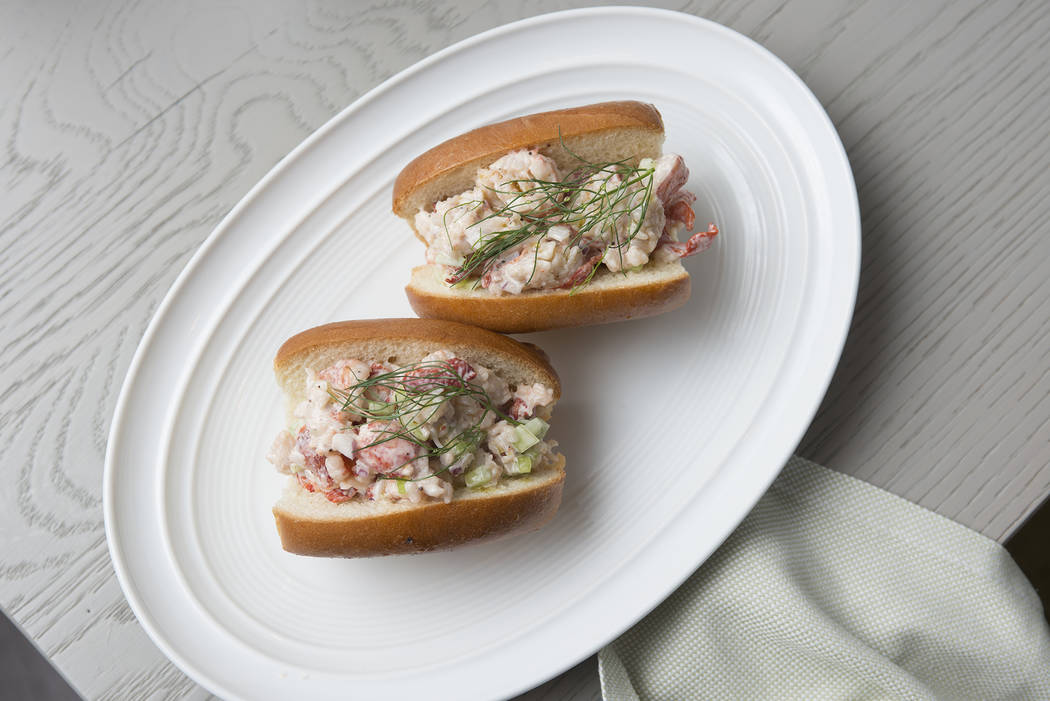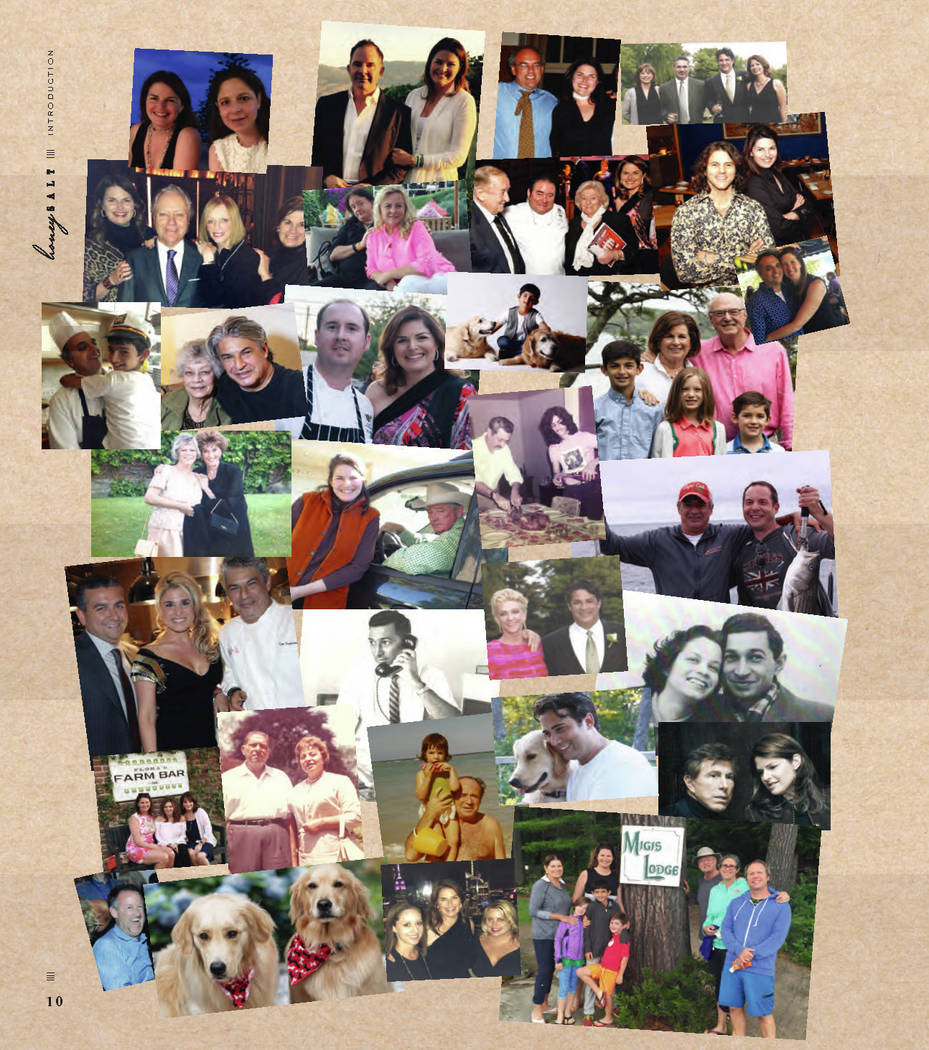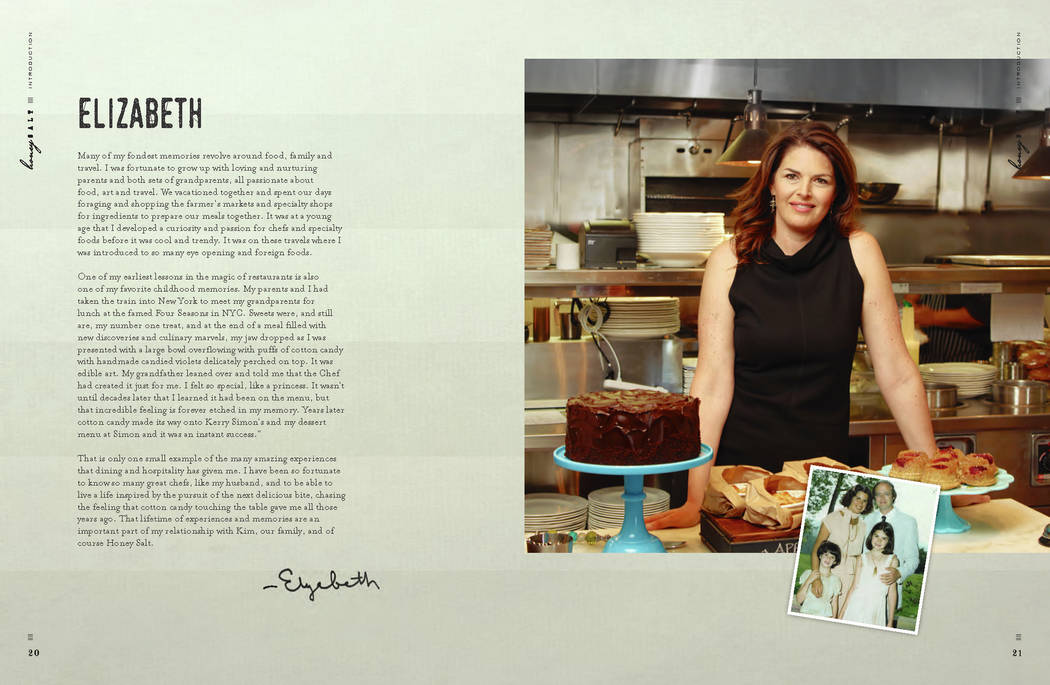 Elizabeth Blau has been in the restaurant industry for more than 30 years, with more than 20 of those in Las Vegas. She's been a scrapbooker even longer — since high school. Her two passions are coming together, in "Honey Salt Food and Drink: A Culinary Scrapbook," which she's writing with chef-husband Kim Canteenwalla and hopes to release next month.
Blau said she's long been the chronicler of her extended family, creating scrapbooks with the Picaboo web-based self-publishing service and distributing them after group outings, such as the recent bar mitzvah of her son, Cole, in Israel. She said she's created about 40 scrapbooks.
"I have boxes of photos," Blau said.
From that avocation grew the book, which, in true scrapbook fashion, opens with a collage of photos of the couple with family and friends. It quickly moves on to the subject at hand, with various scenes of the Rampart Commons restaurant that opened in 2012 (they also have Andiron Steak & Sea at Downtown Summerlin, Buddy V's at the Grand Canal Shoppes and restaurants in Vancouver, British Columbia, and Pennsylvania) and tales of the couple's backgrounds.
"It tells the story of the making of the restaurant and the inspiration behind that," Blau said. "And how we cook at home and on vacation."
The first section, "Journeys," opens with postcards of their favorite places: Cape Cod, Massachusetts; Vancouver and Kelowna, British Columbia; Santa Barbara, California; and Italy. There are recipes and points of interest for each, along with information on choosing and using fresh ingredients, anecdotes on digging for truffles in Italy and descriptions of various types of crabs.
Each member of the family has their own section, too, with Blau's focusing on entertaining, Canteenwalla's on grilling and Cole's on his favorite dishes.
Other sections provide tips on planning a brunch, barbecue or dinner party, their favorite vendors, kitchen advice from Canteenwalla, building blocks for cooking and entertaining and a glossary and index.
Blau said the book has been three and a half years in the making.
"It came together quite organically," she said. "Some of these sections were so much fun for me."
They're publishing the 296-page book themselves, having it printed and bound in Italy.
The couple have a keen interest in cookbooks, with a collection of more than 1,000. She said she thinks anyone in the restaurant business has thought about producing a cookbook, and theirs will soon be a reality, for $29.95 at amazon.com.
"It's a labor of love," she said.
Elizabeth's Warm Maine Lobster Roll
1 tablespoon salt
1 lemon, zested and then juiced
3 1½-pound whole live lobsters
3/4 cup mayonnaise
6 tablespoons Dijon mustard
1/4 cup chopped fresh tarragon
3/4 cup celery, diced small
Salt and pepper to taste
6 top-split hot dog buns
2 tablespoons melted butter
For herb salad garnish:
10 sprigs dill
10 celery leaves
10 parsley leaves
Splash olive oil
Salt and pepper to taste
Bring a large stockpot of salted water to a rolling boil. Add half of the lemon juice.
In the meantime, fill a large container with ice water and set aside.
Plunge the lobsters headfirst into the boiling water; cover and cook about 8 to 10 minutes. Uncover and cook until the lobsters are bright red and cooked through , about 2 to 3 minutes more.
Transfer the lobsters to the ice bath to shock and stop from further cooking. When the lobsters are cool, remove from the ice bath.
To break down the lobsters, twist off the claws and tails from each. Remove the flippers from the end of the tail, then insert your thumb at the base and push hard to force out the lobster meat. With the flat side of a large knife, crack the claws and remove the meat. Roughly chop the lobster meat and transfer to a mixing bowl. Chill in the refrigerator while you prepare the mayonnaise mixture.
Whisk the mayonnaise, mustard, tarragon, celery and remaining half of the lemon juice together in a large bowl. Fold in the chilled lobster meat and gently toss to coat.
To make the herb salad, in a separate bowl toss together the dill, celery and parsley leaves, lemon zest and olive oil. Season to taste with salt and pepper. Set aside.
To serve, brush split buns with the melted butter and toast in a large skillet over medium heat until lightly browned. Spoon the lobster salad equally into the toasted buns. Garnish with the herb salad.
Serves 6.
Plum Galette
Filling:
5 pounds plums, pitted and diced (cut in half, then quarter each half) (see note)
4 ounces candied ginger, finely minced
1/2 cup sugar
3 tablespoons all-purpose flour
1/4 cup melted butter
Dough:
1 egg yolk
1/4 cup water
1 1/2 teaspoons cider vinegar
10 ounces all-purpose flour
1 1/2 tablespoons sugar
1 teaspoon salt
3/4 cup cold butter, diced into half-inch cubes
1 tablespoon milk
1 tablespoon sugar
Combine all of the filling ingredients in a large bowl and toss to evenly coat the plums.
Combine the egg yolk, water and vinegar in a bowl. Place the dry ingredients and butter in the bowl of a food processor, then pulse to combine. Add the egg-cider mixture and continue to mix just until the dough starts to form a ball. (Note that the mixture will be a little crumbly until you remove from the bowl and press it together by hand.) Wrap tightly with plastic wrap and refrigerate for at least two hours.
Heat oven to 375 degrees. Roll out the dough on a lightly floured surface until it measures a 12-inch round. Transfer the dough to a parchment-lined baking sheet. Mound the plum mixture in the center of the dough, leaving a 2-inch border. Fold the edge of the dough over the filling, brush with the milk and sprinkle with sugar.
Bake until the filling is bubbling and the crust is golden brown, about 45 minutes.
Completely cool before serving.
Serves 6.
Note: The plums will release too much liquid if you prepare the filling mixture too far in advance.
Truffle and Fettucine Cream Sauce
1 pound dried fettucine
Salt
1 teaspoon black truffle butter
1/2 leek, cleaned and sliced
1/4 cup minced shallots
1 1/2 cloves garlic, minced
1 cup dry white wine
1 sprig thyme
1 cup chicken stock
2 cups heavy cream
1 1/2 tablespoons chopped black truffles
Fresh truffle slices to taste
Bring a large pot of salted water to a boil. Add the pasta and cook until slightly underdone, about 5 to 7 minutes. Drain, reserving 1/4 cup of the cooking liquid. Set aside and keep warm.
Melt the truffle butter in a saucepan over medium-low heat. Add the leek, shallots and garlic and stir until soft and translucent. Deglaze the pan with the wine and reduce until dry. Add the chicken stock and thyme and bring to a boil. Stir in the heavy cream and simmer for 30 minutes.
Add the chopped truffles and season with salt and pepper to taste. Continue to simmer the sauce until it is thick enough to coat the back of a spoon. Toss the cooked pasta with the truffle cream sauce until thoroughly coated. Transfer to a warm platter and garnish with fresh truffle slices.
Serves 6.
— Recipes from "Honey Salt Food and Drink: A Culinary Scrapbook"
Contact Heidi Knapp Rinella at Hrinella@reviewjournal.com or 702-383-0474. Follow @HKRinella on Twitter.