Sugar Factory's Chocolate Lounge is a chocolate lover's fantasy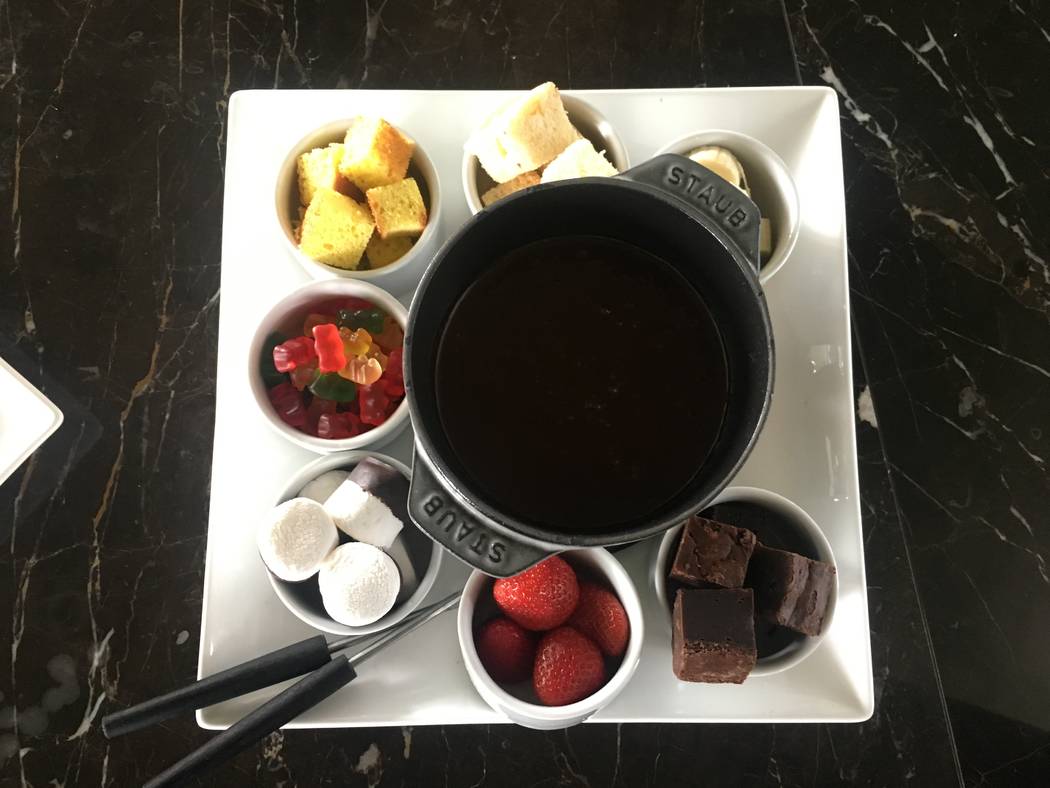 Enter a world of pure imagination.
A whimsical land of 'scrumdiddlyumptious' treats, similar to those found in "Willy Wonka," has arrived on the Las Vegas Strip in the form of Sugar Factory's Chocolate Lounge.
Sugar Factory's second floor at Fashion Show Mall is a sister concept for the brand and the only Chocolate Lounge in the U.S., according to partner and part-owner Tom Recine.
The chocolate-inspired bar and restaurant features cocoa-colored decor, tasty new menu items and a sweet view of the Strip.
For Chef Christophe Bonnegrace, Las Vegas is a natural location for Sugar Factory's chocolate-centric extension. "The Chocolate Lounge belongs in Las Vegas. It is a celebration, a party and this is the perfect city for it."
While the 220-seat Sugar Factory on the first floor serves the confectionary and eatery's famous milkshakes and goblets, Chocolate Lounge's menu offers exclusive chocolate-based martinis and cocktails served in chocolate-dipped glassware.
Bonnegrace and his team spent about a year and a half developing the lounge's menu. "It was a lot of experimenting with the chocolate dipping on the glass. It needed to be the right texture so you could taste it while drinking without it meltingor getting too solid with a cold drink."
Cocktails include Frozen Spiked Hot Chocolate made with ice cream, whipped chocolate vodka and frozen hot chocolate and the Frozen Chocolate Bacon S'mores made with chocolate ice cream, vanilla vodka, Bailey's vodka, marshmallow, graham cracker liqueur and bacon garnish.
Menu items include a variety of chocolate fondues, sweet candy-topped pizzas and an array of meat and cheese boards.
According to Recine, Sugar Factory is the most Instagrammed-restaurant in the world. "We appeal to guests of all ages but we're also known for our parties, our celebrations. It's a little bit for everyone."
A second Chocolate Lounge is slated to open at Sugar Factory's Broadway location in New York next month, with locations in San Diego and Seattle to follow.
Contact Janna Karel at jkarel@reviewjournal.com. Follow @jannainprogress on Twitter.
RELATED
It's a candy and dessert extravaganza as Sugar Factory opens at Fashion Show
Get the Chocolate Gold experience at Sugar Factory's new Chocolate Lounge