Sunflower seeds without all the work
December 9, 2014 - 10:57 pm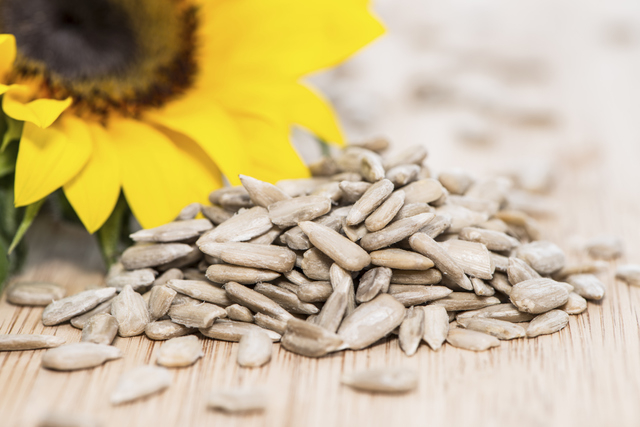 Sunflower seeds add crunch and flavor to a lot of foods, but they tend to be a pain to shell, especially if you have to do a lot of them. But fellow Taste of the Town readers have found local sources for the unshelled seeds for William Isaac, who's seeking them.
Ann Brown emailed that they're available in the bulk section at Sprouts Farmers Market, which has five stores in the valley. Deborah Sizemore emailed that they can be found at all Rebel Oil Co. stores and at the Wal-Mart Supercenter at 3041 N. Rainbow Blvd. Darlene Nix reported finding both salted and unsalted husked seeds in 1-pound packages and individual-size packages at Fresh &Easy and at Trader Joe's, both of which have multiple locations in the valley. And Kara Hierro of Glazier's Food Marketplace at 8525 W. Warm Springs Road said they carry the kernels. …
For the Polly-O ricotta sought by Isabel and Edward Rosten, Brown and Jo Ann Lynch both reported spotting it at Glazier's. …
For Albert Townsend, who's looking for a local source for mince pie, Brown reported finding it at Marie Callender's, which has four locations in the valley. …
For George Urias, who's looking for a local source for Indian fry bread, Pamela Moore emailed that it's served at Carlito's Burritos at 3345 E. Patrick Lane, which uses it in its Navajo tacos, and which also serves "great New Mexican food — their chile rellenos are the best!" …
For Marie Flagg, who asked for reader suggestions for "deluxe" grilled-cheese sandwiches with no meat — an "amped-up" version such as the one served at Eat — Marlene Drozd recommended the classic grilled cheese at Panera Bread, which has six locations in the valley. …
And for readers seeking Utz potato chips and snacks and Bachman pretzels, Hierro said Glazier's has them after a two-year wait. …
More on tomato-based salad dressing: Barbara Dill emailed this recipe circa 1940, adding that it was the "go-to" dressing of her maternal grandmother.
TOMATO SOUP SALAD DRESSING
1 can tomato soup
¾ cup red wine vinegar
½ cup light olive oil
¼ cup sugar
1 tablespoon Worcestershire sauce
3 tablespoons grated onion
1 teaspoon salt
1 teaspoon paprika
1 teaspoon dry mustard
Mix well, pour into canning jar or other container and store, covered, in refrigerator. Makes about 3 cups.
— Recipe from Barbara Dill
MORE READER REQUESTS
Bud Smith is looking for a local restaurant that serves New England-style lobster rolls, and a source for onion rye bread, which he used to get at Smith's at 2211 N. Rampart Blvd. …
Chuck Ford is looking for Nathan's Deli Pickles, which he used to get at the Wal-Mart Supercenter at 300 E. Lake Mead Parkway in Henderson. …
Ed Halley is looking for a restaurant, preferably in Henderson, that specializes in good chicken mole dishes. …
Nancy Carey is looking for kishka, which she used to get at Glazier's Food Marketplace. …
And Sarah Frittitta Nguyen is looking for wonton-wrapped mozzarella sticks.
Readers?
Submit information to Heidi Knapp Rinella, P.O. Box 70, Las Vegas, NV 89125-0070. You also can send faxes to 702-383-4676 or email her at hrinella@reviewjournal.com. Include your first and last names and, if emailing, put "Taste of the Town" in the subject line. Follow @HKRinella on Twitter.