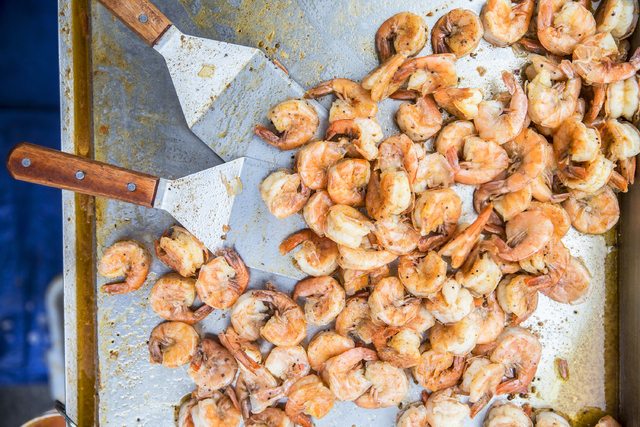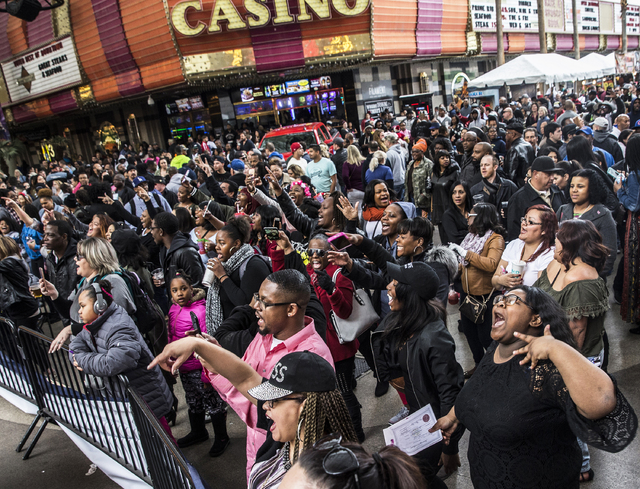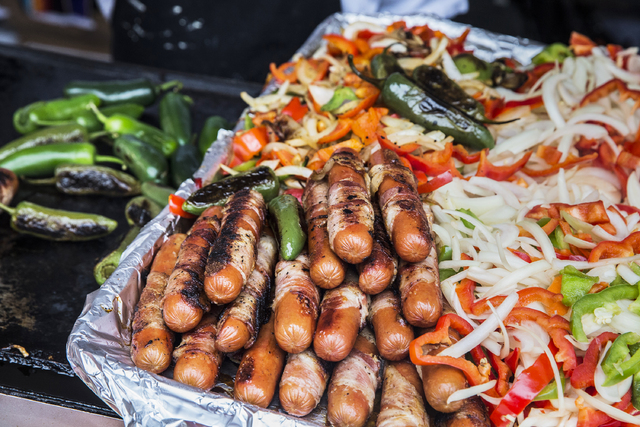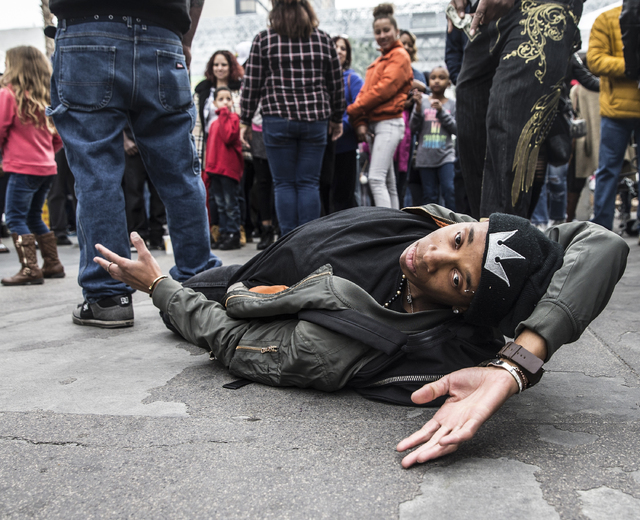 "Giant turkey legs" trumpeted a banner on one of the booths at the Taste and Sounds of Soul Food and Music Festival this past weekend, and they weren't kidding. Virginia Johnson was delicately nibbling on one of the bony behemoths as she considered just why she had come out for her 10th soul festival. Was it the culture? The music? The camaraderie?
It came down to this, the Las Vegas resident said: "Because we knew the food vendors were going to be here."
And were they ever. With a backdrop of DJ music booming throughout the Fremont Street Experience and in the shadow of zip liners zooming by overhead, the crowd had one objective: the food being sold along Third Street north of Fremont.
Soul food, shaped by the ethos of Southern cuisine, leans heavily to what most people think of as comfort food. The tradition was largely developed by slaves and other poor farmworkers in the Civil War-era South and mirrored much of what was going on in the kitchens of the main houses.
Variations arose from the trading of difficult-to-obtain ingredients for those more readily available in the slave quarters and tenant shacks, leading to such traditional dishes as collard (or any other kind of) greens with smoked pork belly. Many of them were so skillfully developed that the cuisine seepage started working in the other direction, and growing prosperity led to dishes such as macaroni and cheese reaching iconic status.
Soul food has long been well represented in Las Vegas, with smaller places coming and going and established spots such as M&M Soul Food, Gritz Cafe, Ella M's, Soul Food Cafe and Mario's Westside Market enduring. Others departed but left their mark; who could forget Big Mama's on Bonanza Road? Or H&H Barbecue on Martin Luther King Boulevard, which burned one Sunday night but was represented at the festival by a food truck?
As is the case with the cuisine in general, the soul food at the festival showcased barbecued practically everything, the savory smoky aromas cloaking even the diesel exhaust of the trucks going by on Ogden Avenue. It was joined by such soul-food stalwarts as fruit cobblers and fried fish, shrimp and chicken.
There also were closely related Cajun and Jamaican foods, and Caribbean-style hollowed pineapples filled with fruit and juice or smoothie. And then there were foods mostly belonging to other culinary traditions, kielbasa and bratwurst, grilled teriyaki platters, gyros and funnel cakes.
Alyson Dias, managing the booth for Stone's Jamaican Cuisine of Los Angeles, said it was the 14th year the company had been at the festival.
"It's been great for us," Dias said. "We like this community. We have a lot of friends here." Also a presence at festivals such as Reggae in the Desert and the Jazz and R&B Festival, "we're here in Vegas quite often," she noted.
The weekend festival held other diversions. The Southern Nevada chapter of the Buffalo Soldiers had a booth, and there was a barbershop for those in need of a quick trim.
But to understand the real focus here, one needed only to talk to Las Vegas resident Sabra Lessnick. Just down the row from the booth offering Soul D'Licious seasonings and in earshot of the Justa Lil Sweet Cakes guy promising festivalgoers they could "try before you buy," Lessnick was standing at a table, finishing off a plate of barbecue. She and friend Lynne Smith said they often attend such festivals.
"We've already done the chicken; it was really good," she said. "The spicy sausage, the banana pudding pie was really good …" Suddenly Lessnick stopped.
"I've been working out at Las Vegas Fit Body Boot Camp," she said, maybe a little sheepishly. "This was my one cheat day."
If you'd like to try creating some soul of your own, here are a few recipes:
JOHN LEGEND'S MACARONI AND CHEESE
4 tablespoons (½ stick) unsalted butter, plus more for baking dish
Coarse salt and freshly ground pepper
3 cups elbow macaroni
Two 12-ounce cans evaporated milk
1/3 cup skim milk
2 large eggs
½ teaspoon seasoned salt
¼ teaspoon garlic powder
Two 8-ounce packages extra-sharp cheddar cheese, grated
One 8-ounce package Monterey Jack cheese, grated
Paprika, for sprinkling
Heat oven to 375 degrees. Generously butter a 13-by-9-inch glass baking dish; set aside. Bring a large pot of water to a boil; add salt and macaroni. Cook until al dente according to package directions. Drain and return to pot. Add butter and toss until pasta is coated and butter has melted; set aside.
In a medium bowl, whisk together evaporated milk, skim milk and eggs. Add seasoned salt, garlic powder, 1 teaspoon salt and ½ teaspoon pepper; set aside. In another medium bowl combine cheeses; set aside.
Place 1/3 macaroni in an even layer in the bottom of prepared baking dish; cover evenly with 1/3 cheese. Repeat with remaining macaroni and cheese mixture. Pour milk mixture evenly over contents of baking dish. Sprinkle with paprika. Bake until top layer is lightly browned, 35 to 45 minutes. Let stand 10 to 15 minutes before serving.
— Martha Stewart Living
HAM AND GREENS POTPIE WITH CORNBREAD CRUST
4 cups chopped cooked ham
2 tablespoons vegetable oil
3 tablespoons all-purpose flour
3 cups chicken broth
One 14-ounce package frozen diced onion, bell pepper and celery mix
One 16-ounce package frozen chopped collard greens
One 15.8-ounce can black-eyed peas, rinsed and drained
½ teaspoon dried crushed red pepper
Vegetable cooking spray
Cornbread crust batter (recipe follows)
Saute ham in hot oil in a Dutch oven over medium-high heat 5 minutes or until lightly browned. Add flour and cook, stirring constantly, 1 minute. Gradually add chicken broth and cook, stirring constantly, 3 minutes or until broth begins to thicken.
Bring mixture to a boil and add onion, bell pepper and celery mix and collard greens; return to a boil and cook, stirring often, 15 minutes. Stir in black-eyed peas and crushed red pepper; spoon hot mixture into a lightly greased (with cooking spray) 13-by-9-inch baking dish.
Cornbread crust batter: Combine 1½ cups white cornmeal mix, ½ cup all-purpose flour and 1 teaspoon sugar. Make a well in center of mixture and add 2 lightly beaten large eggs and 1½ cups buttermilk, stirring just until moistened.
Pour batter evenly over hot filling mixture. Bake at 425 degrees for 20 to 25 minutes, or until cornbread is golden brown and set.
Serves 8 to 10.
— Southern Living
NASHVILLE-STYLE HOT CHICKEN
Two 3½-to 4-pound chickens, each cut into 10 pieces (breasts halved)
1 tablespoon freshly ground black pepper
2 tablespoons plus 4 teaspoons kosher salt (divided use)
4 large eggs
2 cups buttermilk or whole milk
2 tablespoons vinegar-based hot sauce (such as Tabasco or Texas Pete)
4 cups all-purpose flour
Vegetable oil (for frying; about 10 cups)
6 tablespoons cayenne pepper
2 tablespoons dark brown sugar
1 teaspoon chili powder
1 teaspoon garlic powder
1 teaspoon paprika
White bread and sliced pickles (for serving)
Toss chicken with black pepper and 2 tablespoons salt in a large bowl. Cover and chill at least 3 hours.
Whisk eggs, buttermilk and hot sauce in a large bowl. Whisk flour and remaining 4 teaspoons salt in another large bowl.
Fit a Dutch oven with thermometer; pour in oil to measure 2 inches. Heat over medium-high heat until thermometer registers 325 degrees. Pat chicken dry. Working with one piece at a time, dredge in flour mixture, shaking off excess, then dip in buttermilk mixture, letting excess drip back into bowl. Dredge again in flour mixture and place on a baking sheet.
Working in four batches and returning oil to 325 degrees between batches, fry chicken, turning occasionally, until skin is deep golden brown and crisp and an instant-read thermometer inserted into thickest part of pieces registers 160 degrees for white meat and 165 for dark, 15-18 minutes. Transfer to a clean wire rack set inside a baking sheet. Let oil cool slightly.
Whisk cayenne, brown sugar, chili powder, garlic powder and paprika in a medium bowl; carefully whisk in 1 cup frying oil. Brush fried chicken with spicy oil. Serve with bread and pickles.
Note: Chicken can be seasoned 1 day ahead. Keep chilled.
Serves 8.
— Bon Appetit
Contact Heidi Knapp Rinella at Hrinella@reviewjournal.com. Find more of her stories at www.reviewjournal.com, and follow @HKRinella on Twitter.