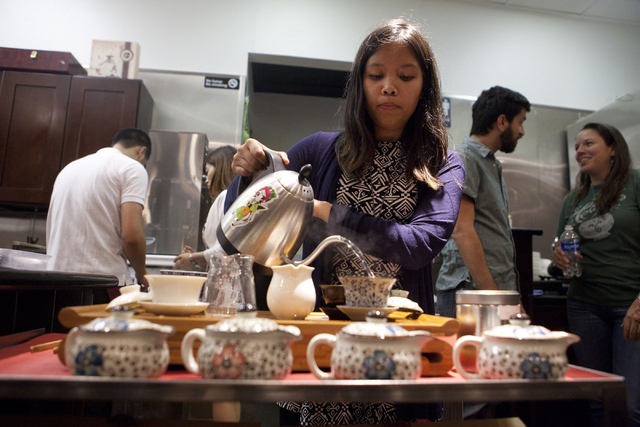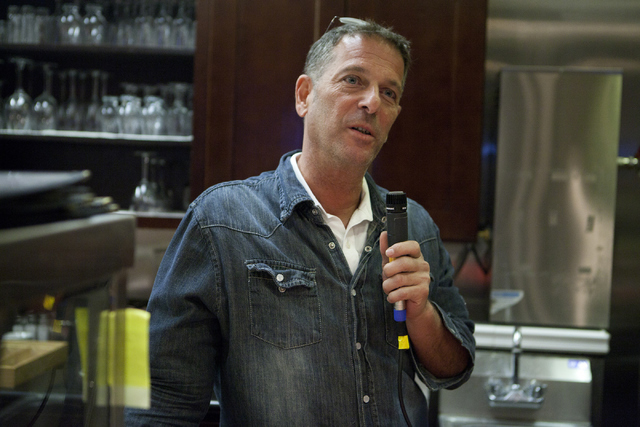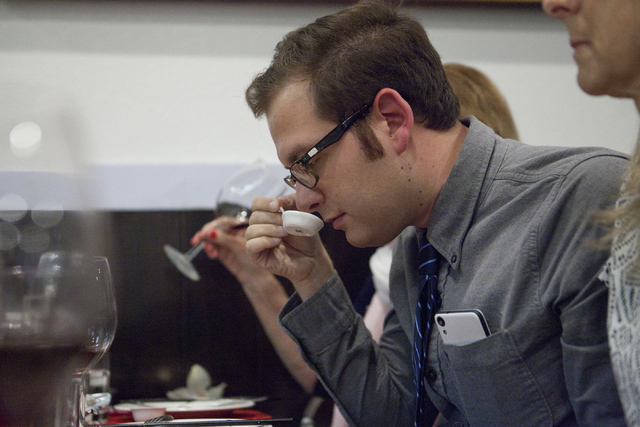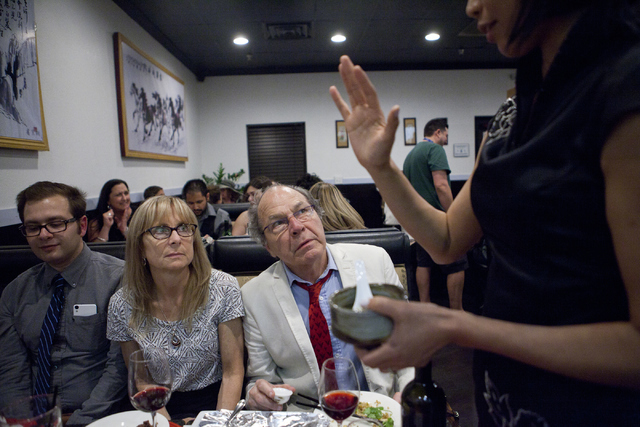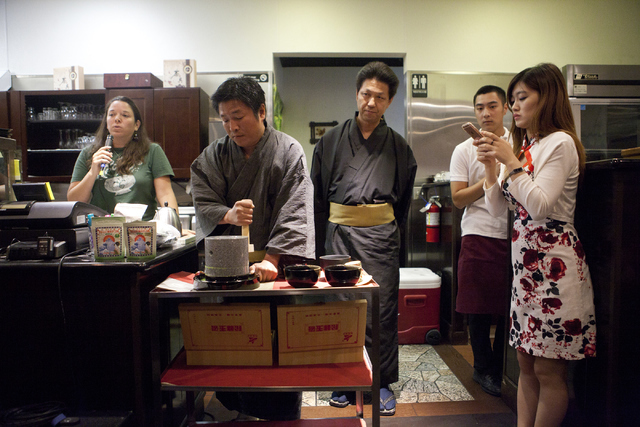 The delicate, pale tea in the petite, blue porcelain cup distinctly reflected its premium pedigree — part of a small oolong harvest from the Alishan mountain range in Taiwan. Fourth-generation tea artisan Kuei Fang brought her family's signature tea more than 6,000 miles to share at a recent "tea pairing" dinner at Niu-Gu, a new Shanghai-style restaurant opened by chef Jimmy Li and longtime food and wine expert Joe Muscaglione.
SIMILAR TO WINE
Similar to a wine-pairing dinner, about 60 guests — primarily tea retailers, educators and experts in town for an annual industry event — were treated to a menu with courses featuring a variety of rare teas carefully chosen to enhance each dish. Muscaglione hopes "tea pairing" events like this will bring new appreciation to one of the world's oldest beverages.
Since opening its doors at 3400 S. Jones Blvd. this past spring, Muscaglione has charged himself with the mission to bring a higher level of tea consciousness to Las Vegas. But, how did Muscaglione, a lifelong food and wine professional, who has developed world-class Italian-only wine lists as beverage director for the likes of Joe Bastianich and Mario Batali's Babbo NYC and who later launched Tao's beverage program, find his passion in Chinese culture?
"I've always found similarities between Chinese and Italian cultures," Muscaglione said. "Both are ancient cultures, and both cherish the idea of gathering and sharing meals together."
A LAS VEGAS TEA COMPANY
For the tea pairing dinner, he partnered with Elyse Petersen of Tealet, a direct trade tea company based in Las Vegas. The two carefully curate teas from independent growers that are dedicated to their craft to serve at the restaurant — seeking small harvests grown in the most pristine conditions, like the oolong grown by Fang's family in Taiwan.
The teas served grew on the north and south side of her family's plantation in Alishan, famous for high-mountain oolong tea. The opposing terroirs were distinctly evident in each cup, yet oolong's distinct personality came through. The northern leaves were forest green in color, and the tea had aromas and flavors of earth that filled the mouth, along with a hint of salinity and seaweed. It contrasted with the south's sweet island plumeria-scent, which had a mellow, yet still persistent vegetal flavor with leaves that displayed green-golden hues. While only a small example of the diversity of teas in this world — even within small growing areas — the teas featured full-bodied flavors and aromas every bit as complex as wines.
Fang's teas were paired with Niu-Gu's signature Angus short ribs (the restaurant's name means "beef bone"), richly rounding out the assertive and exotic qualities of her alpine teas.
An ambrosia of sweet melon, berries and tender slices of lobster was paired with the elegant Dragonwell tea. Produced by the Zhu family from Meijiawu Village, in the Hangzhou, Zhejiang Province of China, the family's fertile 10 acres sit 320 feet above sea level. Before the spring rain, teas are made with the choicest bud-leaf tips, plucked in April.
Niu-Gu's shrimp fried rice was paired with Da Hong Pao oolong tea from the Wuyi mountains in Fujian, China. Famous for its distinct mineral undertones and sweet-tart dried fruit flavors, this particular tea had powerful charcoal overtones that enhanced the pan-fried essence of this classic dish.
THE TEA CEREMONY
A Japanese tea ceremony led by Kunikazu Mochitani and Yoshiaki Hattori of Hattori Farms in Shizuoka, Japan, included the grinding of raw tea leaves with a traditional stone mill for an especially robust, vibrantly green matcha. Served alongside a matcha-infused tres leches cake, an elegant counterpoint to the drink's natural bitterness, the combination was an ethereal end to the meal.
The evening's guest of honor, James Norwood Pratt, author of several books about tea and often referred to as "America's tea sage," praised the get-together as a special opportunity for aficionados to come together and celebrate their favorite beverage.
"(It's) vital for bringing the full tea community of tea growers, makers and business people together to connect and learn from each other," he said.