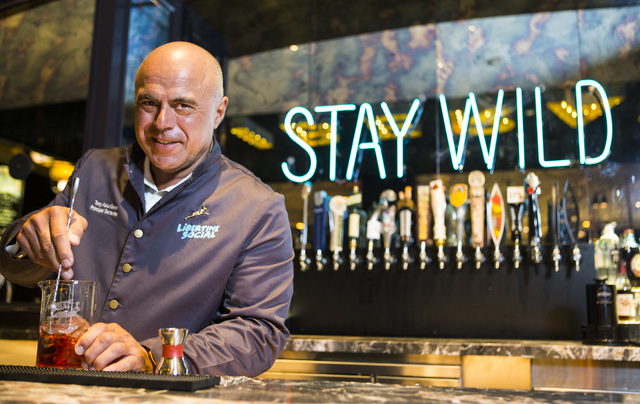 Tony Abou-Ganim pedals for those who can't.
Abou-Ganim, known nationally as the Modern Mixologist, is among 230 culinary professionals riding in the Chefs Cycle for No Kid Hungry event in Santa Rosa, Calif., this week. He said Monday night that the 300-mile ride had raised $1.7 million toward its $2 million goal.
On June 12, Abou-Ganim will ride in an event even closer to his heart — and his home — since it benefits the Helen David Relief Fund, which he founded. The 40-mile Team Negroni ride, part of Negroni Week, started in San Francisco and in this, its third year, takes place in seven U.S. cities including Las Vegas.
"My plan is to ride in six of the seven cities," Abou-Ganim said. "I'm going to be either on a bicycle seat or in a plane seat for seven days straight. The hope is to grow this to where it's in every city that has a chapter of the USBG," the United States Bartenders' Guild, of whose National Charity Foundation the Helen David Relief Fund is a part.
A fundraiser for the Helen David fund — named for Abou-Ganim's aunt and which assists people in the bar industry who are fighting breast cancer — is For the Love of Cocktails takes place Friday at Skyfall at the Delano.
"One hundred percent of proceeds from ticket sales go directly to the Helen David," he said. "The more tickets we sell, the more people we can help. The Skyfall is such a beautiful location, and Alain Ducasse is lending his talents to it. And this year over 60 Las Vegas bartenders are donating their time and talent. There's no better place to be drinking Friday night than For the Love of Cocktails." For tickets, which start at $99, go to fortheloveofcocktails.com.
Have an item for Kitchen Confidante? Email hrinella@reviewjournal.com or amancini@reviewjournal.com.