The Sundry food hall reveals opening date, final restaurants roster
Updated June 6, 2023 - 7:22 am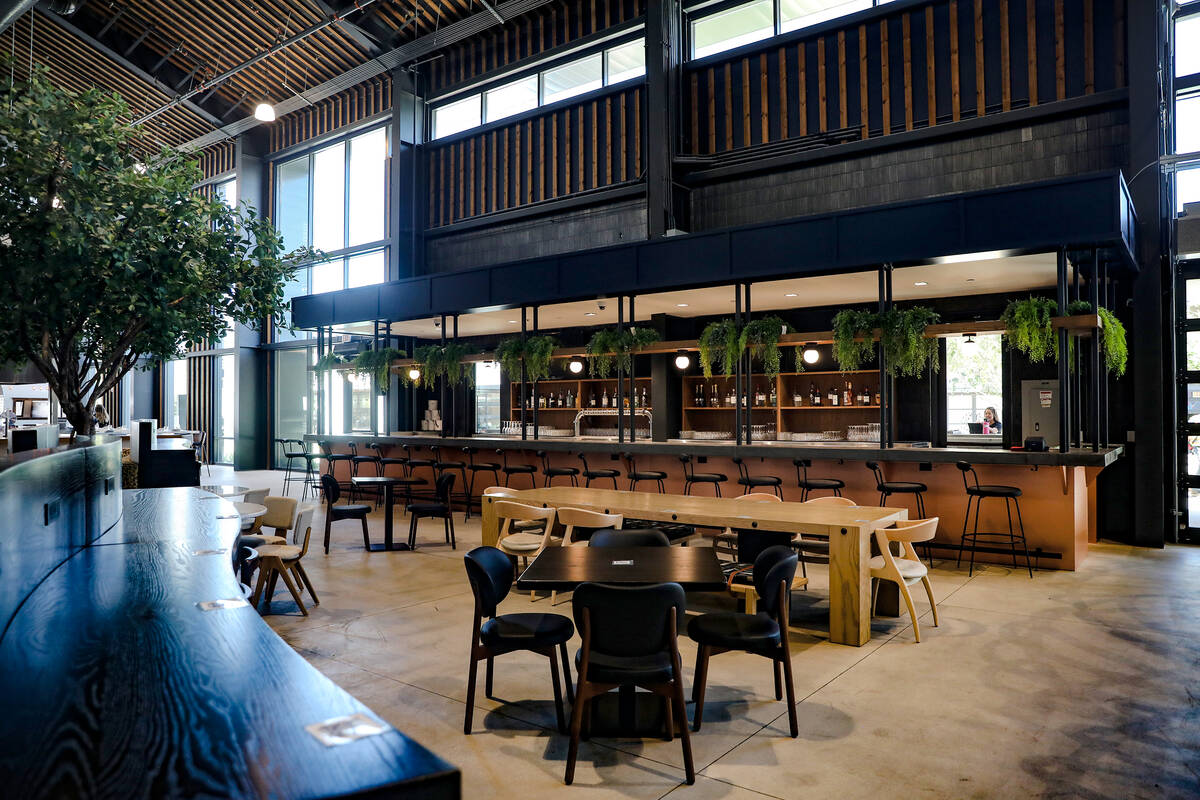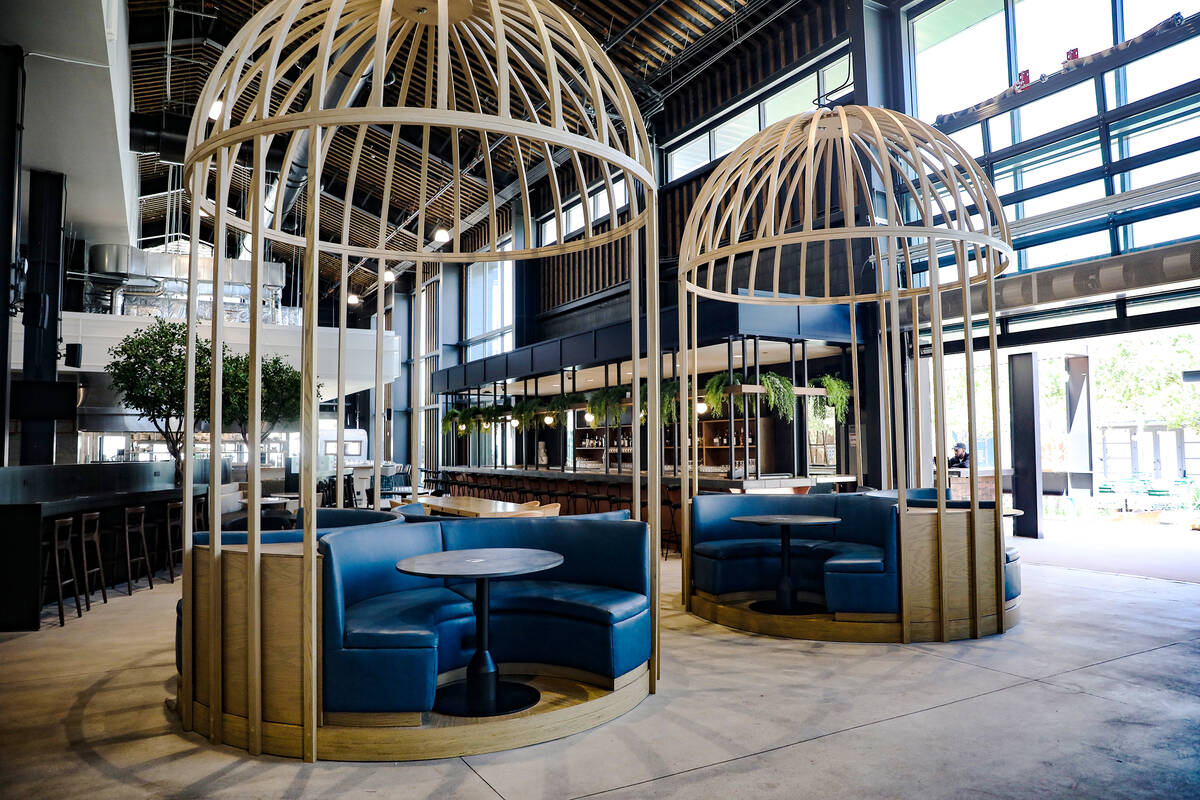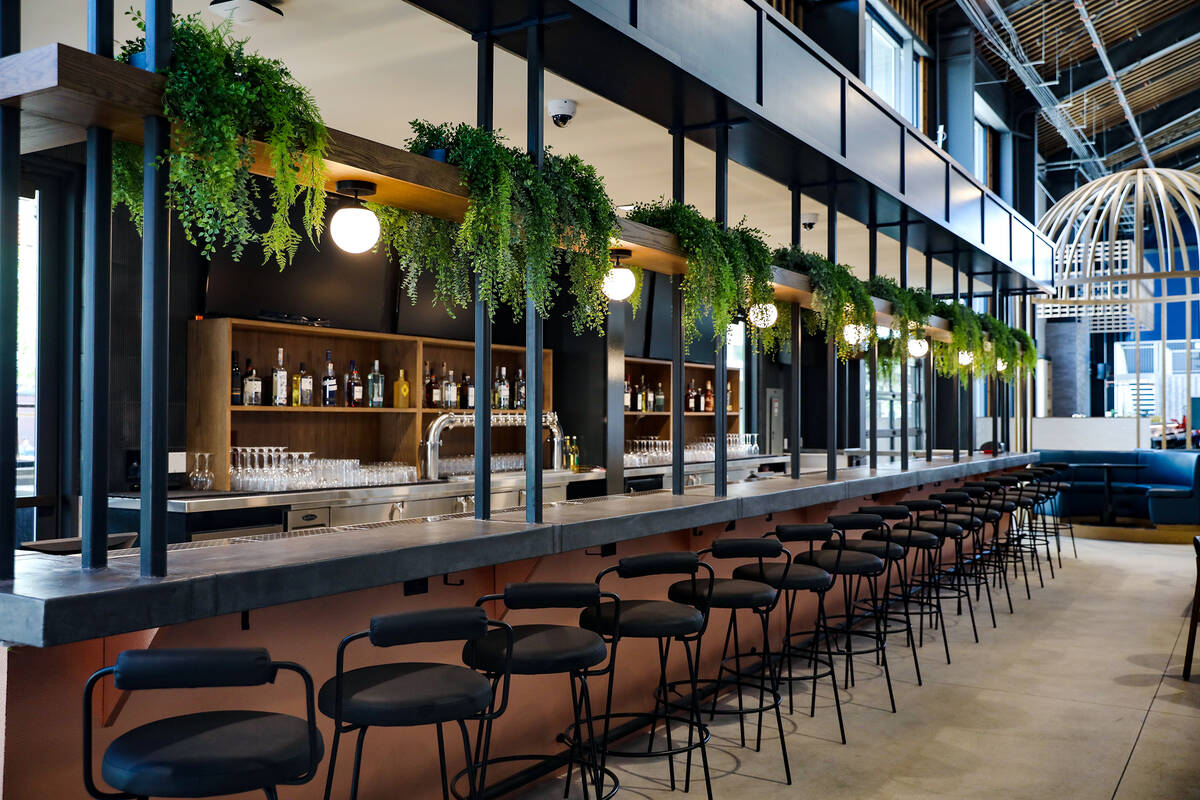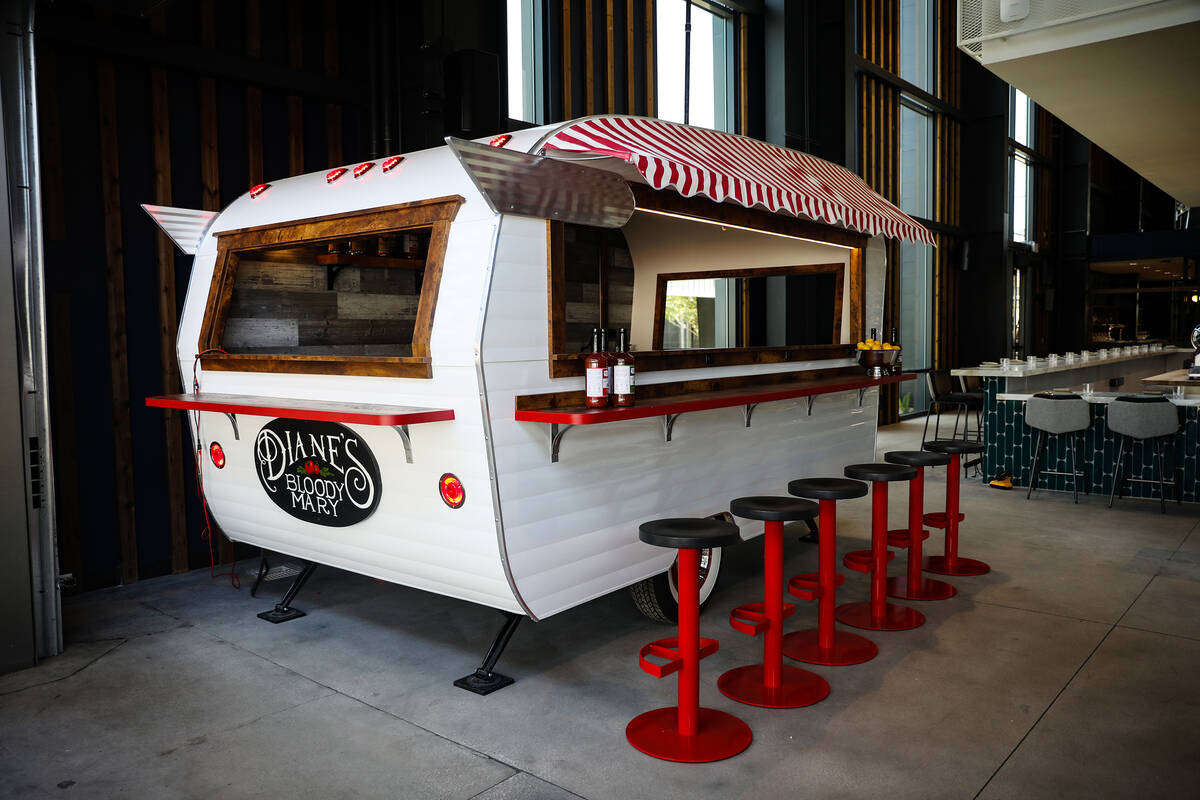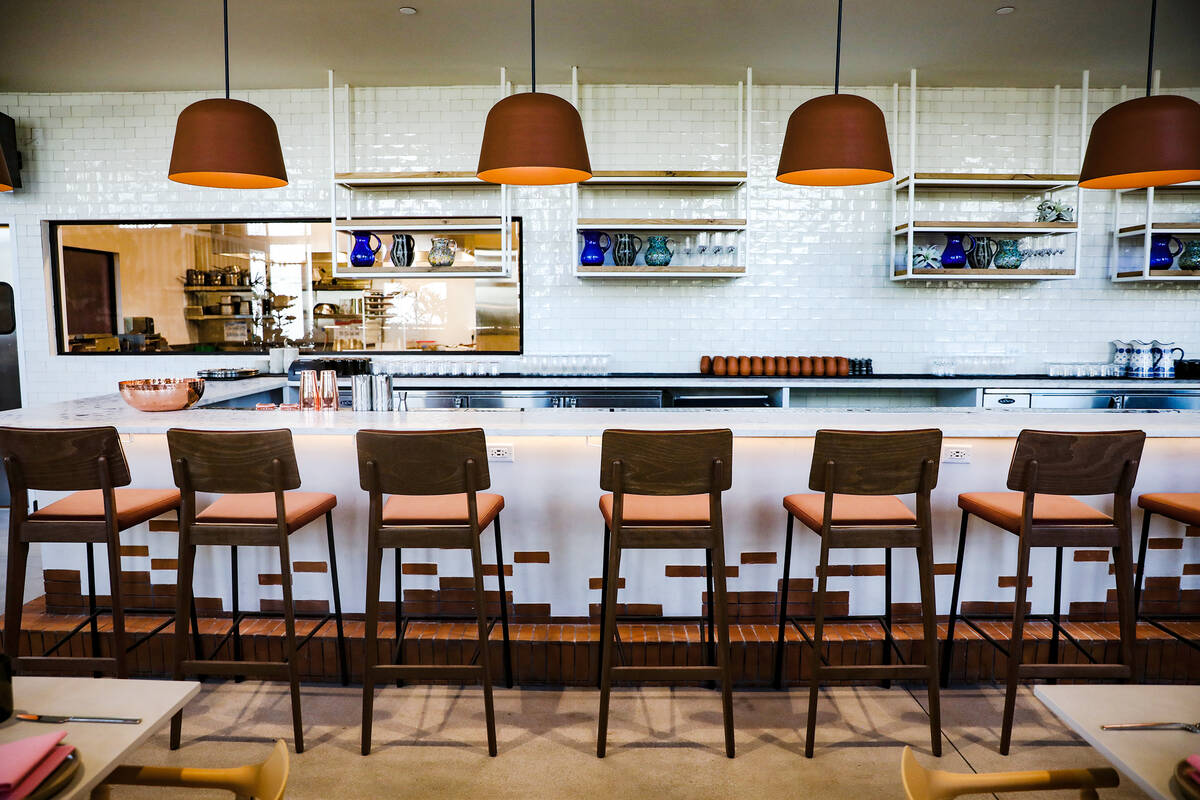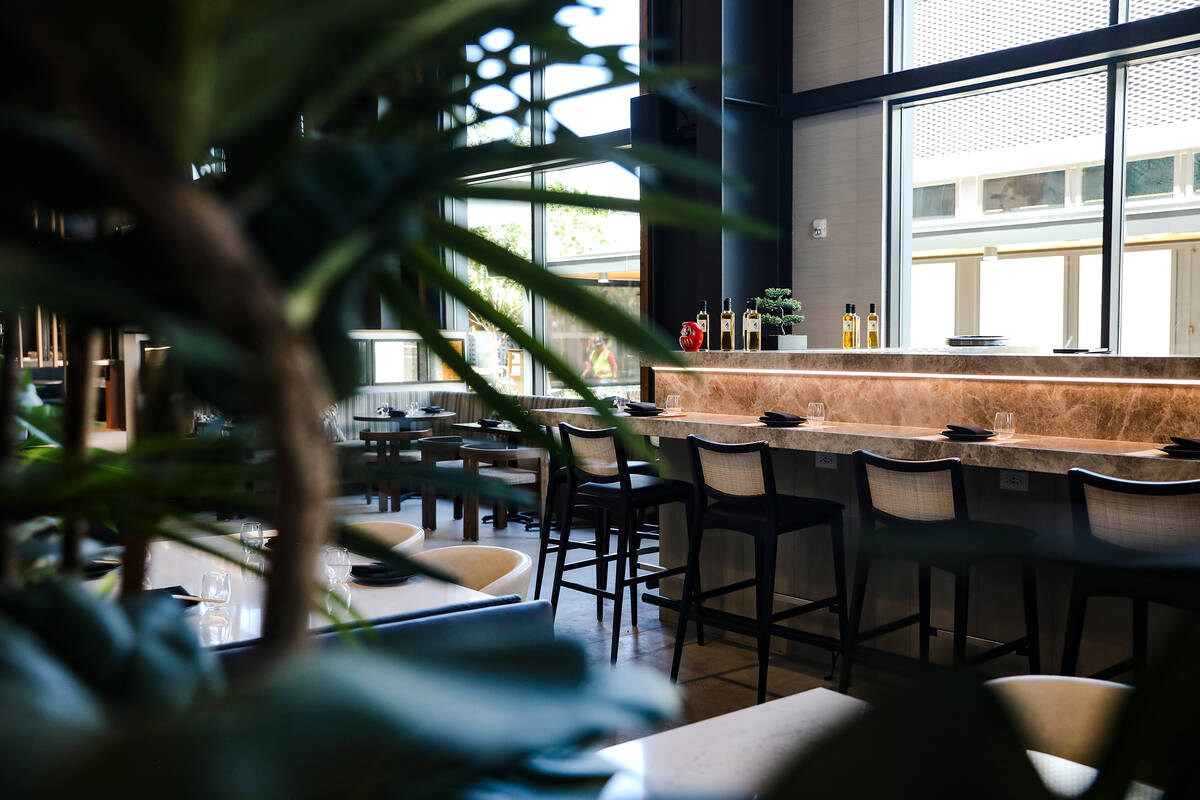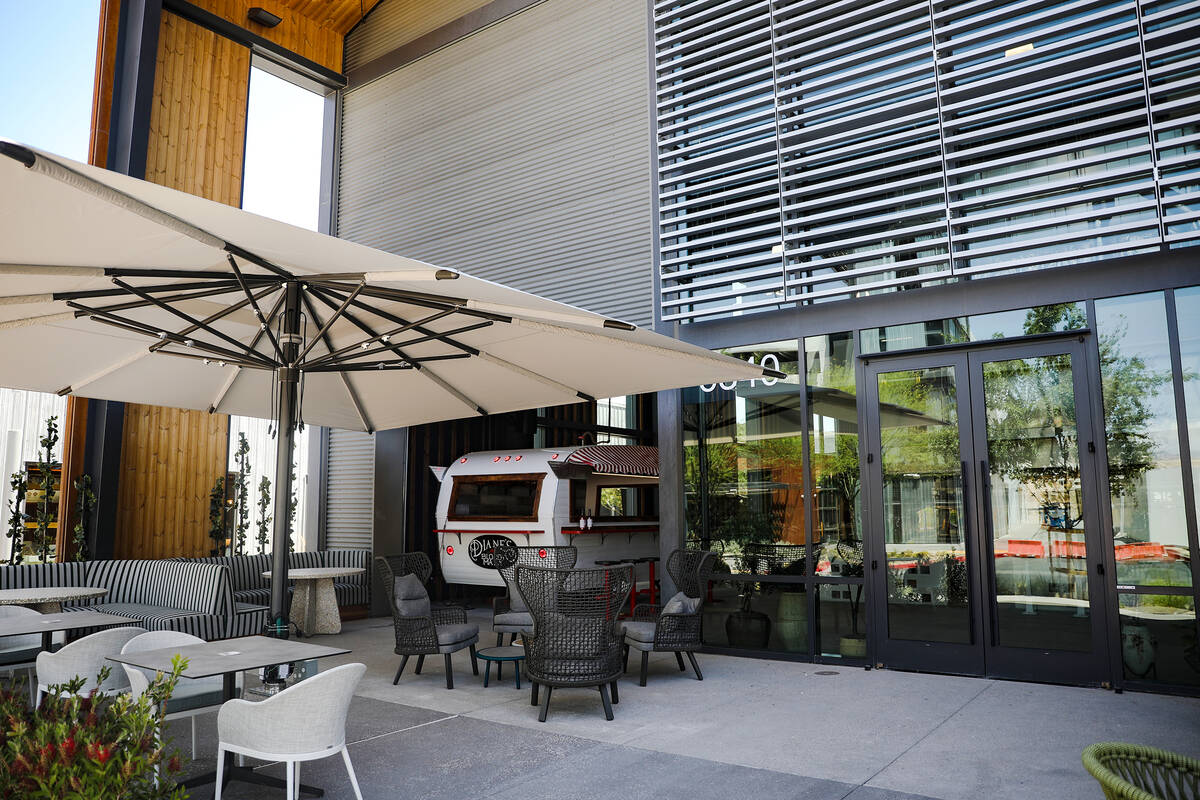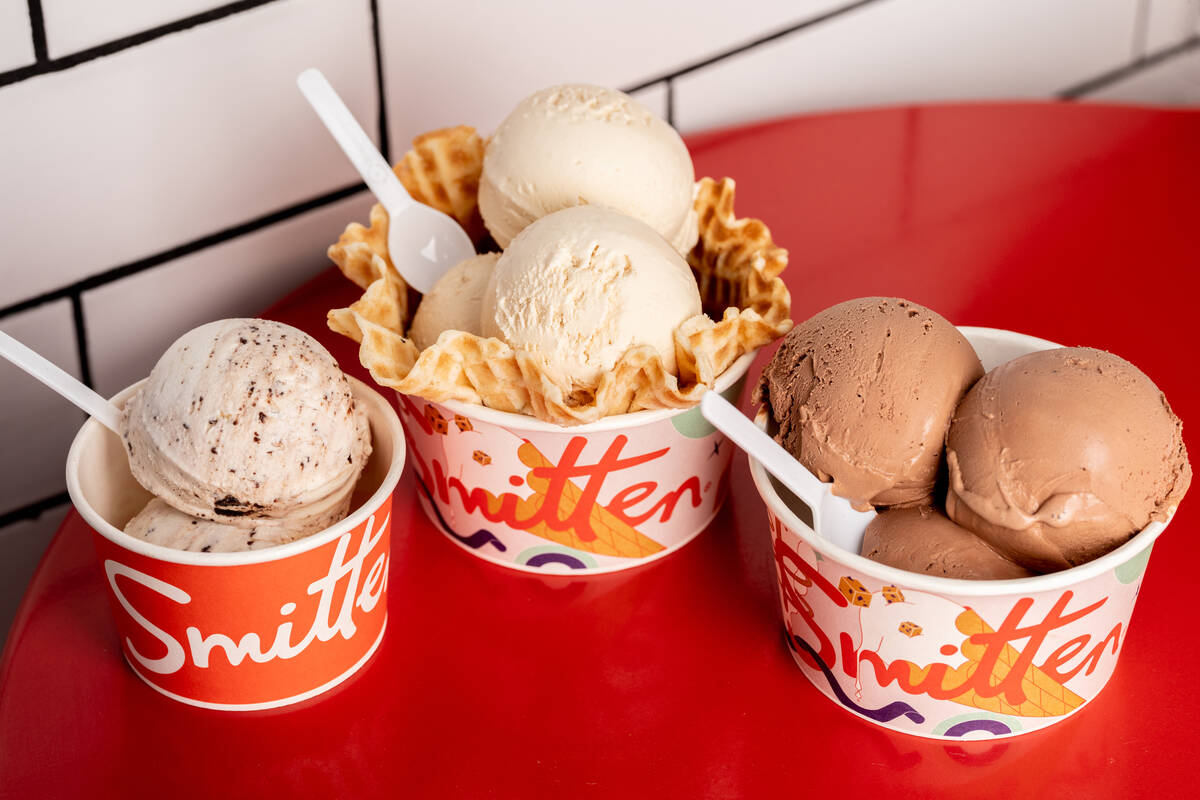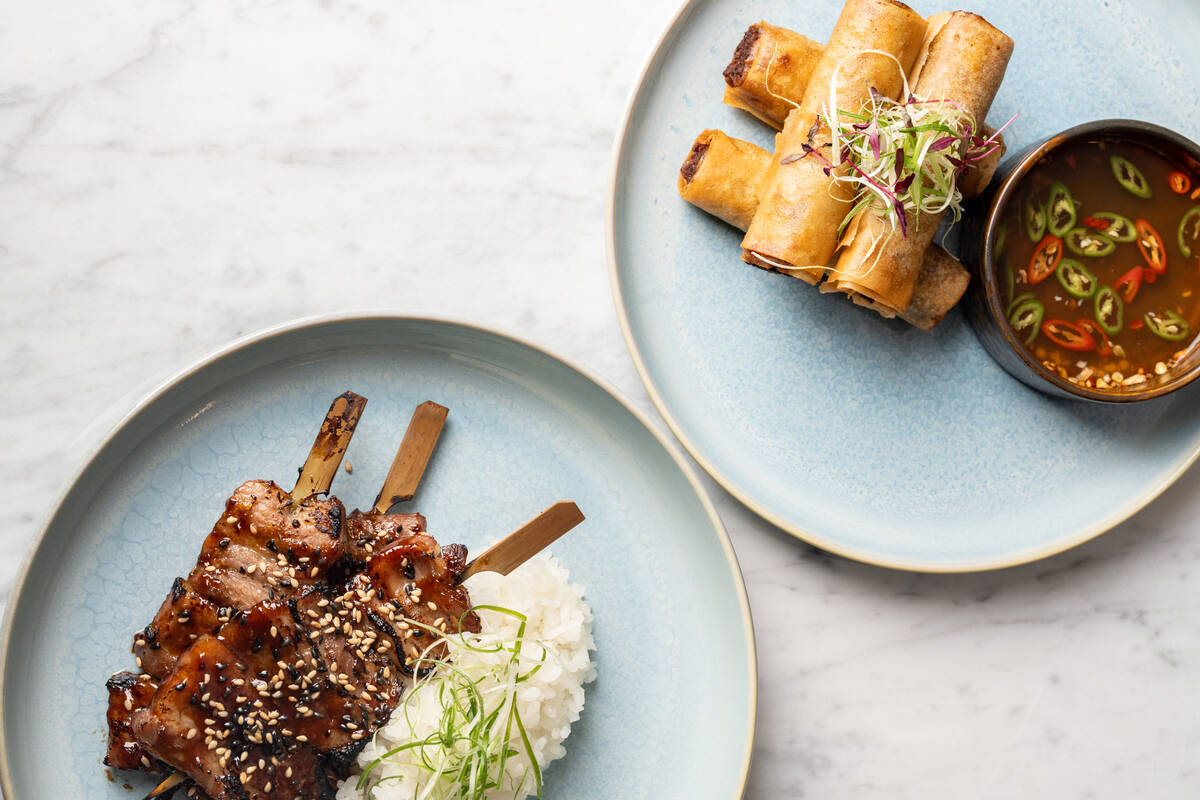 At The Sundry food hall in the UnCommons development in southwest Las Vegas, salivating begins outside the main entrance, with panels listing some of the attractions offered within: furikake fries and chana masala, pork sisig and kouign amann, Japanese whisky and squash blossom pizza, chicken banh mi and Pimm's cups, and flavorfully on and on.
These things that make you go mmm are served across 18,000 square feet that encompasses 15 purveyors (two of them full-service restaurants), seating for about 250 (including two terraces), a common kitchen, an indoor-outdoor main bar, a drive-up for to-go orders, ceilings that mount to 50 feet and enormous windows admitting furls of sunlight. The interior design of The Sundry convenes wood, metal, stone, leather and greenery.
And the cohort of vendors convenes James Beard Award nominees; prominent chefs and restaurateurs from Vegas, the Bay Area and Los Angeles; and food selections that range globally.
Through recent discussions with some of these chefs, and through a recent first look inside The Sundry, the Review-Journal has learned the look, menus and operation of the food hall when it opens Monday.
The 2,000-square-foot common kitchen helps vendors maintain efficiency and quality. QR codes at each table allow folks to order and pay without standing in line. Food is delivered to tables on real china, drinks in real glassware, elevating the experience.
"We've studied food halls for the past decade. As builders and customers of food halls, we wanted to solve for some of the pain points with what we see as working really well," said Patric Yumul, CEO of TableOne Hospitality, which is creating The Sundry.
Another goal of the food hall, said Jim Stuart, a partner in Matter Real Estate Group, which is developing the $850 million UnCommons (once completed), is to bring Strip-level dining to locals.
"You'll walk into a building where everything is designed, intended and meant for the Las Vegas community."
Open-face temaki rolls and Japanese whisky
Two full-service restaurants (open to the larger hall, with private seating) occupy opposite sides of the east end of The Sundry.
Chef Shotaro "Sho" Kamio, of Iyasare restaurant in Berkeley, California, is bringing Mizunara, a Japanese spot specializing in temaki hand rolls served open face, the edges of the nori wrapper left unsealed, not rolled into a cone. The temaki arrive in wooden cradles, variously stuffed with yuzu hamachi ceviche, crisp onion and garlic panko, or grilled unagi, shiso, cucumber and wasabi tartare.
The menu also ranges to a baby romaine Caesar with shiro-miso dressing, Japanese smoked potato salad with spicy cod roe, dessert temaki fashioned from phyllo and candied fruit, and a mini rice bowl with tamari-braised pork belly, a ramen egg and jabs of kimchi.
A shipping container houses the Mizunara whisky bar, its holdings planned to be among the most extensive off the Strip. An elevated section of the restaurant, with seating, overlooks the food hall.
"The Japanese way is very strict, but here, if any ideas come out, we do it. We create it!" Kamio said of the freedom Vegas affords. "It's more wide open, more flexible, so many ideas. But I never forget my traditional foundation."
Tacos and other dishes from the wood fire
In 2019, facing a triple rent increase, chef Ray Garcia needed a new home for B.S. Taqueria, his beloved riff on Los Angeles taco culture. Then came the pandemic, and B.S. Taqueria never reopened (except briefly as a pop-up). Now, with The Sundry, a new incarnation emerges.
"The goal was to always find a new home for B.S. Taqueria," said Garcia, who also opened ¡Viva! in Resorts World. "There's been a lot of opportunities that didn't quite make sense, but this makes sense: It's the right partnership, the right buildout, the right relationship."
The restaurant lies adjacent to Mizunara; it's the only purveyor to have its own kitchen (Mizunara has a private prep area in the common kitchen). The menu features B.S. signatures like clam and lard tacos, made with freshly pressed corn tortillas, and fried garbanzo beans and puffed wild rice, aka beans and rice.
The taqueria kitchen has a wood-fire grill, "something that we didn't have in L.A., and that gives us the opportunity to create some new textures and flavors that can only be achieved by cooking over live fire," Garcia said.
Look for lamb neck birria, or bone-in short rib carnitas presented tableside. "I didn't want to just be a copy of what we were doing in Los Angeles."
Vegas fish and barbecue in the hall
Across from the full-service restaurants, the commons area of The Sundry contains the other vendors.
The owners of Meraki Greek Grills in Vegas are showcasing fish from the Mediterranean and beyond at Kávos Coastal Greek Grill, their first food hall foray.
"It will be very clean, very simple, off the grill, some salt, oregano, some great olive oil, lemon juice to finish. The Greek treatment," said chef Girair "Jerry" Goumroian, an owner of Meraki. "Being a native, nothing makes me happier than doing something in my hometown."
SoulBelly BBQ is marking its second anniversary in downtown Vegas while also launching at The Sundry. The initial menu will be limited, said chef-owner Bruce Kalman, with a half-dozen or so barbecue items, plus a handful of sides like cornbread, coleslaw, baked beans and smoked portobello mushrooms.
"We'll open very straightforward, see what works and go from there," Kalman said.
Fried chicken and 90-second ice cream
Chef Matt Horn is bringing Kowbird, his esteemed fried chicken spot in Oakland, California, to the desert. Sandwiches highlight signature Kowbird flavors — honey butter, Southern original, Nashville-inspired — along with smoky housemade barbecue sauce. Wings and tenders also are on the menu, plus only-in-Vegas items to be announced soon.
"Transitioning to Vegas, without a doubt, is a realization of a dream," Horn said, adding that the new Kowbird could be a prelude to opening a Vegas outpost of his Horn Barbecue restaurant.
Across the bay from Kowbird, Smitten Ice Cream of San Francisco is preparing for its Vegas debut. Smitten is famous for its cryogenic Brr Machines, developed by founder Robyn Sue Fisher, that craft batches of ice cream from scratch in 90 seconds. The machines presented permitting challenges, and the construction crew included folks who had worked with cryogenics before.
The rounded Smitten bar, Fisher said, offers four flavors a day. The first flavor quartet will be fresh strawberry, cookie dough, chocolate ganache, and brookies (brownies-cookies) and cream. Boozy flavors can be made, too.
"We figured out all the nuances in California," Fisher said. "There's lots of opportunities to do special things."
Sliders and hoagies, new to the list
Besides B.S. Taqueria, two purveyors have come aboard at The Sundry since the first vendors were reported last fall.
At Easy Slider, fresh Angus patties are griddled with shaved onions and sandwiched by soft potato buns. The Happy Hoagie, from longtime Vegas culinarian Eric Perlin, serves a frequently changing selection of sandwiches, salads and sides.
Bay Oysterette pairs pork with a plunge to the briny deep, offering sliced-to-order artisan ham and eight different oyster varieties. BarZotto, another San Francisco transplant, does Cal-Italian. Dhaba Ji unites Indian food, including dishes from dhaba roadside food stands, with low-intervention wines.
L.A. chef Ria Dolly Barbosa imports Petite Peso and its modern Filipino cooking. Diane's Bloody Mary Bar tenders creative bloody marys from a vintage-style hitch camper.
Lamill Coffee, a specialty roaster from Los Angeles, and Saint Honoré Doughnuts & Beignets of Vegas round out the concepts.
Does it taste better in the light?
The other afternoon, staff training is underway at The Sundry. During lunch break, dozens of new hires line up for plates of adobo, steamed rice and vegetables. The windows in the food hall are set high enough, and in the right position, so they soften the scouring light of the Nevada desert.
It's as if the light itself is having a dress rehearsal this afternoon, for all the diners soon filling tables and sharing images of their plates on social media. Food quality, creativity and consistency are definitely paramount at The Sundry, but these days, cameras eat, too — and great lighting helps.
Contact Johnathan L. Wright at jwright@reviewjournal.com. Follow @JLWTaste on Instagram and @ItsJLW on Twitter.