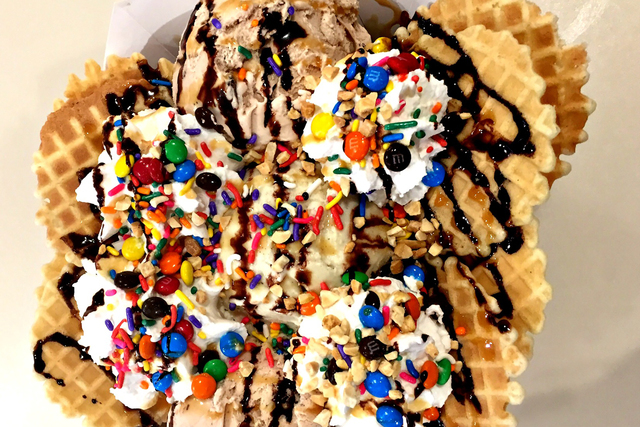 Family fun
Sure, the whole family loves nachos, but here's a different type that you and the kids can really tailor to your taste: In honor of June as National Candy Month, Hexx Chocolate & Confexxions at Paris Las Vegas is offering ice cream nachos — waffle-cone chips topped with High Road ice cream and your choice of whipped cream, a chocolate or caramel drizzle and any of a wide selection of candy and nuts.
Something new
Looking for a break from the long hours of afternoon heat? You may want to check out the new happy hour at Grape Street Cafe, Wine Bar & Cellar in Downtown Summerlin. From 3 to 6 p.m. Mondays through Thursdays, the restaurant is offering seven wines for $7 each, seven appetizers for $7 each, $7 well drinks and $5 selected shots.
Solo trip
Don't let the heat get you down; Friday is National Flip Flop Day, and the cool footwear can be your ticket to a free smoothie. Go to any location of Tropical Smoothie Cafe between 2 and 7 p.m. Friday, wearing your flip-flops, and you'll get a free 24-ounce Jetty Punch smoothie. The cafes also will be accepting donations for Camp Sunshine, for children with life-threatening illnesses and their families.
Date night
Here's a romantic way to start your evening: Eiffel Tower Restaurant chef Jean Joho and French winemakers E. Guigal and Chateau Recougne will host a wine tasting from 4 to 5:30 p.m. Tuesday at the restaurant at Paris Las Vegas. It's $40, and includes passed hors d'oeuvres. Call 702-948-6937.
For friends
Sure, you and your friends like beer, and who doesn't like Girl Scout cookies? You've probably never thought about pairing the two, but you can do just that at an event from 5 to 9 p.m. Wednesday at Lovelady Brewing Company, 20 S. Water St. in Henderson, where six Lovelady brews will be paired with signature cookies. A benefit for the Girl Scouts of Southern Nevada, it's $20 in advance, $25 at the door. For advance tickets, go to www.eventbrite.com.