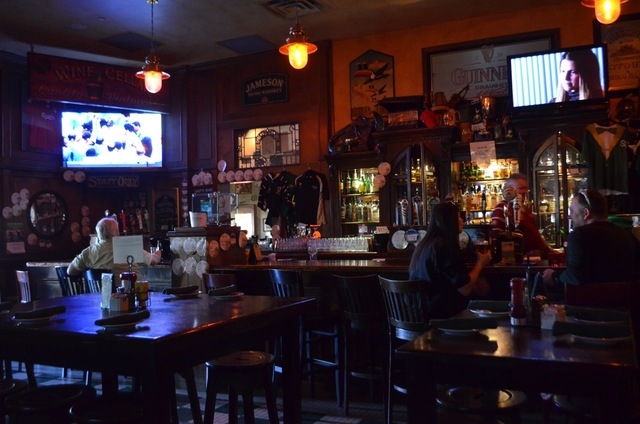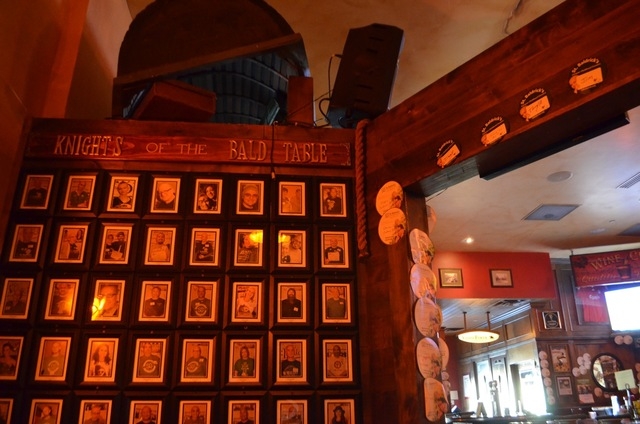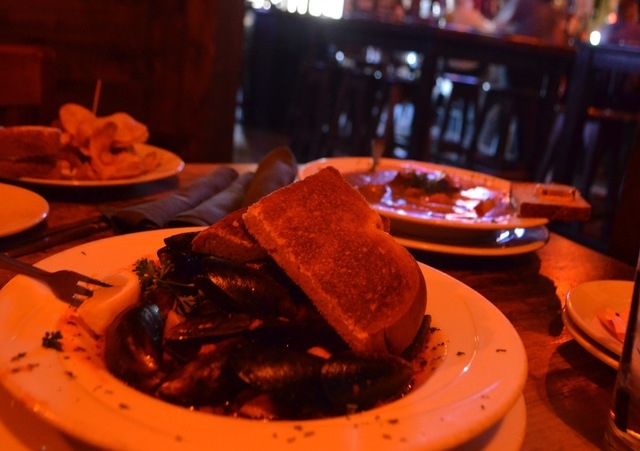 If you wait until St. Patrick's Day to visit McMullan's Irish Pub, you're missing out. The pub is packed with constant action all year long.
There's John Windsor singing and playing harmonica from 8:30 p.m. to past midnight on Saturdays and performing alongside his friends from 5:30 to 9:30 p.m. Sundays. And there's bands such as Darby O'Gill and the Little People, Phil Friendly and The Loners, Holes & Hearts, and Bogtrotter's Union dropping by on Friday nights. Tuesdays bring in pub quiz fans who compete for bragging rights and bar tabs starting at 8 p.m.
In fact, there's so much going on, the pub, 4650 W. Tropicana Ave., can't even contain it all. On Feb. 13, the establishment was among the sponsors of Lepre-Con, the inaugural mass gathering of leprechauns to benefit the St. Baldrick's Foundation, a nonprofit dedicated to fighting childhood cancer. The pub is set to help St. Baldrick's again with a benefit golf tournament May 1 at Revere Golf Course, and on March 5, the pub drew hundreds of volunteers eager to brave standing-room-only crowds and a head shaving to raise money for St. Baldrick's.
Aside from the activities, McMullan's is an establishment dedicated to authentic food and atmosphere.
Pubs have been in owner Brian McMullan's blood for three generations starting with his grandfather, Thomas McMullan, who in 1908, bought a farmer's hotel in Ireland that came complete with a pub, horses and an undertaking business. Brian came to Las Vegas in 1997 to help launch J.C. Wooloughan's Irish Pub. In 2002, he opened McMullan's.
Inside McMullan's, the walls are covered in dark wood reminiscent of a sailing ship's interior. With the bar at its heart, the pub offers seating in small private nooks and intimate antique-accented dining rooms.
The menu is packed with Irish comfort food classics from fish and chips, and shepherd's pie to corned beef and cabbage. House specialties include Diddy's Irish Stew, a traditional braised lamb stew named for Brian McMullan's wife Lynn's father, and Irish pie, a flaky crusted savory pie that comes with a menu disclaimer, "Please allow 25 mins cooking time for your pie! It's worth it, trust me!" And there's bangers and mash, a dish of savory sausages served with mashed potatoes and peas covered in brown onion gravy.
For those looking for the familiar, the eatery offers basics such as sandwiches, burgers, sliders, steaks, seafood, pastas and salads.
But there are also plenty of unique offerings. One sharable hit is McMullan's Irish Nachos, made from handmade potato chips layered with cheddar cheese, bacon, tomatoes, chives and sour cream. For a little more, you can add chicken, ground beef, shredded corned beef or jalapenos. Or there's Susan's Scotch Egg, a hardboiled egg wrapped in banger sausage meat with mixed greens, tomatoes, corn relish and Creole mustard dressing.
The kids' menu includes options such as grilled cheese, mac and cheese, shepherd's pie, chicken tenders, a cheese burger, or fish and chips.
Open 24 hours, McMullan's also offers breakfast, late-night and happy hour menus.
Visit mcmullansirishpub.com or call 702-247-7000.
McMullan's Irish Pub
Address: 4650 W. Tropicana Ave.
Hours: Open 24 hours, McMullan's also offers breakfast, late-night and happy hour menus.
Visit mcmullansirishpub.com or call 702-247-7000.