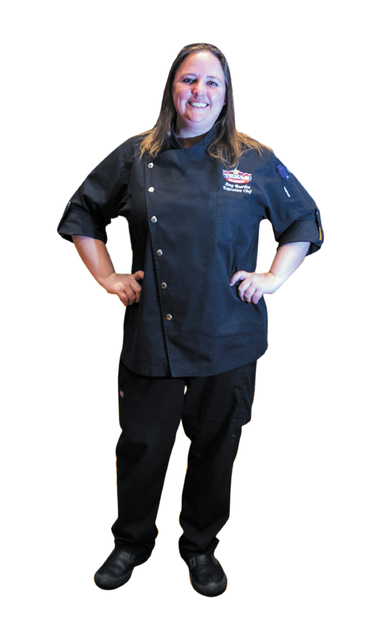 Amy Bearden became Station Casinos' first female executive chef when she was chosen to lead Texas Station in June. She was trained in the industry, "the old-school way," and has been cooking professionally for 20 years. A native of Las Vegas who attended Chaparral High School, Bearden started as a hostess at the old Black Angus Steakhouse at the Galleria at Sunset mall in Henderson. After moving into the kitchen at Black Angus she went on to work at the House of Blues, Gordon Biersch, Monte Carlo and the former B.B. King's in The Mirage. Bearden joined Station Casinos five years ago. Cooking occupies most of her leisure time as well, although she said she enjoys hiking with her 14-year-old son, Hayden.
Review-Journal: Always in your fridge?
Chef Amy Bearden: Natural peanut butter. You've got to stir it and refrigerate it. And bacon.
R-J: Currently obsessed with?
Bearden: I'm on the stews and soups because of the time of year. Nice, chunky soups.
R-J: Newest Las Vegas discovery?
Bearden: Serrano's in Henderson. They've got the best street tacos and refried beans.
R-J: Favorite indulgence?
Bearden: Any kind of specialty coffees that have caramel or salted caramel in them.
R-J: I never eat …
Bearden: Shellfish. It kind of grosses me out.
R-J: Favorite brunch at home?
Bearden: We just kind of did a twist on Thanksgiving. I like the traditional stuff, twice-baked sweet potatoes. Champagne, of course; mimosas.
R-J: Best tip for home cooks?
Bearden: Clean as you go and do what feels good. If it sounds good, it'll probably taste good.
R-J: What are you working on?
Bearden: We're working on a special for our steakhouse. Just got a special out in the oyster bar, a $6.99 jambalaya lunch, from noon to 4 p.m. We also have a specialty night in the buffet — barbecue night, with smoked brisket and ribs.
R-J: You have an interesting story about how you became a chef.
Bearden: I started at Black Angus as a hostess and I was pretty loud and obnoxious, so the GM there moved me into the kitchen. I just kind of fell in love with it, fell in love with the broiler. They tried to find a place that would keep me quiet, so I moved from the dish room to the pantry to the broiler. I found my knack.
Contact Heidi Knapp Rinella at Hrinella@reviewjournal.com. Find more of her stories at www.reviewjournal.com, and follow @HKRinella on Twitter.