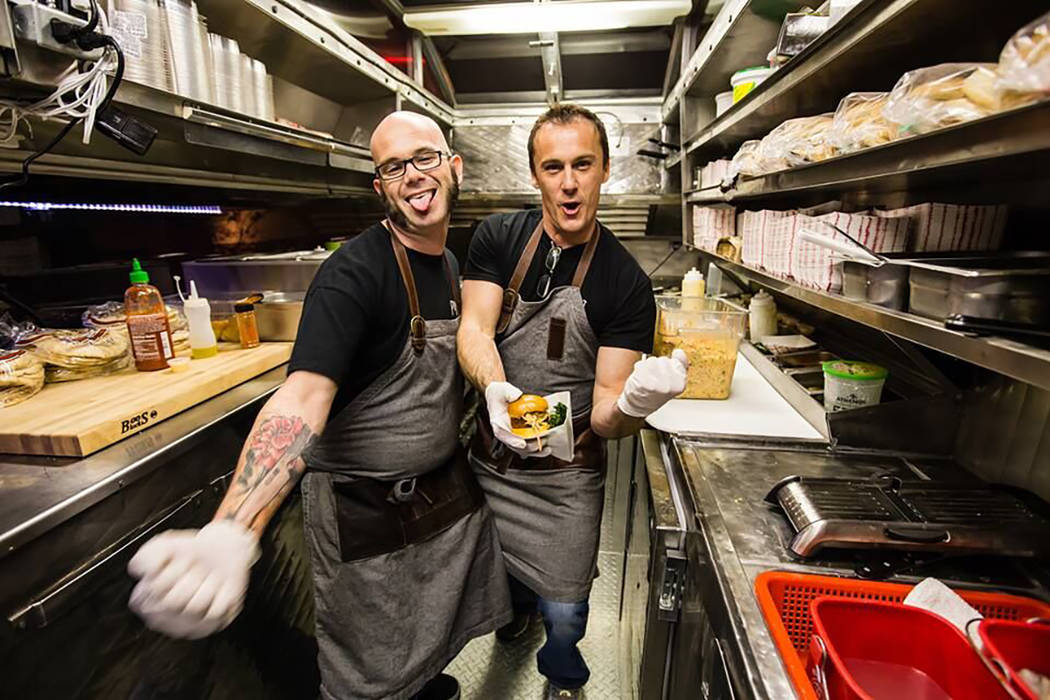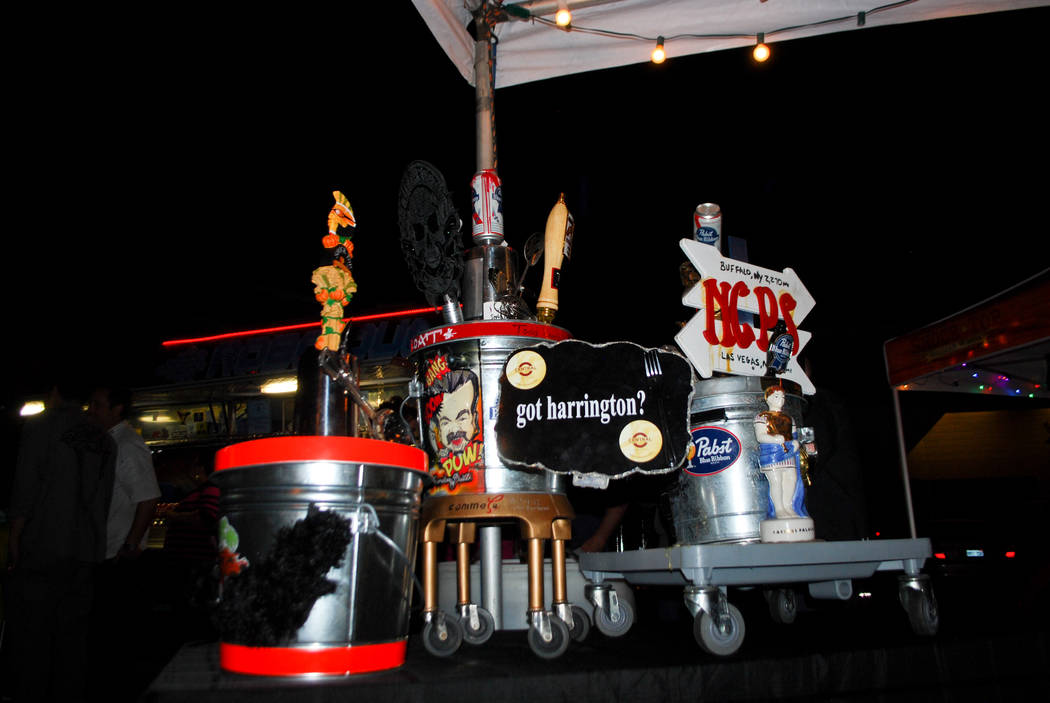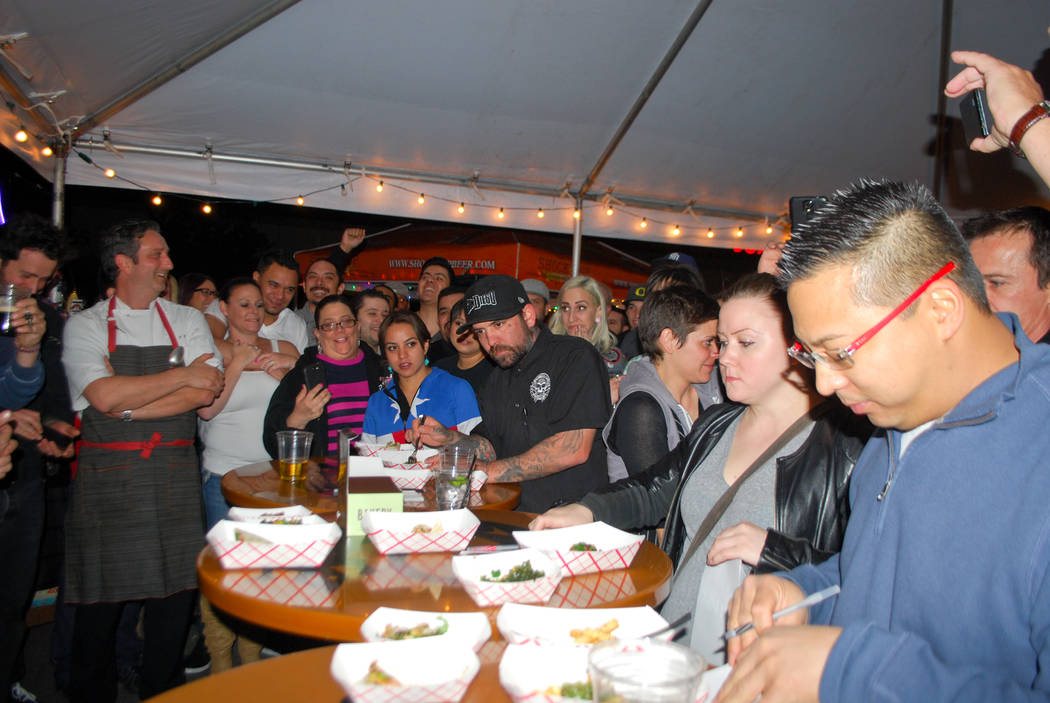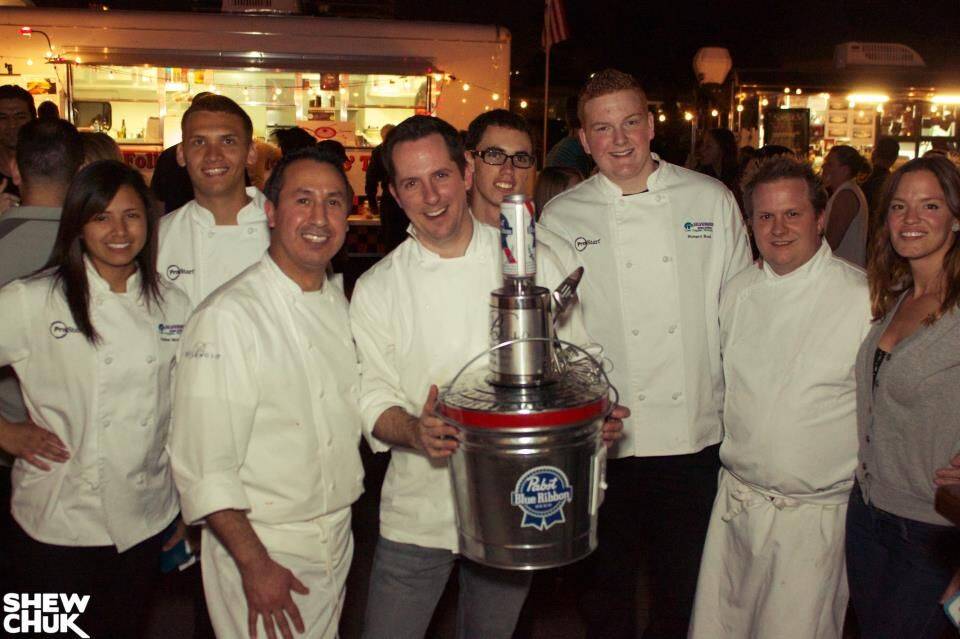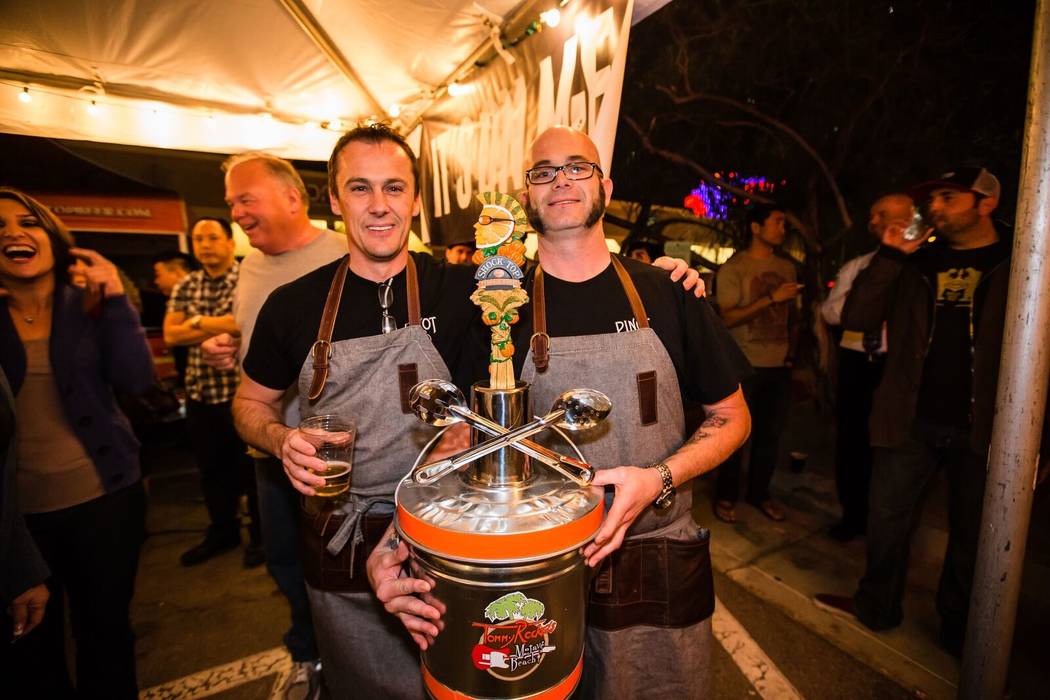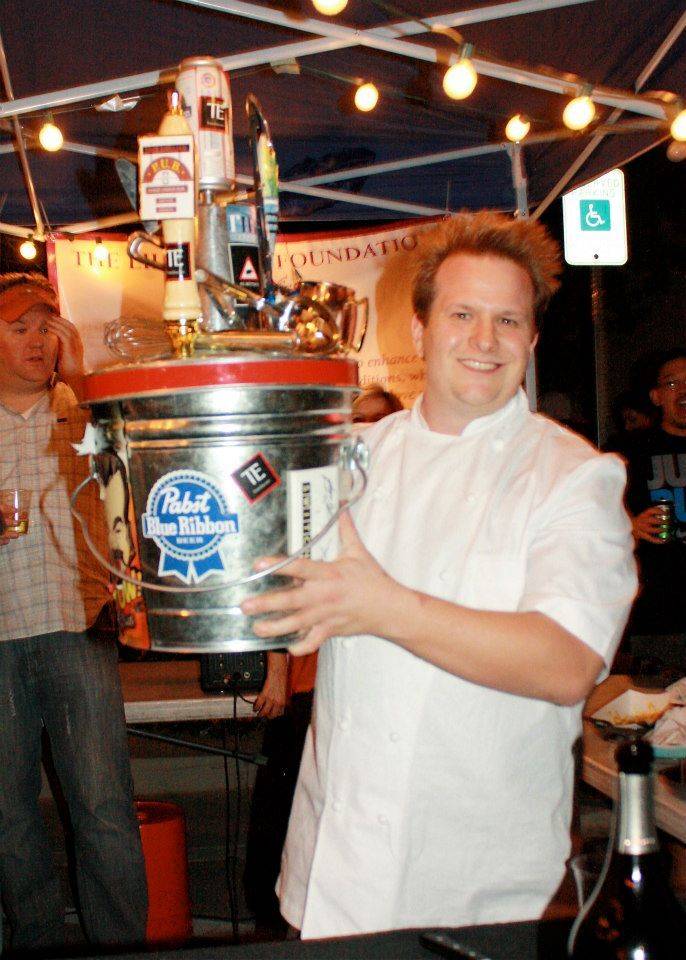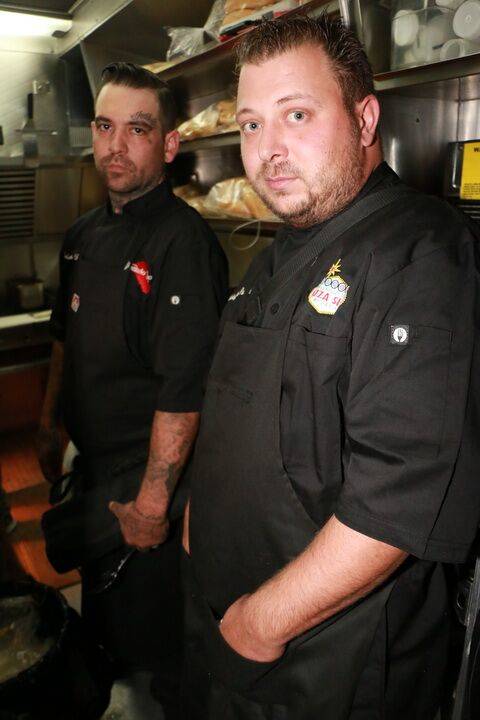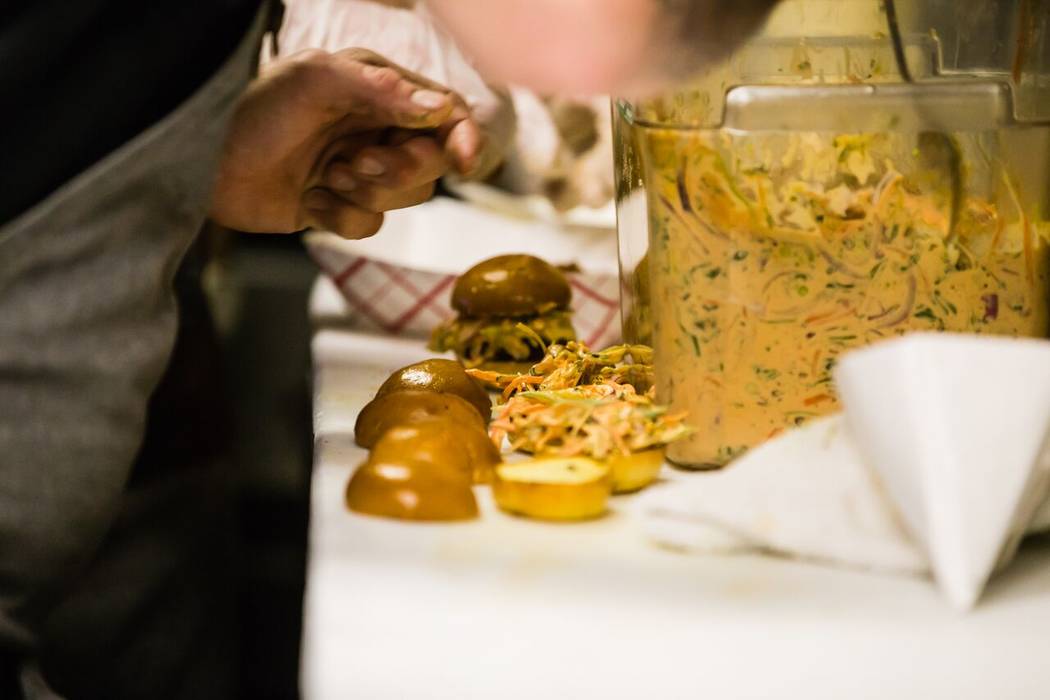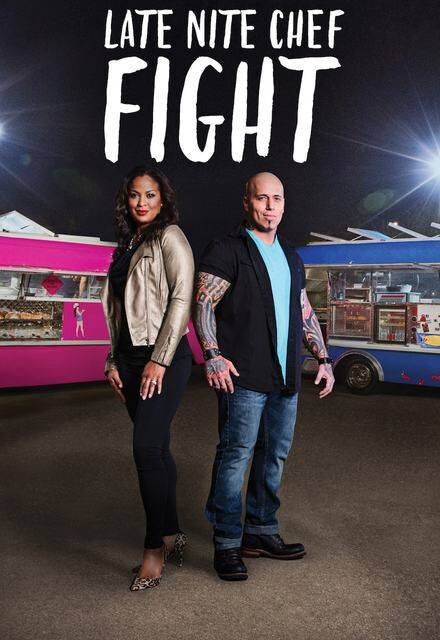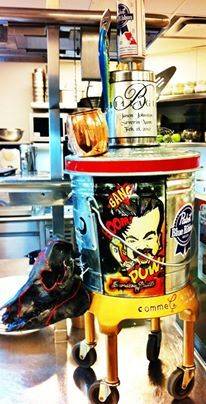 It was born out of a weekly late-night food truck rally in a bar parking lot that became the after-work gathering place for Strip chefs looking to cut loose on Saturday nights.
What started as a series of booze-fueled cooking challenges on wheels became a quest for bragging rights that meant more, in their own way, than any glowing restaurant review.
After working their shifts on the Strip, chefs from big-name restaurants such as Joel Robuchon, Delmonico Steakhouse, Carnevino and Sage climbed into cramped food trucks to create dishes from a mystery basket of ingredients. Other chefs, servers and bartenders from the Strip and beyond congregated in a parking lot to socialize, drink, eat and watch them compete for temporary possession of a collectively made trophy that was celebrated more heartily than any diamond or star award from an international guidebook.
From September 2011 through June 2014, Back of the House Brawls helped define Las Vegas' fledgling underground food scene, only ending to make way for a short-lived cable TV series that mimicked its format, if not its grassroots spirit. Since their demise, many high-powered chefs have lamented the loss.
"It was something that brought us all together in one spot, doing what we love to do, drink and eat," explains former L'Atelier de Joel Robuchon chef Steve Benjamin, who now serves as executive chef at the Waldorf Astoria Beverly Hills, but maintains a home locally. "I'm pretty sad we stopped doing it."
He and other fans will not have to be sad much longer. On Sept. 16, the first in a new series of contests will be held at Chinatown's Sparrow + Wolf, a hot, new restaurant owned by frequent Back of the House Brawl competitor Brian Howard. On six late Saturday nights between September and May, food trucks again will gather at a rotating list of locations, and between two and four chefs each night will battle it out.
9/16 Late night after the fight #Bohbrawl #SparrowandWolf #Chinatown #lasvegas 1am pic.twitter.com/ix6XLmz1gK

— Jolene Mannina (@jolenemannina) September 14, 2017
Not a Vegas party
All of it was — and still is — the brainchild of Jolene Mannina. Six years ago, the former STK steakhouse waitress was looking for ways to promote her Hatch chile-themed food truck. She wanted to target the food-service industry "because they appreciate good food. And it's better than being at just some random bar where it's just drunk people coming out and asking for a taco."
To get the chefs' attention, she began assembling a rotating assortment of food trucks, including her own, every Saturday night in the parking lot of Tommy Rocker's, a working-class, beach-themed rocker bar on Dean Martin Drive. It began around 8 p.m., but carried on into the early morning hours to catch restaurant employees getting off work on the nearby Strip. She initially called it the Saturday Night Truck Stop.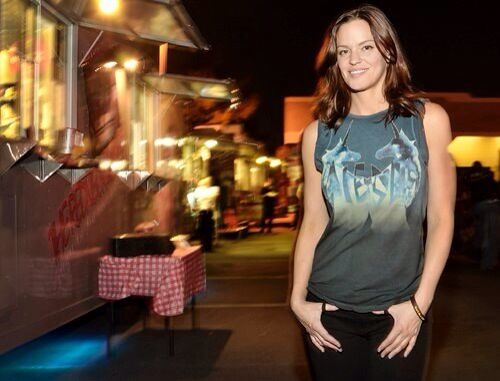 Jolene Mannina assembled a rotating assortment of food trucks every Saturday night in the parking lot of Tommy Rockers. Citylife
"Saturday night, for most people, it's the beginning of your weekend," explains Howard, who was running the kitchen at Cosmopolitan's Comme Ca at the time. "A lot of the chefs are off on Sunday and Monday. So it's time to get out and unwind."
Those chefs were drawn to the Truck Stop by creative food, cheap booze and an atmosphere that was the exact opposite of the places they worked.
"It wasn't a Vegas party," Mannina says of their appeal. "It was no glitz and glamour. It was 'Let's get off of work. Let's relax. And let's drink as much as we want to, in the clothes that we worked in.' So it was this sort of super-dive casual situation. But it became a party because everyone knew each other."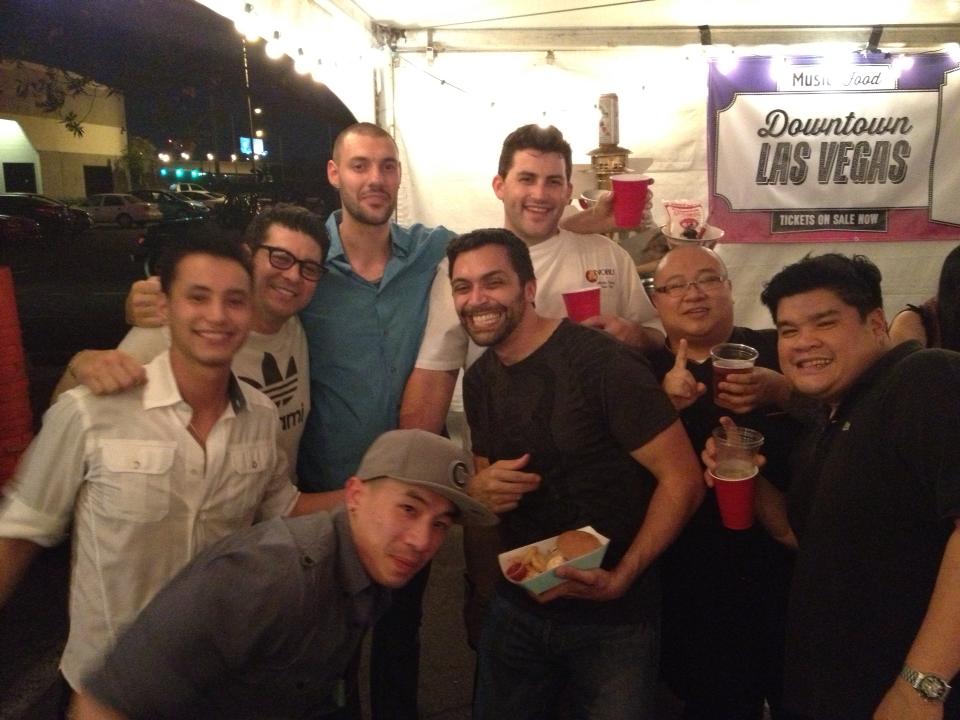 Friends gather at the Back of the House Brawl. Facebook
It "started as kind of a hub of hospitality togetherness, connecting a lot of the genres together, networking and having a good time," says Gary LaMorte, vice president of culinary operations for The Mina Group, who attended and competed when he was executive chef at Andre's. "And then it kind of morphed into something bigger, that more people cared about than just the local chefs who wanted to hang out and have some beers."
Birth of a brawl
Mannina found another hook to draw restaurant employees: a cooking competition. At the time, food trucks were all the rage. Many chefs were eyeing them as ways to strike out on their own for the first time, and everyone had an idea of what kind of food would work in that setting. So Mannina proposed a battle at the food trucks — called the Back of the House Brawl — in which two chefs would jump on unfamiliar trucks every other week, armed with a basket of mystery ingredients, and see who could create the best dish in 30 minutes.
Many competitors were from high-profile celebrity chef restaurants, but they weren't the stars with their names on the door. They were the people who ran the back of the house, toiling for long hours every day.
At the Truck Stop, they'd begin the evening by serving the public to raise money for a local charity. The competitions wouldn't start until 1 a.m. or later, to accommodate potential audience members who might be working late.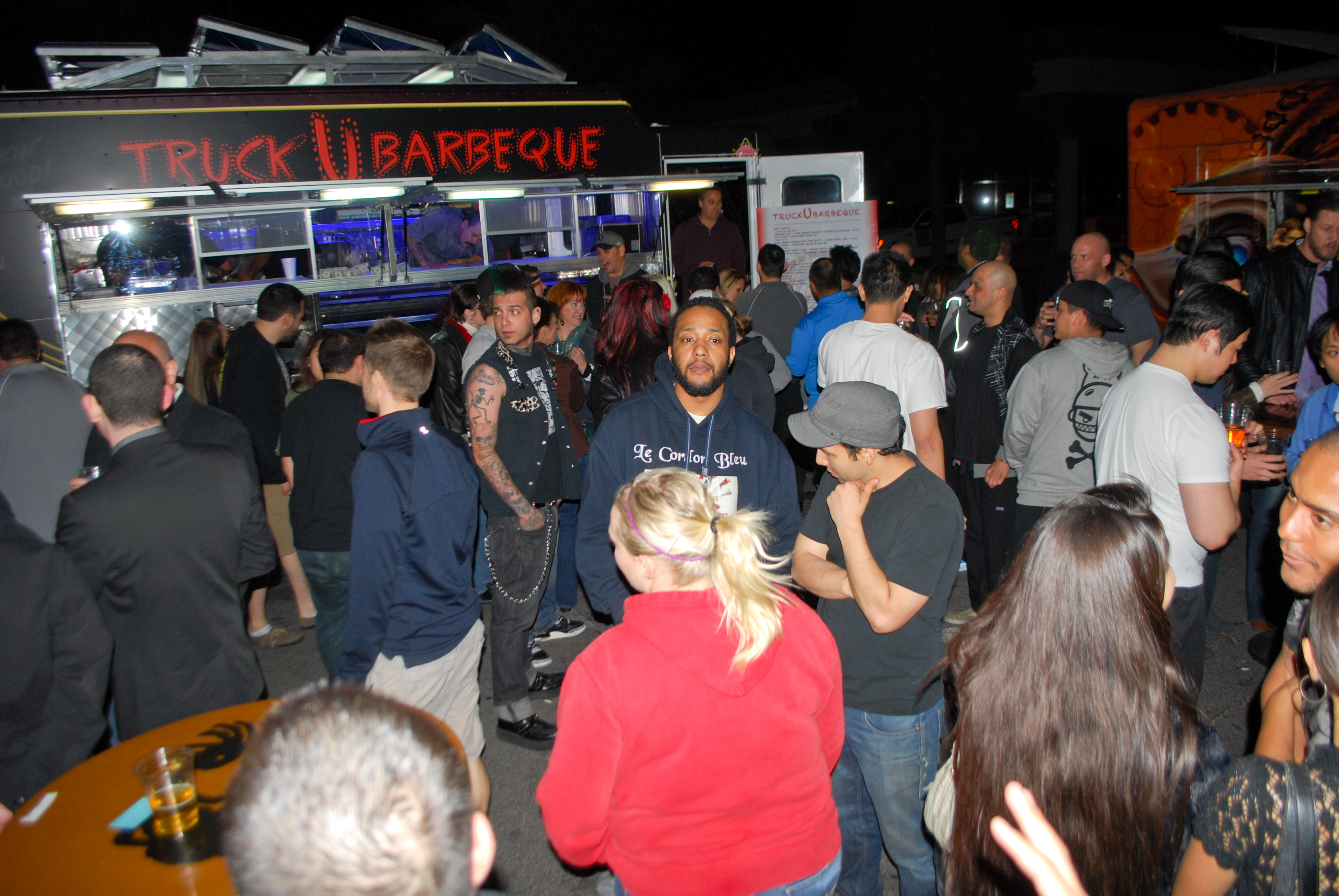 At a typical Saturday Night Truck Stop, the crowd awaits a Back of the House Brawl. Back of the House Brawl
"They (the competitors) had their team there," Mannina says of the audience, which could include hundreds of spectators. "That was another reason for doing it on a Saturday night. A restaurant has the most staff on a Saturday night. So now you have that full staff who can come out and support you. It's not just your chefs. You had your servers also, your managers, your bartenders, it's everybody. They'd all kind of come together and unite."
"It was cool because it was just something for everybody to get together," says Naked City Pizza founder Chris Palmeri, who competed in several battles, and attended many more. "It's pretty rare that everybody gets to come out in the same place. So whether you were battling or just coming to check it out, it was awesome. Having drinks. Trying food from the food trucks. It was awesome."
A party atmosphere permeated every aspect of the event and kept it from becoming too serious, especially in the early days.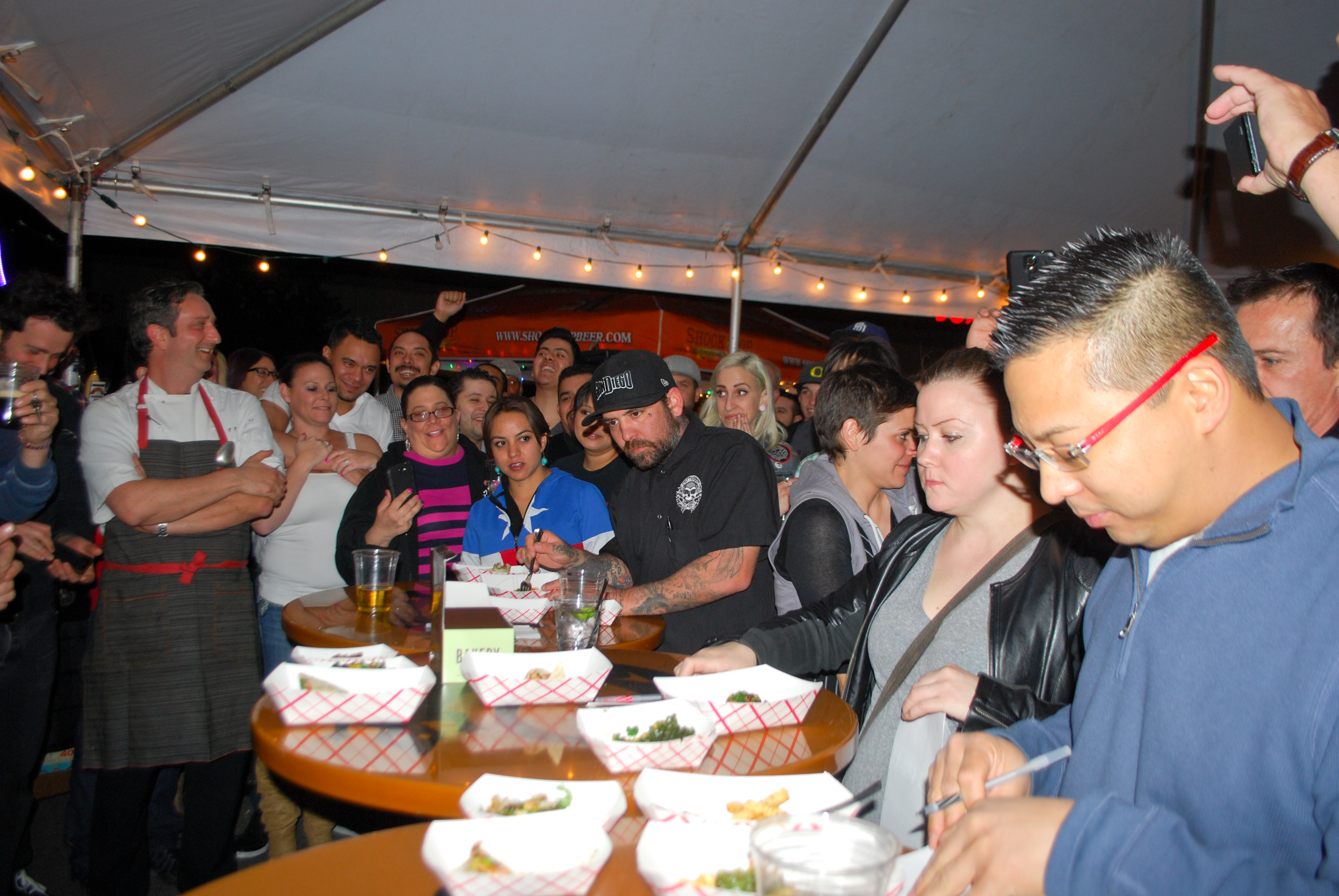 Chefs Christian Dolias, from left, Nicole Brisson and Gerald Chin judge a competition. Back of the House Brawl
"If you're doing a competition at 1 in the morning, you have to have some understanding that people are going to be wasted at the time that they're actually judging," Mannina concedes. "That's why it's not a super-serious competition." (Full disclosure — the author judged several competitions, and can vouch for that.)
From underground to mainstream
As crowds grew, so did the mainstream interest. Some Strip casinos originally banned chefs from participating in the Brawls (perhaps because of the event's rowdy reputation), while others turned a blind eye. A year in, however, some were actively promoting the events.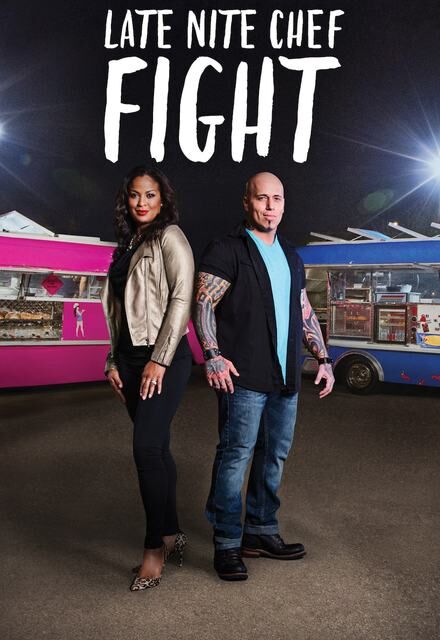 The most ringing endorsement came on Bastille Day 2012, when MGM Resorts International proudly encouraged French chefs from fine-dining powerhouses Joel Robuchon, L'Atelier de Joel Robuchon, Shibuya, Fleur by Hubert Keller, Aureole and Mix by Alain Ducasse to battle it out as Team MGM Grand vs. Team Mandalay Bay.
It was only a matter of time before Hollywood came calling. Mannina eventually signed a deal with the FYI network, which produced two seasons of a show called Late Night Chef Fight. Set in the parking lot of The Palms and hosted by celebrity chef Vic "Vegas" Moea and Laila Ali, it followed the same format and featured many of the same participants. But it also amped up the made-for-TV drama. Chefs and the audience were confined to a set area, forced to endure numerous tedious retakes and, perhaps more importantly, unable to visit a bar.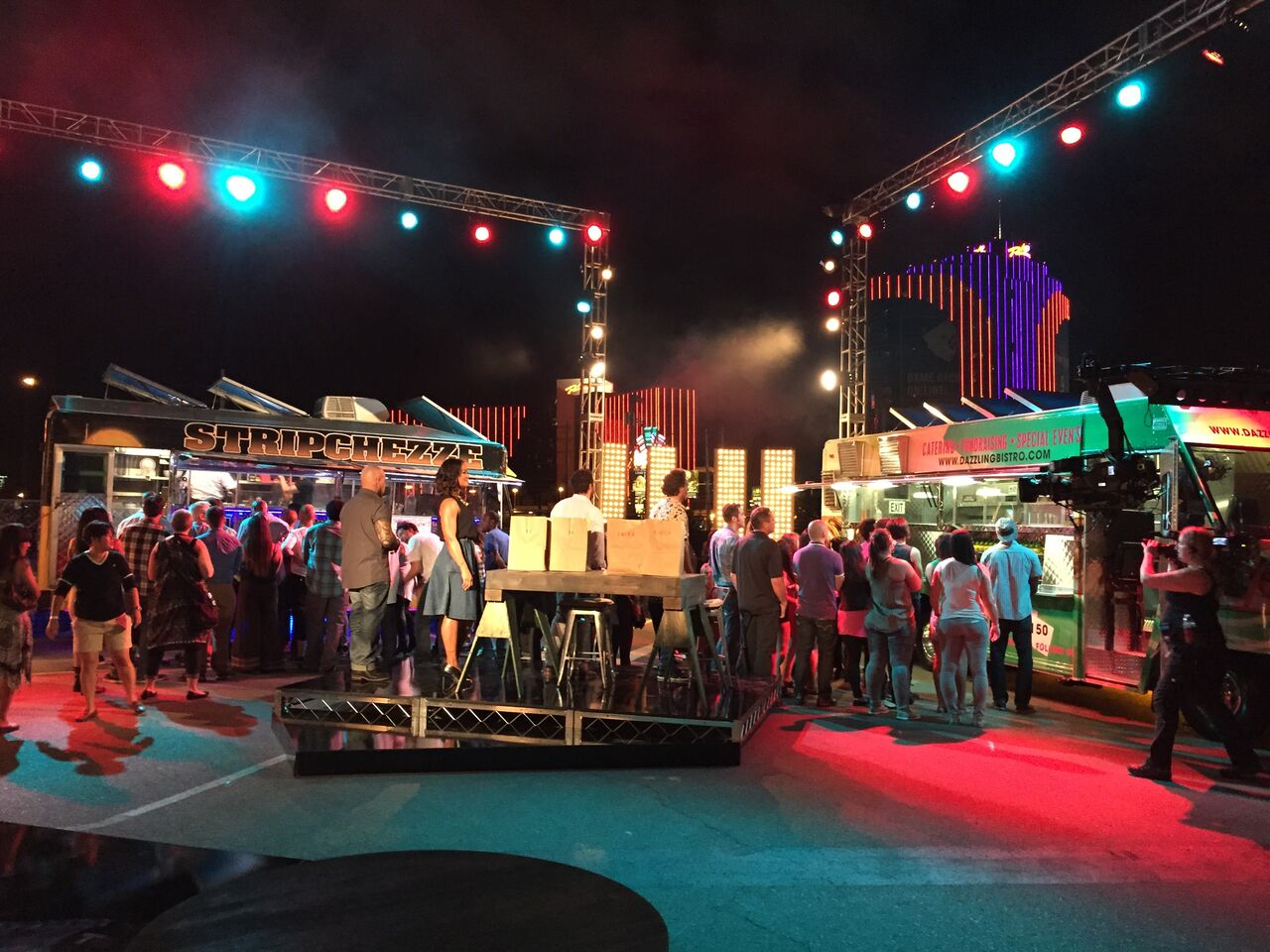 A television shoot for Late Night Chef Fight. Back of the House Brawl
"It did kind of take the fun out of it," says Mario Batali's local culinary director Nicole Brisson, who participated in the original Brawls as well as the TV battles while executive chef at Carnevino Italian Steakhouse. "Because it wasn't just for fun anymore. It was kind of the grind of doing TV."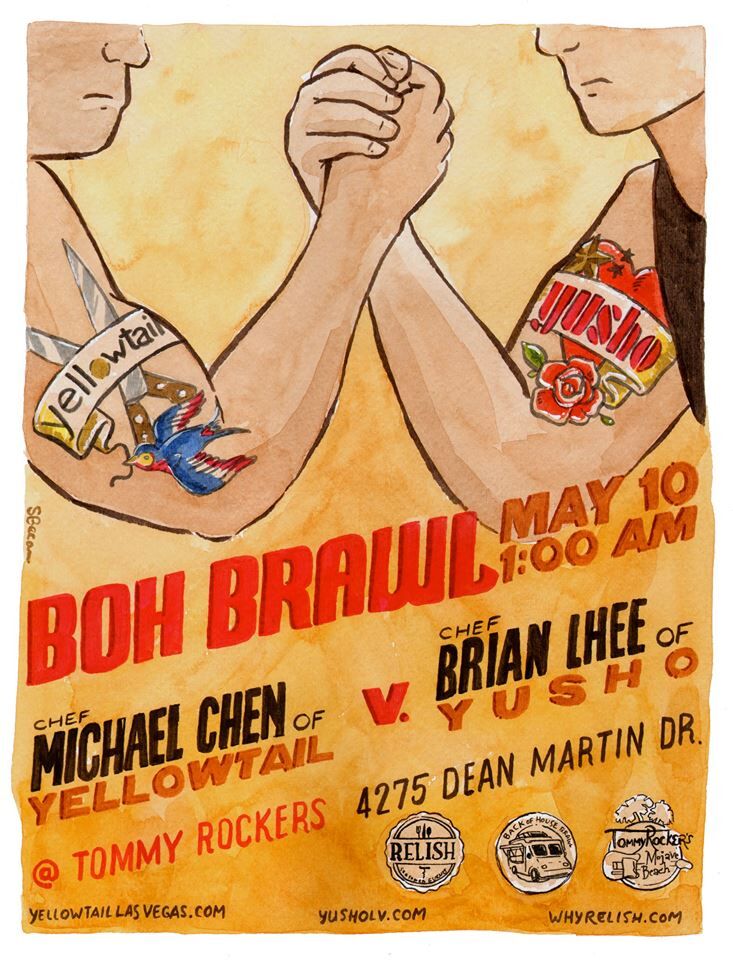 Some chefs also were turned off by plot twists that seemed manufactured by the show's producers.
Back to the community
Today, as vice president of culinary partnerships for local indoor aeroponic farmers Urban Seed, Mannina oversees sales, distribution and relationships. She's hoping the re-launch of the competition will be part of that effort.
"I made a lot of lifelong relationships through the Back of House Brawl," she says, "and I'm excited to continue the fun."
Mannina's promising some twists and surprises (be on the lookout for a format shakeup at the first event), but her goal will be the same that it's always been — to develop the local sense of community.
"It's something great for Las Vegas," says Sean Farney of Five50 Pizza, who will compete in his first Brawl on Oct. 14. "It's getting everybody's name out there. Instead of seeing all these celebrity chefs … you get to see the actual people in those restaurants. And that's always a good thing to do."
A trophy all their own
Back of the House Brawl never offered fame or fortune. All the winning team received was temporary possession of a raggedy trophy, known as the Pabst Blue Ribbon Cup.
"My sponsor was Pabst Blue Ribbon," Jolene Mannina explains of its origin. "And they were willing to give me this little party-ball-looking keg thing."
It looked more like a garbage can with a keg tap on top — at least until the winning chefs got ahold of it.
Every winning team got to take the cup back to their restaurant until the next Brawl. During that time, they were permitted to leave their mark on it. The tradition began with small drawings and logos, but quickly got out of hand.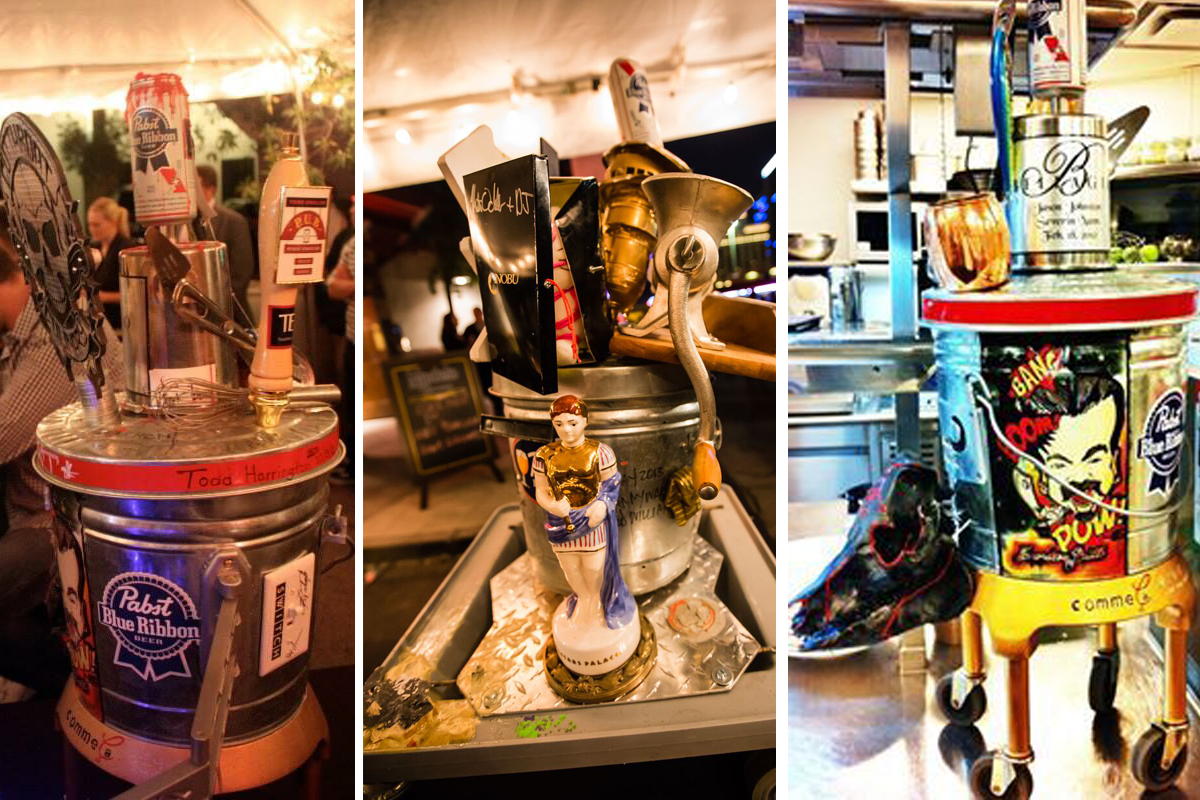 Chefs would build onto the trophy each time it changed hands. Eventully wheels had to be added so the trophy could be transported. Back of the House Brawl
"We took a skull from a heritage hog that we had and dried it out, painted it and put our logo on it, and gave that trophy a head," says repeat competitor Brian Howard, proudly. "We ended up putting wheels on it eventually, too. It became this little R2D2."
The Shawn McClain Group's Richard Camarota, then chef de cuisine of Sage, is credited with adding an X-rated adult novelty inside the base (so it wouldn't ruin any photos).
"They put a nice little thing on top," Mannina laughs. "But then when you opened it up, (the toy) was swinging back and forth."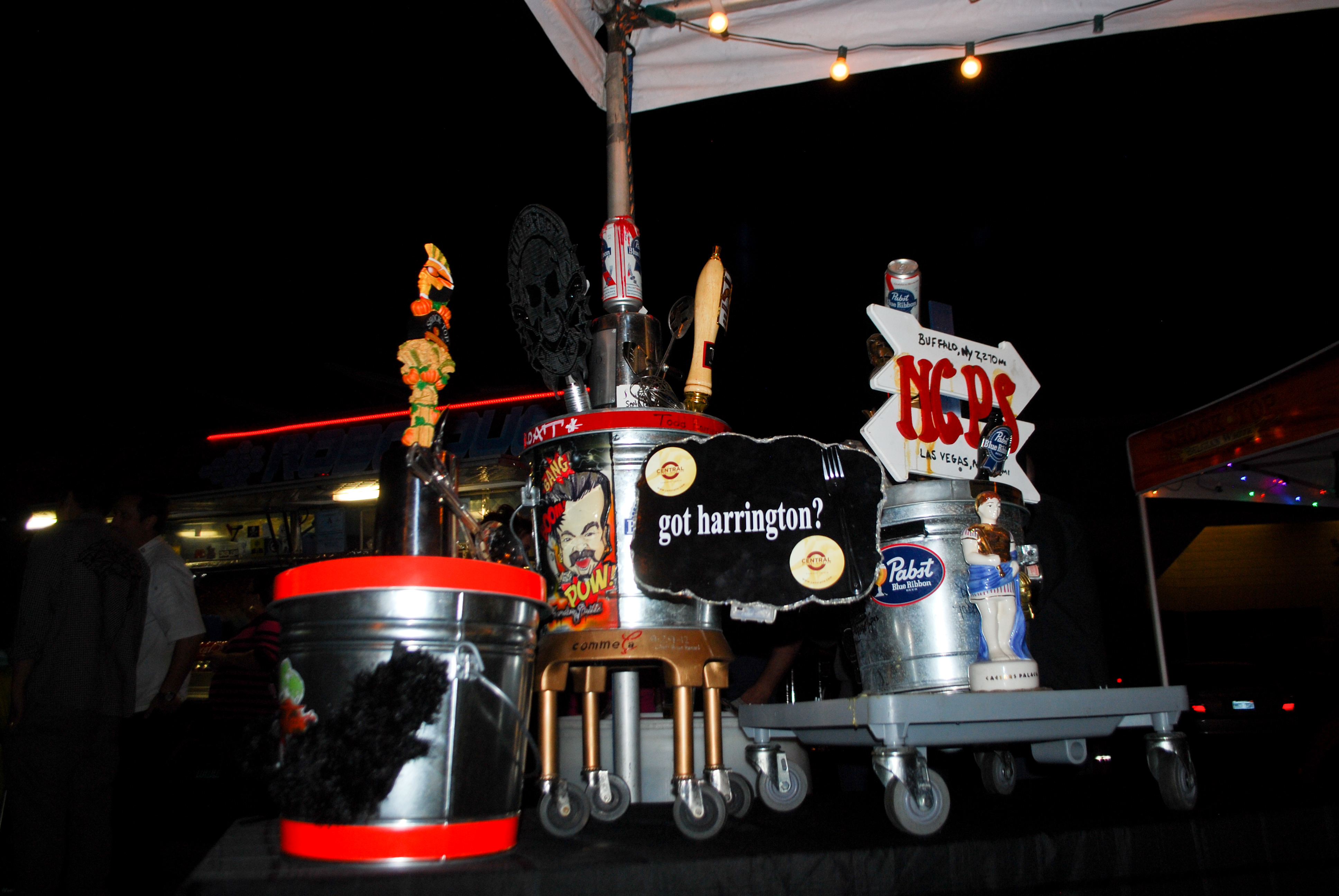 About halfway through the three-year run Mannina was forced to start over with a new trophy. When it became too large, a third was introduced, this one from Shock Top beers. All have since been destroyed while in storage, but they remain a favorite memory for many chefs who had temporary possession.
"It was the first battle that I did," Naked City Pizza's Chris Palmeri offers, when asked about his wildest recollection of the competitions. "And we had a pretty good party afterward, and drank at Tommy Rocker's. And I remember waking up in the lawn chair holding the trophy still, the next day — still in the parking lot at Tommy Rocker's."