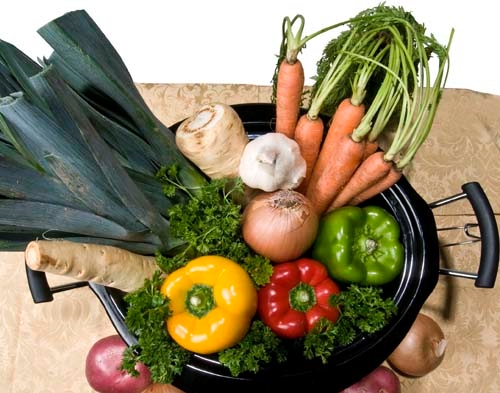 If ever there was a time to get out that underused slow cooker you've had packed away, it's now. It's a particularly effective — not to mention convenient — way to prepare soups, stews and braised meats, and what better dishes to put on the table when it's blustery outside?
If "slow cooker" translates to "eeeh," it may be because you haven't tried updated methods of using the countertop cookers. If you borrow a few conventional cooking techniques and spend a little time in the morning prepping, you'll reap the rewards in the evening.
Several local chefs use slow cookers when they cook at home.
"What I like about slow cookers is you prep a little bit, you put everything together and let it cook by itself," said Rene Lenger, executive chef of Switch at Encore. "You don't have to pay attention. You can turn it on before you leave the house and it smells good when you come back."
"You can turn it on in the morning and when you come home at night, eight hours later — or, from a chef's standpoint, 12 hours — everything's cooked and ready to eat," said Edmund Wong, executive chef of Bellagio. "It's minimal from the standpoint of the mess that you make. It's all-in-one-pot cooking, which is very convenient for all of our busy lives."
Another plus, said Jason Kupper, a chef-instructor at Le Cordon Bleu College of Culinary Arts Las Vegas: "You can take an inexpensive cut of meat and turn it into a tender outcome."
Lenger said the secret of successful slow-cooking is to use ingredients "that get better when you cook them slower. That's why I like to use it more in the wintertime, when you like a little bit more of the hearty food." He said he uses a slow cooker to prepare lamb shanks, goulash, stewlike soups, stuffed peppers and stuffed cabbage and fish stock.
"I love braised stuff," said Mark LoRusso, executive chef of Botero at Encore. "I like the texture. I like the fact — especially at this time of year — that it's more hearty. You can take a tough piece of meat and cook it right. There's more satisfaction with braising."
A lot of convenience, too, LoRusso said. He recently made braised-pork sandwiches for his daughter's birthday party by rubbing a pork shoulder with a little cumin and searing it in a pan, then putting it into a slow cooker with cilantro and orange halves, filling halfway with chicken stock and cooking it on low overnight.
"In the morning, I just had to shred it," he said.
Wong said he remembers his mother using a slow cooker, especially to make soups, when he was a child. In the decades since, he said, "we've gotten a little more technical and a little more savvy in our cooking," and know that effective preparation makes for better results.
"You definitely have to do a little bit of prep work," said Samuel Morse, executive chef of Zoozacrackers at Wynn Las Vegas. "If you do it right and you take the time, you get a good quality product. Cut vegetables down to a reasonable size. It's better to sear the meat, rather than just putting a raw piece of meat in there; that way you're locking in all the flavors."
Morse said he uses his slow cooker at least once a week, and makes his pork chili verde (recipe follows) at least twice a month. He also likes to make pot roast by searing a piece of top round and covering it with vegetables, tomato sauce and beef broth.
"Set it for 10 hours and you have dinner," Morse said.
Wong said he likes to make braised chicken legs.
"I sear the chicken first in a pan to get the nice caramelization and browning," Wong said. He sautes a quarter-pound of mirepoix — chopped onion, garlic and carrots — for every pound of chicken legs.
"I also like to bring my braising mixture up to temperature as well," he said, explaining that if the liquid isn't hot when it's added to the slow cooker, it takes too long to warm and "drains away some of the flavor."
"Just bring it to a little simmer," he said. "Use only enough liquid to just cover the chicken legs, because there will be some steam as well. Everything becomes a little bit richer in flavor." How long he keeps it in the slow cooker depends on the size of the chicken legs and how many of them he's using.
Wong — who said that he and his wife probably use their slow cooker twice a week — also likes to make a vegetable, bean and tomato stew. He uses one standard-size can (about 15 ounces) each of kidney, garbanzo, pinto and black beans. He sautes chopped onion and celery (about enough to equal one can of beans) with a fresh vegetable in season — such as corn in late summer/early fall — equivalent to one can of beans, and about 1 tablespoon each of coriander, paprika, chili powder. He then mixes it all in a slow cooker with bay leaves, whole garlic cloves, some vegetarian stock and two large (22-ounce) cans of crushed tomatoes and cooks for eight hours on low.
Kupper likes to make short ribs (see recipe on Page 1E) in his slow cooker.
"First I sear them in a saute pan, just to get some really nice color on the outer surface of the beef," he said. "That's the most important aspect. Then slow cook them with a nice red wine, like an Italian-style barolo. This time of year, there's really good root vegetables available. Cook until nice and tender, maybe six hours, then take them out, make a nice sauce with the braising liquid and serve them with a nice polenta or some homemade gnocchi."
PORK CHILI VERDE
12 tomatillos, washed and dried
4 Anaheim chilies, washed and dried
1 jalapeno, washed and dried
2 poblano chilies, washed and dried
4 cloves garlic, peeled
1 onion, peeled and cut in quarters
2 bunches cilantro, washed and spun
10 to 12 pounds bone-in pork butt, cut in 1-inch chunks
Salt and pepper, to taste
1 quart purchased chicken stock or broth
Hot cooked rice for serving
Char tomatillos, peppers, garlic and onion in a hot, dry cast-iron skillet. Remove to blender and puree with cilantro. Pour into slow cooker.
Season pork chunks with salt and pepper. Sear them, starting fat-side down, until golden brown on all sides. Add to slow cooker. Add chicken stock, cover and cook on low for 10 hours.
Serve with cooked rice.
— Recipe from Samuel Morse, Zoozacrackers
SLOW-COOKED SHORT RIBS
2/3 cup plus 2 tablespoons flour (divided use)
Salt and pepper, to taste
4 to 4½ pounds boneless beef short ribs
2 tablespoons olive oil (divided use)
2 onions, chopped
2 large carrots, peeled and thinly sliced
2 stalks celery, peeled and thinly sliced
4 cloves garlic, minced
½ teaspoon salt
1 teaspoon cracked black peppercorns
2 sprigs fresh thyme (or ½ teaspoon dried thyme)
1 tablespoon tomato paste
½ cup condensed beef broth, undiluted
½ cup dry red wine
Place 2/3 cup flour, salt and pepper in a large zip-top plastic bag. Shake to mix, then shake with ribs (in batches).
Heat 1 tablespoon oil in a skillet and brown ribs on all sides. Remove ribs to slow cooker.
Heat remaining tablespoon oil. Add onions, carrots and celery and cook, stirring, until softened. Add garlic, salt, pepper and thyme and cook, stirring, for 1 minute. Sprinkle flour over mixture and cook, stirring, for 1 minute. Add tomato paste, beef broth and wine and bring to a boil.
Pour mixture over ribs in slow cooker and stir to combine. Cover and cook on low for 10 to 12 hours or high for 5 to 6 hours, until ribs are tender and falling off the bone.
Serves 4 to 6.
— Recipe adapted from "Delicious & Dependable Slow Cooker Recipes" by Judith Finlayson
BAROLO-BRAISED SHORT RIBS
Olive oil, as needed
4 8-ounce beef short ribs
4 cippolini onions
4 baby carrots
1 celery rib, medium diced
1 parsnip, medium diced
fennel bulb, medium diced
375 milliliter barolo wine
1 quart brown veal stock
1 sachet made of 6 parsley stems, 3 thyme sprigs, 1 bay leaf and 6 black peppercorns, wrapped in cheesecloth
Salt, to taste
Put some olive oil in a medium-hot saute pan and sear ribs well on all sides, establishing a golden-brown crust. Remove from pan and set aside. Add each type of vegetable separately to the pan and briefly saute until golden brown. Add wine to pan and reduce by half. Add veal stock and bring to a simmer.
Place the short ribs in a slow cooker with the vegetables and sachet; cover with the braising liquid. (There should be enough liquid to cover the short ribs completely.) Cover, set temperature on low and cook for 8 hours.
When ribs are cooked and tender, remove them and strain the liquid through cheesecloth. Reduce until it has a thick saucelike consistency, and swirl in a tab of butter until it emulsifies. (The butter will help to thicken the sauce and add flavor and shine.)
Serve with homemade lobster ravioli, pumpkin gnocchi, saffron risotto, or polenta with boursin cheese folded in.
— Recipe from Jason Kupper, Le Cordon Bleu
Contact reporter Heidi Knapp Rinella at hrinella@ reviewjournal.com or 702-383-0474.