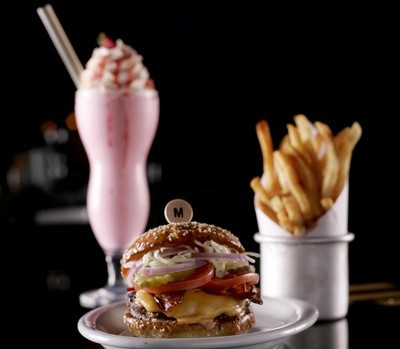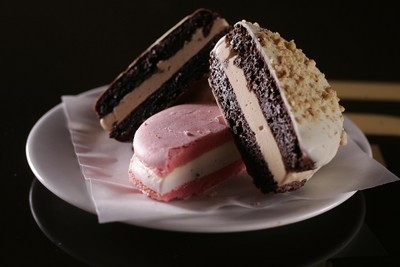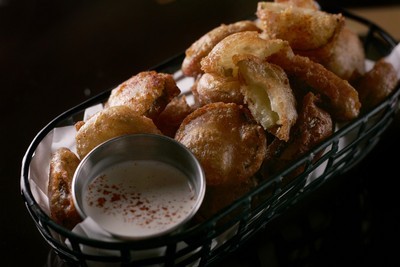 Hubert Keller didn't intend to start the Las Vegas upscale-burger craze.
Back in 2003, the French-born chef — already acclaimed for Fleur de Lys in San Francisco — was waiting out delays in his new Fleur de Lys project at Mandalay Bay when an executive of Mandalay Resort Group asked a favor: The Mandalay Place shopping venue was nearing its opening; a deal for a restaurant had fallen apart, and he didn't want to open with an empty spot. Would Keller help out — even temporarily?
Keller and his wife, Chantal, flew in to take a look at the space. They talked it over with their Las Vegas chef, Laurent Pillard. The Kellers and Pillard decided the original concept — a burger joint — made sense. And the project wouldn't be temporary.
One problem: All three were natives of France. But Keller thinks their lack of burger savvy was a good thing, because they had no preconceptions. And they'd gained knowledge — lots of it — during an intensive research period in which "we ate burgers wherever burgers were served."
They arrived at a build-your-own concept with three types of beef, plus turkey, lamb (since dropped in favor of buffalo), a veggie burger, and chicken and salmon sandwiches. The burgers (ranging from $8.50 to $16.50, plus toppings) are all pattied by hand — today they're doing 1,000 daily — and toppings include such things as homemade pickled beetroot, seared foie gras, truffles and lobster as well as more conventional things.
All Keller needed, he said, were "a couple of hooks." One would be beer, a huge selection on draft. The other would be video screens in each booth and throughout the restaurant, on which he intended to show black-and-white vintage commercials.
And then the opening morning — the birth of Burger Bar — arrived. He remembers putting the key in and watching the electric gate go up. And feeling panic.
"I was worried the most that after so many years of running a four-star restaurant, the press was going to come and say, 'What is he thinking?' " he recalled.
Within three months, he knew he'd do it again (and he has, in St. Louis). Other chefs — and maitre d's and bartenders — started coming in, and coming back; Keller remembers Grant MacPherson, then the newly appointed executive chef at the not-yet-open Wynn Las Vegas, holding meetings there.
"When I really saw that they were coming back, I knew that we had a good product."
Keller appears to be the first to dedicate an entire restaurant to the genre, but he noted that his upscale burgers were not without precedent.
"Daniel Boulud was the first one, in New York — a French chef who put an expensive burger in a restaurant," he said.
That would be the DB Burger, which Boulud introduced with the opening of DB Bistro Moderne. Wes Holton, executive chef of Daniel Boulud at Wynn Las Vegas, said that since the New York bistro does a lot of business-lunch and post- and pre-theater business, "the burger concept fits that restaurant extremely well." And when Daniel Boulud opened at Wynn, the burger was on the menu there, too.
At Wynn, Holton said, "people come in from pretty much all over the world just to have the burger." It's sirloin stuffed with foie gras and braised short ribs, with tomato compote, tomato petals, frisee and shaved red onions on an onion-Parmesan bun that sells for $29, with fries.
And other upscale-burger restaurants have followed in the wake of Burger Bar. Le Burger Brasserie opened in March 2007 in the connecting passage between Paris Las Vegas and Bally's, where other restaurants had struggled. Manager Joe Opalewski said the company wanted a fresh concept — one in which passers-by could "peek in from the outside and see that it really looks fun in there."
While Keller said Burger Bar gradually evolved into a sports-bar atmosphere because customers kept requesting that games be shown on his video screens, Le Burger Brasserie, with its 99-square-foot high-definition screen, was a sports bar from the beginning. During the NFL season, Opalewski said, "you can hear the hootin' and hollerin' from the casino floor."
While Le Burger Brasserie offers a design-your-own option, Opalewski said most popular are its Paris, which comes with brie, caramelized onions and smoked bacon for $10.99, and the American, with American cheese, sauteed mushrooms and a pile of fried onion rings, also for $10.99.
The latest entry in the burger wars opened this summer at The Mirage as the second BLT Burger (the first is in New York) from French-born chef Laurent Tourondel. Corporate chef Liran Mezan cites the ability of a French-trained chef to elevate the humble burger "by using better techniques, better ingredients and an eye for the visual rather than slapping together a burger."
Acknowledging the proliferation of the upscale burger — Keller noted that Thomas Keller (no relation) and Rachael Ray are joining the fray — Mezan said he sees a "trend not just in burgers but away from fine dining. Not just in burgers, but going to soul food, barbecue," ethnic restaurants — "the food originally considered just peasant food."
"I'm not talking family restaurants, I'm talking concepts," he added. "Better presentation, nice atmosphere, bringing the name, bringing the reputation with you. That's what people want these days."
For his part, Keller said that the upscale-burger restaurant is a Las Vegas original.
"It's exciting," he said, "that with every other concept that came to or is coming to Las Vegas, the Burger Bar is a concept that is in Vegas that is taking off."
Contact reporter Heidi Knapp Rinella at hrinella@reviewjournal.com or 702-383-0474.
YOU WANT HOW MUCH? Hubert Keller's restaurants in Las Vegas and St. Louis sell the most expensive hamburgers in the country, but it wasn't always thus. Not long after opening Burger Bar and as a hook for some media attention, Keller introduced the Rossini, a Kobe beef burger with foie gras, truffles and Madeira sauce that sells for $60 (or $78 with high-end condiments, a truffled bun and truffled fries at Fleur de Lys). The Travel Channel arrived to do a segment that featured the burger, asking him on camera if it was the most expensive in the country. He said as much, but what Keller didn't know was that the same program included a segment on Daniel Boulud's DB Burger — and that Boulud had raised his price. Boulud said, "We're putting double truffle on ours," and charging $100, Keller recalled. Keller and Boulud are friends, which meant Keller had to retaliate. "If Daniel is going to put $100, we'll do the most expensive burger ever — $5,000," he said. That's the Fleurburger, which is a Fleur de Lys-version of the Rossini with a bottle of 1995 Chateau Petrus wine, collectible stemware and a signed, numbered certificate. And since the wine alone is $5,000, "the burger is basically for free." He said his St. Louis restaurant sold its first one a few weeks ago. "There you can't say it's the high rollers," Keller said. "The person really came in and heard about the burger and wanted to taste it." The price clearly isn't a deterrent for some. A few months ago, a family of 10 came in to Fleur de Lys Las Vegas for 10 Fleurburgers. Keller flew in from San Francisco to prepare them personally. The second-most-expensive burger in town? Probably the $777 Kobe beef and Maine lobster burger at Le Burger Brasserie at Paris Las Vegas, which also comes with caramelized onions, brie, prosciutto, 100-year-old balsamic vinegar and a bottle of Rose Dom Perignon Champagne. By HEIDI KNAPP RINELLA