Variety highlights menu at Fremont Mediterranean Cafe
December 28, 2011 - 1:59 am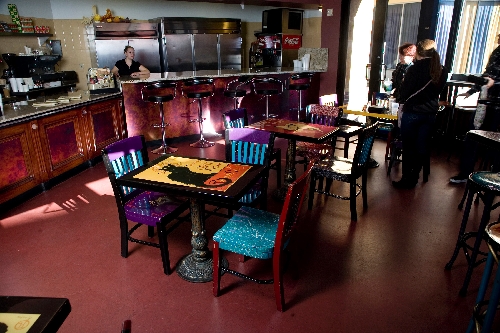 Burger or baba ghanoush?
Choose American or dine Mediterranean — though the former could well have the flavor of the latter — at the Fremont Mediterranean Cafe, which swung open its doors in early October at 450 Fremont St.
"Since we opened it's been word of mouth. I haven't even started doing advertising," says Magdi Abdoul, the cafe's Egyptian-born partner and general manager who has operated restaurants in other U.S cities. "Whoever tries the food, they bring back friends."
Certainly you can order a good ol' red-white-and-blue burger (not literally, of course), made from Angus beef. Or you can sample an original variation on the burger theme.
"We have a lamb burger," Abdoul says. "I pretty much invented that. It's got Mediterranean spice. It's incredible."
Goodies such as tabouli (a Lebanese salad), chicken and lamb shawarmas (garlic-flavored meat served on pita bread), hummus (a Middle Eastern dip served with pitas), falafel (chickpea fritters), baba ghanoush (fire-roasted eggplant mixed with virgin olive oil and seasonings) and charbroiled kebabs share space on the menu with Italian and roast beef subs, while soup choices include lentil, lobster bisque and gazpacho.
Based on food found in cultures near the Mediterranean Sea, the cuisine is considered by food critics to be particularly healthful, emphasizing seafood in various styles, as well as olive oil, garlic and vegetables, both raw and cooked.
Inside the eatery, with its interior design distinguished by a chandelier and high ceilings, food may be the central draw, but Abdoul says an important addition is planned.
"I'm going to do a wine bar. I'm going to pick up my temporary license soon. It will be big on wine and beer. I want to try different wines from across the world, from California to France. And I'm going to have trays of imported cheese to serve with the wine."
Describing what lunch and dinner patrons can expect, Abdoul says simply: " 'Fresh,' 'natural' and 'healthy' are our three words."
Fremont Mediterranean Cafe is open from 11:30 a.m. to midnight Mondays through Thursdays, 11:30 a.m. to 2 a.m Fridays and Saturdays, and noon to midnight Sundays. The cafe seats 37 inside, plus another 30 on the patio.
Specialties: spicy Italian sausage hot sub, $4.95 and $8.95; pesto turkey burger, $7.95; chicken chipotle wrap, $7.95
Appetizers: caprese, $7.95; tzatziki, $5.95; sampler platter, $8.95
Soups and salads: lentil, $4.95; lobster bisque, $5.95; golden beets salad, $5.95 and $8.95
Entrees: Lamb kebab, $10.95; chicken shawarma, $8.95; salmon kebab, 9.95
Desserts: Italian gelato, $2.95 and $3.95; tiramisu, $4.95; chocolate mousse, $4.95
Information: 366-9501
— BY STEVE BORNFELD