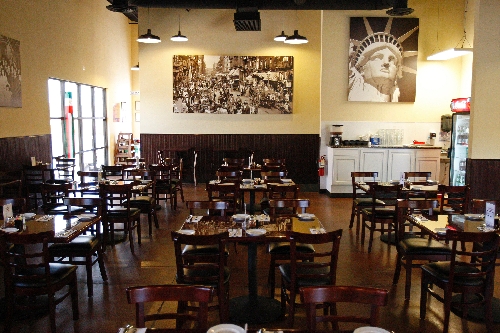 Vinny Delillo thought his family's Italian cooking was too good to keep within the family, so he and wife, Betty Neel, decided to share it with Las Vegas.
The couple opened Vinny's Seafood Bar and Cafe, 2950 S. Durango Drive, in December. Their concept is to share the family recipes, Neel says, in a setting reminiscent of a New York seafood bar.
The menu features fresh seafood such as clams, oysters and scungilli, as well as Italian mainstays lasagna, baked ziti and pasta fagioli.
The dining room seats 60, with seating for eight at the seafood bar. Vintage posters, family photographs and pictures of New York decorate the walls.
Newcomers can sample the house marinara sauces, Vinny's Famous mild, medium or hot sauce, before selecting their preference. Sauces also are named after his mother, Angie.
The restaurant is open from 11 a.m. to 10 p.m. Tuesdays through Sundays. Reservations are not required.
Specialties: Scungilli salad, $12; Angie's Italian cheesecake, $6; pasta with Vinny's Famous sauce (mild, medium or hot), $12
Soups and salads: Manhattan clam chowder, $4 for a bowl; mixed green salad, $6; calamari salad, $10
Appetizers: New York little neck clams on half shell, $8 for a half-dozen, $16 for a dozen; baked mussels, $12; shrimp cocktail, $8
Entrees: fried seafood platter with shrimp, calamari, clam strips and choice of soup or salad, $15; pasta with Angie's meat sauce, $13; lasagna, $13
Desserts: Cannoli made to order, $5; tiramisu, $6; gelato, $4
Information: 233-6556.
By SONYA PADGETT