Viva Las Arepas, Naked City Pizza, Pepito Shack got their start in Dino's parking lot
February 22, 2017 - 11:28 am
Updated February 26, 2017 - 11:32 am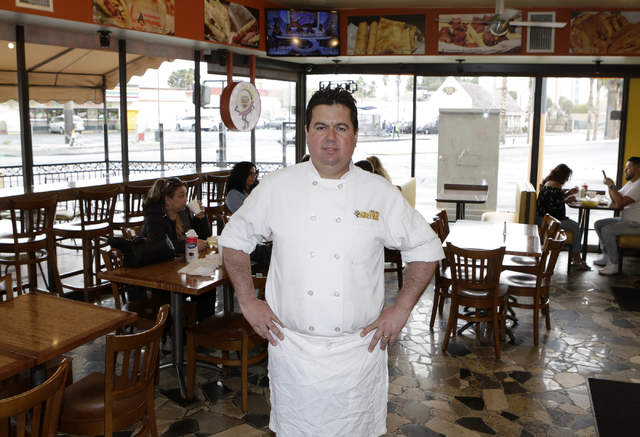 The parking lot of Dino's lounge downtown may not look like a business incubator, but it's been the birthplace of four Naked City restaurants, two Viva Las Arepas and The Goodwich, and there may be more to come.
Felix Arellano, a veteran of Strip restaurants including those of Mario Batali, wanted to start Viva Las Arepas in 2011. But opening a restaurant is expensive, so he hoped to rent space in a parking lot. Even that was tough; Arellano contacted 100 property owners before he got an OK from Kristin Bartolo at Dino's, 1516 Las Vegas Blvd. South.
Bartolo understood the concept, since Naked City Pizza started with a cart in her parking lot.
"It was a way for me to offer food, and to make money off a little spot and bring more business to the corner," she recalled.
Arellano is a native of Venezuela, where arepas — thick cornmeal pancakes topped or filled with meats, beans or cheese — are popular. He set to work in the 9-by-12-foot kiosk.
"It's the least expensive way, but harder," he noted. "There's the summer heat and winter cold, even the wind."
He stuck it out for 20 months, handing out samples and talking up his products. He then moved into a storefront a block away at 1616 Las Vegas Blvd. South, and tried selling tacos at the kiosk. But he decided to focus on his new restaurant, and handed off the kiosk to Josh Clark, who had approached him with the idea for The Goodwich sandwich shop.
"It was available and it was affordable," Clark said. "I didn't have the money to build out a big restaurant."
Clark said he never intended the kiosk to be permanent.
"It was always looked at as a steppingstone," he said. After about two years, he opened the brick-and-mortar Goodwich on the ground floor of the Soho Lofts, 900 Las Vegas Blvd. South.
Today the kiosk has been transformed into the Pepito Shack, serving open-faced sandwiches stacked with grilled meats, vegetables and shoestring potatoes, as well as burgers and hot dogs. It's operated by former Arellano employee Ricardo Cruz.
Meanwhile, Naked City moved from cart to nearby storefront to Moondoggies at 3240 Arville St. Owner Chris Palmeri since has added Naked City Pizza at 4608 Paradise Road, Naked City Tavern at 6295 S. Pecos Road and Naked City Pizza Express at the Blue Diamond Saloon, 6935 Blue Diamond Road.
As for the Pepito Shack, Arellano said he's unsure whether it'll launch another successful restaurant. Business has been slow since it opened Jan. 1, but he's hoping it'll pick up with the warmer weather.
"The restaurant business is tough, especially if you have to do it outside," he said.
Another option, Arellano said, is selling the kiosk. He recently opened Viva Las Arepas at 1140 S. Rainbow Blvd. and has bought land in the eastern valley to open Arepa Plaza, with a restaurant with drive-thru, retail spaces and a commissary kitchen, with an eye to further expansion and maybe even franchising.
All from a humble parking lot.
Contact Heidi Knapp Rinella at Hrinella@reviewjournal.com. Follow @HKRinella on Twitter.