Volunteers prepare to feed 25,000 at Las Vegas Greek Food Fest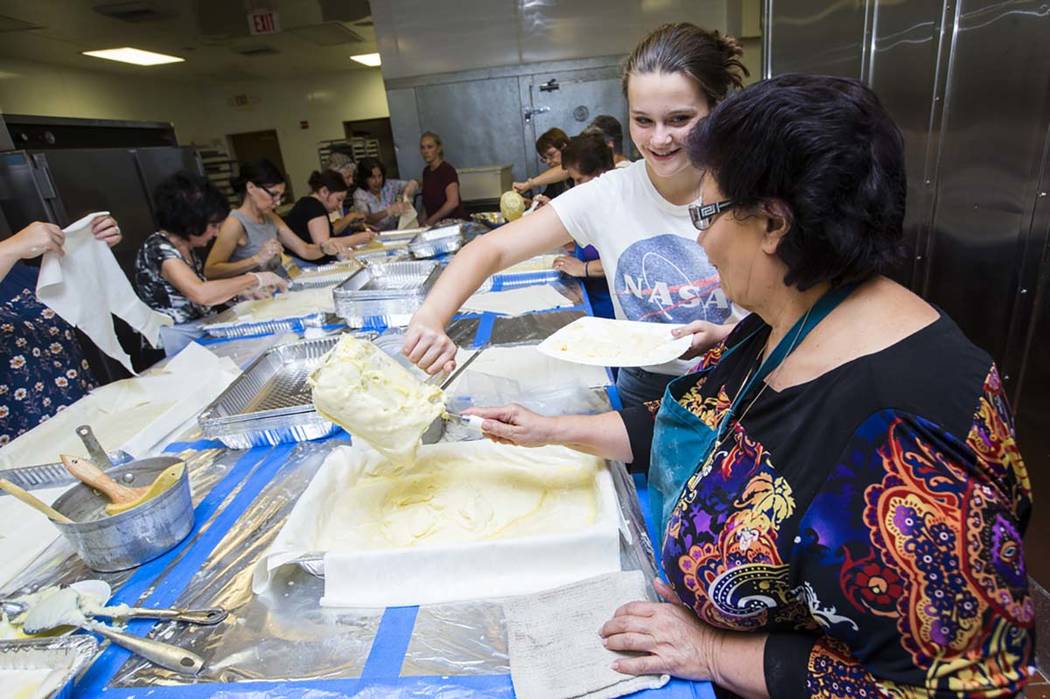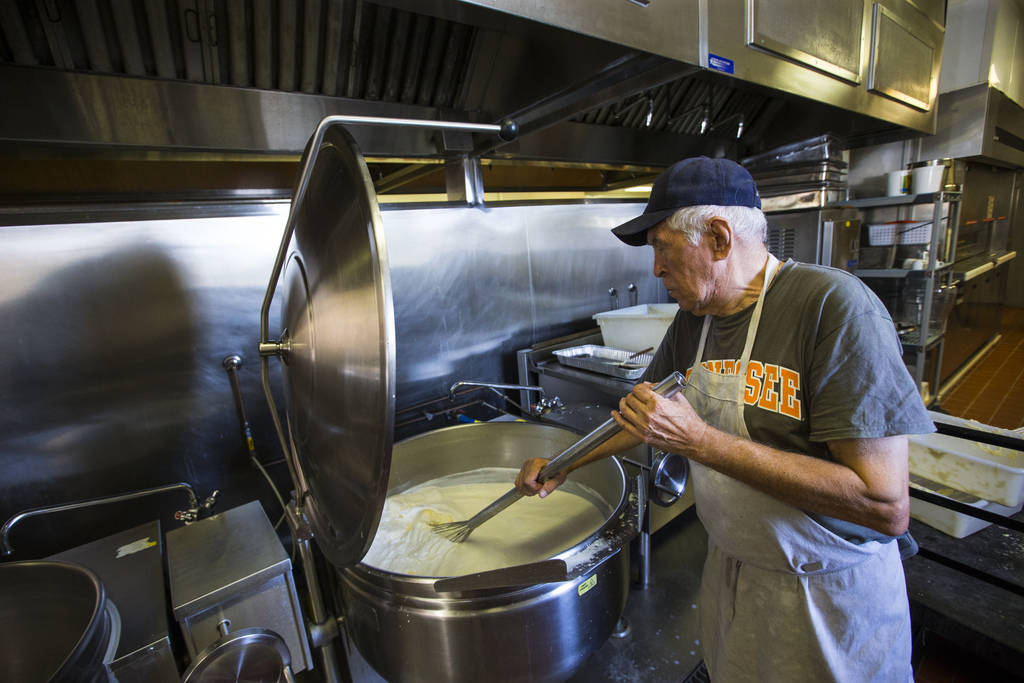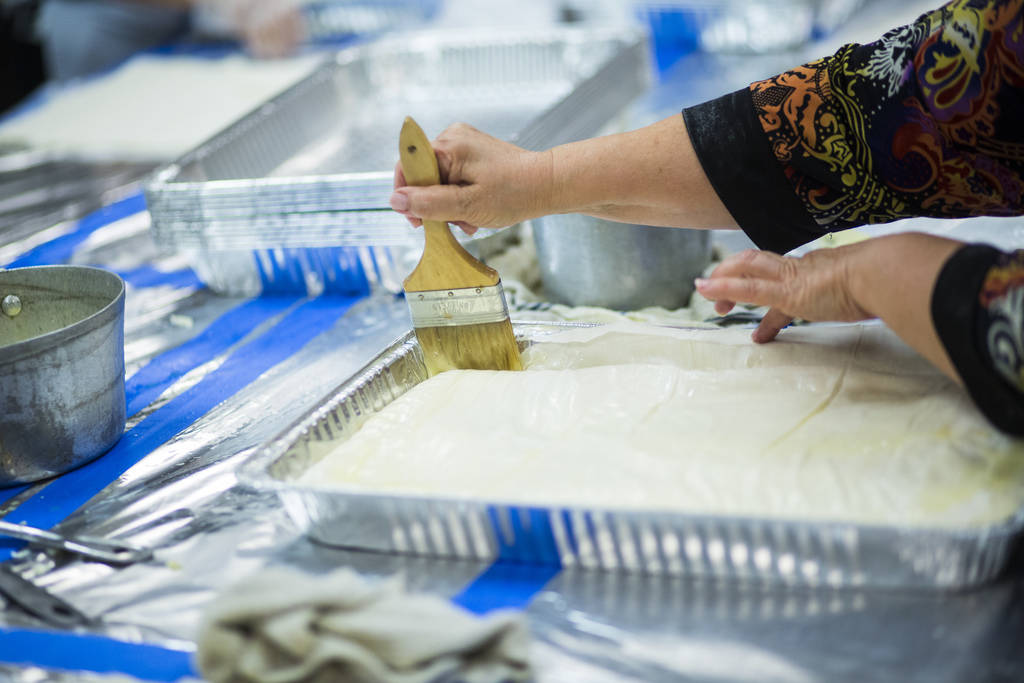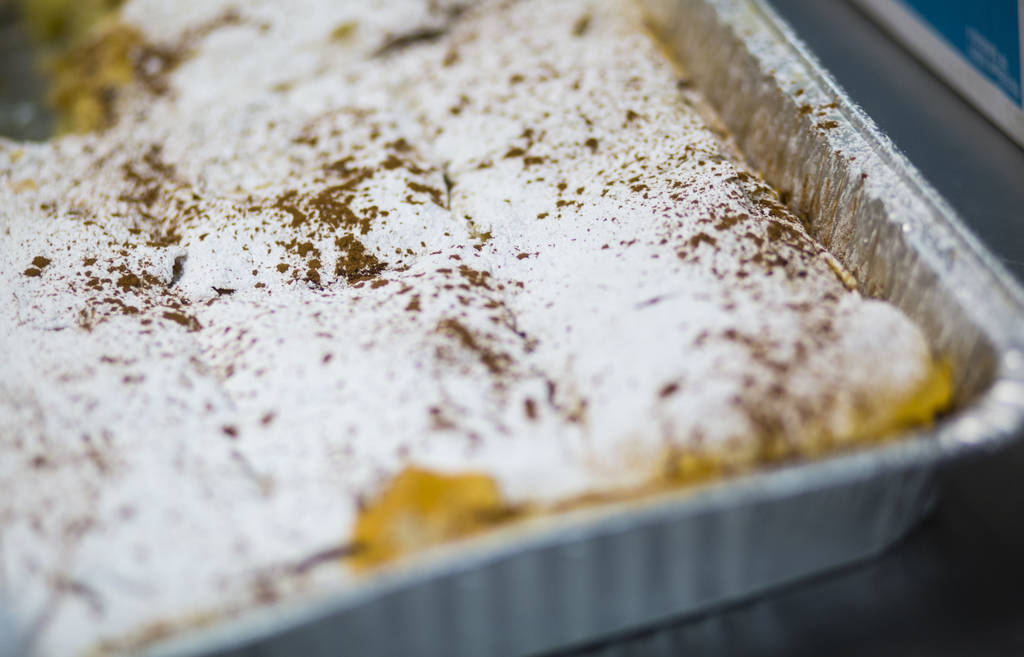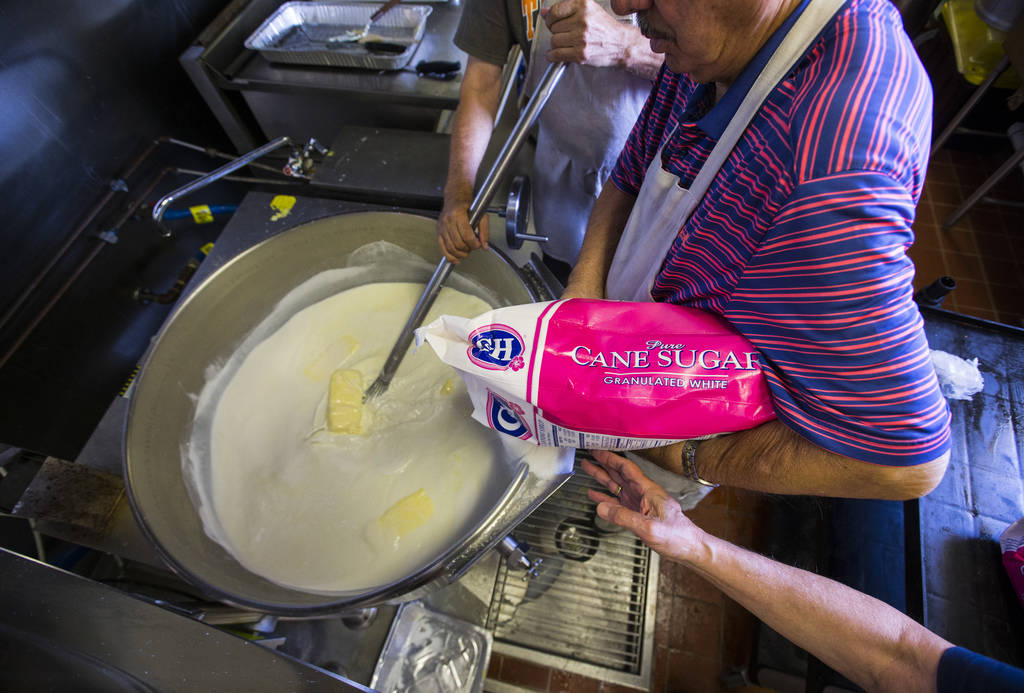 When you're inviting 25,000 people for dinner, preparation has to be a group effort.
Members of St. John the Baptist Greek Orthodox Church have got this. The Greek Food Festival that runs Friday through Sunday at the church on South El Camino Road will be their 46th, so they have lots of practice.
Festival fare will include savory Greek favorites such as lamb chops, gyros, pastitsio, saganaki and souvlaki, but one of the biggest draws is the array of pastries prepared by members of the church. Stephanie Demoleas,
co-chairwoman of the festival with Peter Papas, said there will be five varieties of baklava alone: classic; classic topped with pistachios; classic triangles with chocolate-dipped corners; kataifi, which has a shredded-phyllo exterior; and saragli, which is shaped into a log and sliced.
But wait! There's more: baklava brownies, baklava cheesecake, chocolate baklava cheesecake, baklava sundaes. A full cookie menu including three varieties of koulourakia butter cookies, almond and marble crescent cookies, kourambiethes shortbread cookies with or without almonds, melomakarona honey-dipped ovals.
Karisdopita walnut cake. Pasta flora shortbread cookies filled with jam in various flavors as well as a baklava variety. Diples honey-dipped pastries with walnuts and cinnamon. Ekmek kataifi, in which kataifi is layered with custard and topped with whipped cream. Kokes cakes layered with custard and topped with chocolate in three varieties. Rice pudding, made from Demoleas' father's recipe.
Even baklava frosties, a festival original that Demoleas said was created by her sister-in-law, Grace, and niece, Eleni.
"It's kind of our version of the blizzard," she said. "We have people who work at the festival, that's the first thing they want, as soon as we get the (soft-serve) machines up and running."
Creating all of that food is as much science as art.
"We start brainstorming in January," Demoleas said. "Marika (Lamancusa) is our quality consultant, making sure the recipes are followed and authentic. Nothing gets through without her approval."
Actual food prep begins in July long before the festival does.
"What we can freeze, we freeze," Demoleas said. "Cakes are done the week of, rice pudding the day of. We start packaging five days before the festival starts. Sixty percent of our work is done before the festival opens. We have to make sure everything is clean and neat and packaged."
On a recent Saturday morning, about 20 of the estimated 40 festival volunteers gathered in the church's expansive and well-equipped kitchen to make bougatsa, which Demoleas said is a festival favorite. The scents of butter and vanilla joined with the sounds of spoken Greek.
"There are at least a dozen people who are instrumental," Demoleas said. "Sophia Leonis, Kiki Mavrantonis, Savva Savvaas, Harry Tsiforas, Youla Tsolis."
In one space, Tsiforas was stirring a cauldron that Lamancusa said held 20 gallons of custard. The custard started, she said, with warm milk, sugar and butter, and semolina is added later. She expected they'd go through 100 pounds of it in their goal of making 100 pans of bougatsa.
Across the room, a woman opened a 30-pound box of butter and started putting sticks in a pot to melt.
More volunteers — so many that they ran out of basting brushes — were gathered around a stainless-steel table, bent over half-sheet-sized foil pans. They carefully folded phyllo sheets into pans as they brushed them with melted butter. Baking co-chairman Sophia Leonis explained why the phyllo overlapped the pans.
"When you put in the custard, you don't want it to touch the sides of the tin," she said, noting that phyllo totally envelops the custard. And when the phyllo was ready the call went out: "Crema girl!" A volunteer with a pitcher full of custard filled prepared tins.
Many of the volunteers were older, such as 88-year-old kitchen manager Sam Koutsulis. On the other end of the scale were church member Sarah Kokkinis and her friend, Chloe Merriman, both 13, and up early this Saturday morning.
"They enjoy volunteering and supporting the community," said Sarah's mom, Jennifer Kokkinis. "And it teaches them to bake these, because I don't know how to bake them."
"We wanted to show our support," Sarah said. But Chloe had her eye on the prize.
"We're pretty sure we're going to the Greek Festival," she said, "so we wanted that proud moment."
Bougatsa
1 1/2 cups fine semolina
Generous 1 1/2 cups sugar
3 eggs
6 cups milk
Grated zest of 1 lemon
10 tablespoons butter
1 pound frozen phyllo pastry, thawed according to package directions
Confectioner's sugar
Ground cinnamon
Beat the semolina, sugar and eggs until frothy. Transfer the mixture to a pan and add the milk, stirring constantly. Bring to a boil several times and then stir in the grated lemon zest. Let cool.
Heat oven to 350 degrees. Melt butter and brush over the individual sheets of pastry. Place half of the pastry on a greased baking sheet (or a foil half-sheet pan), spread evenly with creamy mixture and cover with the remaining pastry.
Bake for about 20 minutes, until pastry is golden brown and crispy on top and the filling has set. Let cool slightly, then sprinkle with confectioner's sugar and cinnamon and cut into slices. Bougatsa is best when eaten warm.
Rice pudding
1 pound long grain rice
1 pound (about 2 cups) sugar
1 gallon milk
2 tablespoons cornstarch
1/2 cup half and half
4 large eggs
1 teaspoon pure vanilla extract
Add rice to 4 cups water. Bring to a boil and then simmer, uncovered, on low heat until rice is cooked.
Add sugar and stir until dissolved.
Slowly add milk and stir constantly over medium heat.
In a separate bowl, dissolve cornstarch in half and half.
Beat eggs and half and half together and slowly pour mixture into rice pot. Add vanilla. Simmer until thickened.
Pour into bowls when cool. Sprinkle with cinnamon.
Serves 8 to 10.
Kourambiethes
8 ounces unsalted butter
2 cups plus 3 tablespoons confectioner's sugar (divided use)
1 egg yolk
1 tablespoon brandy
1/2 cup finely chopped toasted almonds (optional)
1 teaspoon baking powder
2 1/2 cups all-purpose flour
Melt butter until bubbles subside and sediment is golden — do not burn (this melting is non-traditional, but many Greek cooks do it). Pour melted butter into mixing bowl, leaving sediment in pan. When liquid in bowl has solidified, add 2 cups confectioner's sugar and beat with an electric mixer until light and fluffy. Add egg yolk and brandy and beat well. Remove bowl from mixer and stir in almonds, if using.
Sift flour and baking powder twice and mix lightly into butter mixture. Break off small pieces of dough, each the size of a large walnut. Shape into crescents, or roll into balls and flatten slightly.
Heat oven to 350 degrees.
Place cookies on ungreased baking sheets and bake for 15 to 20 minutes, until lightly colored. Let cool on trays for 10 minutes. Sift some confectioner's sugar over top and sides. When cool, place in a container and sift remaining sugar on top of cookies. Seal and store for two days before using to improve flavor.
— Recipes from Greek Food Festival
Contact Heidi Knapp Rinella at Hrinella@reviewjournal.com or 702-383-0474. Follow @HKRinella on Twitter.