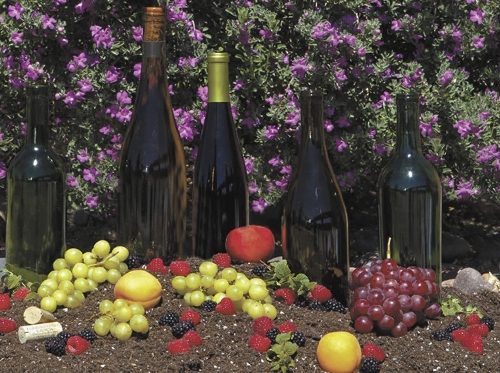 Jason Smith, a master sommelier and director of wine at Bellagio, remembers somebody once saying a wine was reminiscent of Cool Ranch Doritos.
Jon Simmons, sommelier for 27 years at Hugo's Cellar at the Four Queens — "I think there were three of us in town then" — remembers the tasting notes he recently read in a leading wine lovers' magazine: " 'Hint of cassis and lingonberry with aftertones of bacon, espresso and tobacco box.' "
"It's just ridiculous!" Simmons said. "It's overkill. Have you ever even had a lingonberry? I think the whole description thing has gone out of control completely."
Such descriptions of a wine's nose, or aroma, may sometimes seem a little nonsensical, but local wine experts say they can go a long way toward identifying a wine in a blind tasting or giving someone an idea of a wine's qualities. For example, "if you're sure it's strawberry, you can eliminate a whole lot of varietals in wine tasting," said Sebastien Gavillet, a partner with Wine Aromas Inc., which sells aroma-identification kits.
"Environment is hugely influential," said Larry O'Brien, a master sommelier, member of the board of directors of the Court of Master Sommeliers and director of Micro Cru for Wirtz Beverage Nevada. "A cabernet grown in a backwater appellation doesn't smell like one grown in Napa or Sonoma."
In wine tasting, the nose provides far more information about the wine than the palate does. That's because our noses are more discerning.
"Smell is 90 percent of it, really, as far as flavors go," said William Sherer, a master sommelier and wine director at Aureole at Mandalay Bay. "Just notice how any food or wine tastes bland when your nose is plugged up. When you're eating or drinking, your nose is actually doing a lot of the work as far as flavor. The tongue really gets more physical elements, textural."
O'Brien said research has revealed that the human sense of smell can easily delineate as many as 10,000 aromas (and that more recent studies have indicated as many as 100,000), while the sense of taste is far more limited.
"Basically, your taste sensors are the most atrophied sense you have as a human being, because you just don't use them as much as sight and touch," Sherer said. "You're getting the information to your brain, but you're just not recognizing it." He used an analogy of someone crossing a busy street on a hot day focusing only on the crossing sign and missing everything else around them.
"A lot of people kind of just turn it off," he said. "It's just a matter of reinvigorating that."
"Like anything else, it's practice and training," Smith said. "If you haven't tasted many wines at all and you just taste a glass, you probably won't pick up the same sorts of things. I don't necessarily think my palate's better than anyone else's. I've spent a lot of time training my palate. It's like shooting a basketball or anything else in sports."
"To get comfortable, pick up a lemon, lime, orange," said Peter Donkonics, sommelier and corporate wine director for Station Casinos. "Smell the actual orange. Smell spices."
Larry Gove, wine supervisor at Total Wine & More in Henderson, said he has been to a center in Napa, Calif., where various aromas are concentrated in tubes for isolated sniffing.
Wine Aromas Inc. sells 12-aroma kits for red or white wine and 54-aroma kits that take in red, white and champagne, at Marche Bacchus on Regatta Drive and Double Helix at the Palazzo.
Even some of the seemingly odd descriptions of a wine's nose make sense in context. Sherer said wine aromas are divided into categories. Fruit is mostly self-explanatory — "Think of fruit and spices and things in your kitchen," Donkonics said. — although inclusions such as banana or lime may be somewhat surprising.
"What's actually more interesting to a lot of hard-core wine drinkers is the earthy flavors, because the earthy flavors are the unique signature of the land, or as the French would say, 'terroir,' " Sherer said. Earthy flavors may include "foresty, turned soil, fresh earth, minerality, the smell of rocks after rain, chalk or granite. Very often, those are present in the soil of the grapes where they were grown."
O'Brien said earthy descriptions are divided into organic ("decaying, humussy") and nonorganic ("the rock, the chalks, the pebbles").
"Aromas of earth can sometimes get a little colorful, a little poo-ey," he said. But, "one man's 'stinky' is another man's 'smells like a rose.' "
Then there are the aromas that come from the winemaking process, such as yeasty or buttery, the latter of which comes from lactic acid, Sherer noted.
All of which may or may not be a little confusing for the layman. Sandy Kehl, who was shopping at Total Wine last week, said some descriptions seem a little weird.
"I was just reading one that had lime in it," she said. "I don't think I'd like that, so I put it back. Some of them, I don't know if I'm that astute."
"What I've found," said fellow shopper Michael Taskey, "is that people need to be educated about what they're tasting and smelling."
"A lot of the aromas that people come up with are from their past," Sherer said. "The country person is much better equipped to get wine aromas, because wine aromas are just aromas in nature."
There's also the power of suggestion.
"If someone says, 'Ooh, I smell Meyer lemons,' it's difficult for that not to pop into your head," Smith said.
Then there are some that are pretty offbeat. Boxwood — a euphemism for cat urine — often is used to describe sauvignon blanc.
"Petrol or kerosene, you're most likely smelling riesling," Donkonics said.
"You do get some crazy descriptions like leather, like lead pencil," Gove said. "Those always strike me as unusual."
"Pinotage is as weird as it gets," O'Brien said. "Nobody seems to like the smell of pinotage, because it's funky, smoky, earthy and kind of human body-odorish." He quotes fellow master sommelier Keith Goldstein, who has described the aroma of pinotage "as that of a hairy man in a wife-beater T-shirt who hasn't had a bath in three days grilling a steak after he cut his finger and it was bleeding."
"As an examiner for the Court of Master Sommeliers, you hear stuff that's extremely personal," O'Brien said. "When they use descriptions that are personal — 'This smells like the plastic toy box I had as a kid on a cold winter day' — it doesn't communicate real well to anyone other than the person saying it."
Some aren't meant to be complimentary.
" 'Rubber tire' is not necessarily pleasing," Smith said. " 'Rotten eggs' is obviously a fault. No one wants to be anywhere near that."
"A lot of the funky odors in wine are actually poor hygiene in winemaking," O'Brien said.
But in total, he said, "the joy is in pondering the ever-evolving characteristics of aroma in a given wine. Take time to enjoy the pleasure of aromas."
"The great thing about wine is there's not a right or wrong answer," said Donkonics (who then went on to say that identifying cranberries in a chardonnay would be a wrong answer). "Everybody detects things differently."
"I think it's really important for people to think for themselves and not to think about what a critic says," Smith said. "I think they should use that critic for the basis of their thinking, but the important thing is to trust yourself.
"It's all kind of personal opinion. I'd say have fun with it more than anything else. Try to look at those unique things you might pick up, especially if you're around the table with friends. Increase your appreciation of wine. Wine should be fun."
Contact reporter Heidi Knapp Rinella at hrinella@ reviewjournal.com or 702-383-0474.