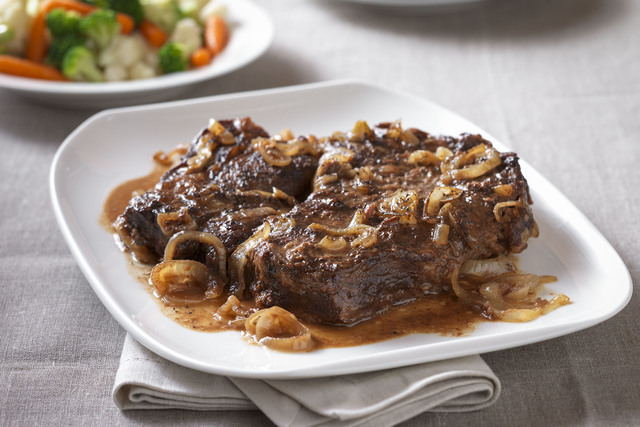 The mercury's been bouncing around lately like a certain anatomical feature on a Strip showgirl, but the calendar says it's winter — at least what passes for winter in blessedly freeze-challenged Las Vegas. So it's prime season for embracing the cooking technique of braising.
"This is the best time of year for braises that create heavier dishes that will keep you warm and toasty," said David Thomas, executive chef of Bazaar Meat at SLS Las Vegas.
"Winter is definitely the time for lazy Sundays and braising a nice chunk of meat for your friends and family," echoed Michael Vignola, corporate executive chef for Strip House at Planet Hollywood.
"It's my favorite cooking technique," said Mark LoRusso, executive chef of Botero at Encore. "I do it a little bit all year, but there's something about doing it in the winter and the fall — the whole comfort feeling."
The key to braising is low and slow — roasting something (generally meat) in liquid at a low temperature for a long time. It not only creates deeply flavored, hearty dishes, it's a good way to use less expensive cuts. At Bouchon at The Venetian, chef de cuisine Josh Crain said they braise lamb shanks regularly, at least once a week.
"It starts as a byproduct of the leg of lamb, because we get them whole," he said.
Although braising is a fairly simple, classic technique, there are some secrets that help ensure success, the chefs agreed.
"The first thing is a good sear," Crain said. "You're trying to lock in all the moisture, on top of the caramelization giving some color and also some flavor."
"Use a really hot pan, a little oil, and sear it until it's golden brown and almost crispy and caramelized on all sides," Thomas said.
Crain said to plan on two hours in the oven, maybe three. Thomas figures on 2½ to 4 hours, depending on the size of the meat. And keep that oven slow, as they used to say.
"I'm a big fan of 200 degrees, 225 and let it go," Vignola said. Thomas said he uses 250 to 275 degrees maximum.
But don't let it go too long; just because the meat is cooking in liquid doesn't mean it'll stay moist.
"If you go too long, it'll turn it dry," Crain said. "Just like if you sit in a swimming pool for five hours, you come out all shriveled."
A proper braising is just long enough, he said.
"The connective tissue is broken down, the meat is tender, everything is glorious," Crain said. "Go 45 minutes longer and the meat will start to disintegrate, and then it becomes dry."
Bones, Vignola said, should pull out cleanly when the meat is done.
"With a cake tester or straightened-out paper clip, you should be able to pierce the meat really easily," he said.
"With a cake tester or a trussing needle, it's always good to poke and see," Crain said. "If the meat comes back up with you it still needs to go a little bit more. There's a sense of touch that you can learn over time. But honestly, the best thing is if you think you're there, cut a little bit off and see if it's tender."
Be careful how much moisture you introduce to the dish.
"A big misconception when braising is adding too much liquid," Thomas said. "You only want to go about half-way up how tall the product is. Too much liquid and it'll all sort of water out or pull more flavor out of the protein," he said. "You really want to put the flavor into the product. Depending on what flavor profile you're looking for, you really want to have a rich stock to braise in."
"Nothing too reduced," Crain said, "because it's going to be reduced more."
Since you'll be roasting at such a low temperature, LoRusso suggests heating the braising liquid on the stovetop before you put the meat in the oven.
Another way to add flavor, he said, is to marinate the meat.
"I think with most items, if you can put a marinade on them overnight, with herbs and olive oil, it definitely enhances the flavor," he said.
Vignola, too, suggests marinating or brining the meat — short ribs in red wine, pork in mustard and orange, a delicate veal breast in milk, roasted garlic and a Parmesan rind.
"It'll give it that kind of lactic umami bomb in your mouth when you're done," he said. "It'll really fortify that sauce."
LoRusso likes to cure pork belly for about three days in garlic, salt, sugar and herbs, before searing and braising it and then exposing it to a higher heat to caramelize it.
And even when the meat is done, it's not done.
"Once you have completed the process, it's best to cool the braise in the liquid," Thomas said. "Don't pull it out because as it's cooling down it's absorbing that liquid. We cool it completely in the liquid. Then it's removed and we strain the liquid and reduce that to make that into the sauce."
"One of the main things I find people do at home when braising is they don't let their meat rest in the braising liquid," Vignola said. "Like a steak or a roast in general, you should really let your food sit in that braising liquid so it sucks it all back up."
Now you're done. You can eat the meat as is or use it in other dishes. LoRusso uses classic braised short ribs in ravioli, and pork belly on a wedge salad.
"As a chef," he said, "I think it's the most satisfying cooking technique — if it's done right."
MEDITERRANEAN BRAISED BEEF
1 boneless beef shoulder roast (2½ to 3 pounds)
¼ cup all-purpose flour
2 tablespoons olive oil
¼ cup balsamic vinegar
2 small onions, halved and sliced
4 medium shallots, sliced
¼ cup chopped pitted dates
½ teaspoon salt
¼ to ½ teaspoon black pepper
Preheat oven to 325 degrees. Lightly coat roast with flour. Heat oil in Dutch oven over medium heat until hot. Brown roast; remove.
Add 1½ cups water and vinegar to Dutch oven; cook and stir until brown bits attached to pan are dissolved. Return pot roast. Add onions, shallots, dates, salt and pepper; bring to a boil. Cover tightly and roast for 2¼ to 3¼ hours, or until pot roast is fork-tender. Remove roast; keep warm.
Cook liquid and vegetables over medium-high heat to desired consistency. Carve pot roast. Serve with sauce.
Serves 6 to 8.
— Recipe from The Beef Checkoff
BEER-BRAISED SPICY BEEF TACOS
2 teaspoons olive oil
1 beef ranch roast (2 pounds)
Salt and pepper
1 bottle (12 ounces) beer
2 medium chipotle peppers in adobo sauce, minced
2 tablespoons plus 1 teaspoon adobo sauce from chipotle peppers, divided
2 cups coleslaw
12 small corn or flour tortillas (6-inch diameter), warmed
Toppings: Chopped red onion, chopped fresh cilantro, crumbled queso or sour cream, fresh lime juice or lime wedges (optional)
Heat oil in stockpot over medium heat until hot. Place beef in stockpot; brown evenly. Pour off drippings; season with salt and pepper, as desired.
Add beer, peppers and 2 tablespoons adobo sauce to stockpot; bring to a boil. Reduce heat; cover tightly and simmer 2¼ to 2½ hours, or until beef is fork-tender.
Meanwhile, combine coleslaw and remaining 1 teaspoon adobo sauce. Refrigerate until ready to use.
Remove roast from stockpot; cool slightly. Skim fat from cooking liquid; bring to boil. Reduce to medium and cook 10 to 12 minutes or until reduced to 1½ cups. Meanwhile, trim and discard excess fat from cooked roast. Shred roast with 2 forks. Return beef to reserved liquid; cook over medium heat until heated through.
Serve beef in tortillas; top with coleslaw mixture and toppings, as desired.
Serves 6.
— Recipe from The Beef Checkoff
WINE-BRAISED SHORT RIBS
1 teaspoon olive oil
2 pounds beef short ribs, cut into 3-by-2-inch pieces
Salt and pepper
1 medium onion, chopped
1 can (28 ounces) crushed tomatoes with Italian seasonings
1 cup dry red wine
Cooked soft polenta or pasta (optional)
Heat oil in large stockpot over medium heat until hot. Place short ribs in stockpot; brown evenly. Remove from stockpot. Season with ½ teaspoon each salt and pepper.
Add onion to stockpot; cook and stir 5 to 8 minutes or until onion is tender. Stir in tomatoes and wine. Return beef to stockpot; bring to a boil. Reduce heat; cover tightly and simmer 2 to 2½ hours or until beef is fork-tender.
Remove beef; keep warm. Skim fat from cooking liquid. Bring to a boil. Cook, uncovered, 5 to 7 minutes or until slightly thickened, stirring occasionally. Season with salt and pepper, as desired.
Serve short ribs with sauce and polenta or pasta, if desired.
Serves 4 to 6.
— Recipe from The Beef Checkoff
BRAISED CHICKEN WITH GARLIC AND WHITE WINE
2 3½-pound whole chickens, each cut into 8 pieces
Salt and pepper
5 whole heads of garlic, cloves separated (about 70), unpeeled
6 tablespoons extra-virgin olive oil, divided
2 cups dry white wine
6 very large fresh thyme sprigs
Trim excess fat off chicken. Sprinkle chicken with salt and pepper. Lightly smash garlic cloves just to flatten slightly, leaving peel attached and cloves as whole as possible.
Heat 4 tablespoons extra-virgin olive oil in heavy large pot over medium-high heat. Working in 2 batches, add chicken and cook until brown on all sides, about 12 minutes per batch. Transfer chicken to plate. Add remaining 2 tablespoons olive oil and garlic to pot. Stir until golden brown, about 4 minutes. Add wine and thyme; bring to boil. Return chicken to pot. Reduce heat to medium, cover, and simmer until chicken is cooked through, moving chicken pieces from top to bottom every 5 minutes (sauce will not cover chicken), about 20 minutes. Season to taste with salt and pepper.
Transfer chicken to platter. Spoon garlic cloves around chicken and drizzle sauce over.
Serves 8.
— Recipe from Bon Appetit
BRAISED CHICKEN WITH MUSHROOMS AND ALMONDS
Extra-virgin olive oil
8 chicken thighs
Kosher salt
½ pound pancetta, cut into ½-inch dice
2 large onions, julienned
Pinch crushed red pepper flakes
4 cloves garlic, smashed
2 pounds assorted mushrooms, such as shiitake, oyster or cremini, cleaned and sliced
2 cups dry white wine
4 to 6 cups chicken stock
1 bundle thyme
4 bay leaves
½ cup whole blanched almonds, toasted
Coat a large, wide, deep pan with olive oil and bring to a high heat. Pat the chicken skin dry with paper towels and season generously with salt. Add chicken skin side down to the pan. You should hear a big sizzle as the thighs hit the pan. Do not try to move the chicken; the skin will stick to the bottom of the pan and will unstick when it is ready. (If the pan is smoking excessively, turn the burner down and continue to cook.) When the skin is brown and crispy, turn the chicken over and brown it on the other side. Remove the chicken from the pan and reserve.
Lower the heat if you have not already done so and ditch most of the excess fat. Add the pancetta and brown. When the pancetta has started to get brown and crispy, add the onions. Season with salt and crushed red pepper and sweat over medium heat for 7 to 8 minutes. Add the garlic and cook for another 1 to 2 minutes. Add the mushrooms, season with salt and saute for 3 to 4 minutes, or until they release their juices. Add the wine and reduce by half.
Return the chicken to the pan. Add chicken stock to almost cover the chicken. Add the thyme and bay leaves. Bring to a boil and reduce to a simmer. Simmer the chicken for 30 to 35 minutes. Add more chicken stock, if needed.
While the chicken is cooking, puree the almonds in the food processor. Drizzle in a little olive oil while the machine is running to make this a loose paste. Season with salt and reserve.
Once the chicken has cooked for 30 to 35 minutes, remove it from the pan and reserve. Taste the sauce for seasoning and stir in the almond puree. Bring to a boil and reduce to a simmer to thicken the sauce, if needed. (The almond puree will help thicken sauce and to make it very rich.)
Serve the chicken over your favorite green vegetable. Spoon the mushroom-almond sauce over and garnish with chopped chives.
Serves 4 to 6.
— Recipe from Anne Burrell and the Food Network
Contact reporter Heidi Knapp Rinella at hrinella@reviewjournal.com or 72-383-0474.