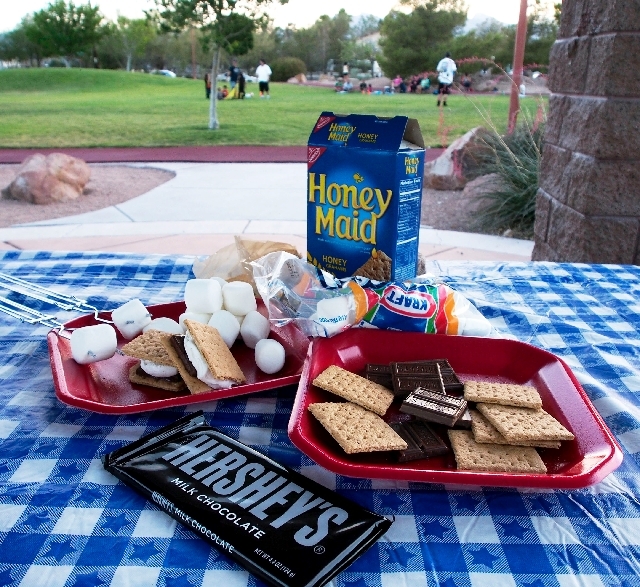 What do ice cream, frozen waffles, cocoa, coffee, vodka, cookies for humans, cookies for dogs, protein bars, granola bars, chewing gum, candy sprinkles, Pop Tarts and the Dairy Queen Blizzard have in common?
They are — or at least have been — available in s'mores flavor.
Yes, s'mores, that humble treat of childhood, made by toasting a marshmallow and squishing it between two graham crackers, one of them topped with part of a Hershey's candy bar.
Why, you might wonder, is the s'mores flavor so enduring?
"I think it's because of everybody's childhood," said Timothy Radigan, executive chef at The Pub at Monte Carlo. "Everybody seems to have been on a camping trip, everybody seems to have made s'mores when they were a kid."
"I think it has a lot to do with nostalgia, taking it back to when you were a kid at the campfire, smells and family and fresh air and all that stuff," said K.C. Fazel, executive chef at Tender Steak and Seafood at the Luxor. "It kind of brings back those memories."
And, as you might expect from the rapidly spreading s'mores storm, Las Vegas chefs offer numerous riffs on the treat.
At N9NE Steakhouse at the Palms, they've been on the menu since the restaurant opened in late 2001, which begs the question of whether N9NE was the first to bring tabletop s'mores to the Strip.
"That I can't answer, but we really made it popular," executive chef Barry Dakake said.
N9NE's original owners were from Chicago, Dakake said, and introduced the s'mores in their restaurant there.
"It was a smash hit," he said. "It brings back memories of when you were a kid, when you see that fire."
Dakake said they've always been a top seller at his restaurant, the chocolate ganache-topped graham crackers just the vehicle for the housemade marshmallows toasted at the table on a mini-hibachi.
"It's the customers' favorite dessert," he said.
But after years of serving them, he decided it was time for a change.
"I was sick of looking at the plain, regular marshmallows," Dakake said. "Why did it take me so long to change this damned thing?"
The old version's still available, but the new one has housemade marshmallows in three flavors — strawberry, orange-Grand Marnier and amaretto-hazelnut.
"They're cool," Dakake said. "The hazelnut are shaped like little pyramids. The orange ones are shaped like little hockey pucks," while the strawberry marshmallows are in a half-dome shape. And while the original graham crackers were covered with milk-chocolate ganache, the new version offers milk, white and dark chocolate, he said.
Housemade marshmallows in three flavors — lemon, cinnamon-sugar and traditional — also are served as part of the s'mores that have been on the menu for several years at The Pub at Monte Carlo, Radigan said.
"I love the lemon," he said. "I love the cinnamon-sugar. Everybody seems to pick one and make it their favorite."
As at N9NE, the s'mores at The Pub at Monte Carlo are toasted at the table, over a miniature hibachi-type grill fired by gel fuel.
"Everybody seems to be exceptionally surprised, just because of the whole elaborate presentation that goes out," Radigan said.
Tender takes a slightly different approach, with its presentation involving a graham-cracker cake and a warm brownie along with the housemade marshmallows.
"It kind of gives you the s'more flashback," Fazel said. "We just wanted to take a new approach on an old idea — how we can incorporate that into a restaurant setting. We toast the marshmallows in the back, so they can be browned just right. It's not messy, and something you can share. It's one of our more popular desserts."
Dakake clearly thinks the popularity will endure.
"It's a very, very fun thing for us to do," he said. "People say, 'This brings me back to my childhood days, when we went camping.' Especially when somebody sits in a booth, it's like they're in their own personal campground."
You know the classic recipe. Here are some ideas for improving on that, just in time for the Fourth of July.
HOMEMADE MARSHMALLOWS
3 ¼-ounce envelopes unflavored powdered gelatin
2 cups granulated sugar
1 cup light corn syrup
¼ teaspoon kosher salt
1 teaspoon pure vanilla extract
1 cup plus 2 tablespoons confectioners' sugar; more as needed
Pour ¾ cup cold water into the bowl of a stand mixer. Sprinkle the gelatin over the water. Attach the bowl to the mixer and fit it with the whisk attachment.
Clip a candy thermometer to a 3-quart saucepan; don't let the tip of the thermometer touch the bottom of the pan. In the saucepan, boil the sugar, corn syrup, salt and ¾ cup water over medium heat without stirring until it reaches 235 degrees, about 10 minutes. With the mixer on low speed, pour the hot sugar mixture into the gelatin in a slow, thin stream.
Add the vanilla, carefully increase the speed to high and beat until the mixture has thickened and cooled, about 5 minutes (the bottom of the bowl should be just warm to the touch). Line a 9-by-13-inch pan with foil, leaving an overhang on two sides. Sift 1 tablespoon of the confectioners' sugar into the bottom of the pan, then pour the marshmallow mixture into the pan and sift another 1 tablespoon confectioners' sugar on top. Let sit at room temperature until set, at least 2 hours.
Use the foil overhang to lift the marshmallow from the pan. Using a knife that has been dipped in cold water, cut along the edge of the marshmallow to release it from the foil. Transfer to a cutting board and remove the foil. Put the remaining 1 cup confectioners' sugar in a medium bowl. Cut the marshmallow into cubes (you will need to continue to dip the knife in cold water as you cut the marshmallows). The marshmallows will be very sticky; dip the cut edges in the confectioners' sugar to make them easier to handle. As you work, toss a few cubes at a time in the sugar to coat, then shake in a strainer to remove the excess.
— Recipe from Fine Cooking
OLD-FASHIONED GRAHAM CRACKERS
WITH TURBINADO SUGAR
2¼ cups all-purpose flour
¼ cup whole wheat flour
¼ teaspoon ground cinnamon
¼ teaspoon baking soda
¼ teaspoon table salt
½ cup (1 stick) unsalted butter, at room temperature
½ cup granulated sugar
¼ cup packed light brown sugar
¼ cup turbinado sugar
In a medium bowl, whisk together the flours, cinnamon, baking soda and salt.
In the bowl of an electric mixer fitted with the paddle attachment, beat together the butter, granulated sugar and brown sugar on medium speed until the mixture is light yellow and fluffy, about 3 minutes. With the mixer on low speed, add a third of the flour mixture and ¼ cup water. Mix for 30 seconds. Repeat this step once, then add the remaining flour mixture and mix just to combine. Turn the dough out onto a lightly floured surface and knead by hand for about 10 seconds. Divide the dough in half. Cover one half with plastic wrap and set it aside.
Place a sheet of parchment paper on a work surface, put the dough on the parchment and top with a second sheet of parchment. Roll the dough out to about 1/8-inch thickness. Repeat with the second half of the dough. Chill the dough for about 30 minutes.
Preheat oven to 350 degrees.
Remove the dough from the refrigerator, peel off both sheets of parchment and put the dough on a cutting board. Using a square cookie cutter, cut out the dough, rerolling the scraps twice. Put the cookies on a parchment paper-lined baking sheet. Sprinkle each cookie with a pinch of turbinado sugar.
Bake, rotating the sheet halfway through, for 20 minutes, or until the cookies are a dark golden color around the edges. Let cool for 10 minutes, then transfer to a wire rack to cool completely.
Makes 24.
— Recipe from Epicurious.com
CRISTINA COOKS BAKED
S'MORES COOKIE BARS
½ cup butter, room temperature
¼ cup brown sugar
½ cup sugar
1 large egg
1 teaspoon vanilla extract
1 1/3 cups all-purpose flour
¾ cup graham cracker crumbs (approximately 7 full graham crackers)
1 teaspoon baking powder
¼ teaspoon salt
2 5-ounce dark chocolate bars
1½ cups marshmallow creme or fluff (not melted marshmallows)
Preheat oven to 350 degrees. Grease an 8-inch-square baking pan.
In a large bowl, cream together butter and sugar until light. Beat in egg and vanilla. In a small bowl, whisk together flour, graham cracker crumbs, baking powder and salt. Add to butter mixture and mix at low speed until combined. Divide dough in half and press half of the dough into an even layer on the bottom of the prepared pan. Place chocolate bars over the dough, breaking, if necessary, to get a single layer no more than ¼ inch thick. Spread marshmallow creme evenly over the chocolate layer.
Place remaining dough in a single layer on top of the fluff. (This is most easily done by putting the second half of the dough in a gallon-sized freezer bag. Use your palms to flatten it out, then use scissors to cut down both long sides of the bag so it will open book-style. Open it up carefully, and the dough will stick to one side of the bag. Then place the bag, dough side down, on the other three layers. Peel the bag up and spread the dough where it is uneven.
Bake for 30 to 35 minutes, or until lightly browned. Cool completely before cutting into bars.
Makes 16.
— Recipe from the Hallmark Channel
CARAMEL NECTARINE S'MORES
2 nectarines
1 tablespoon vegetable oil
Sugar
Ground ginger
Graham cracker squares
Grilled marshmallows
Caramel sauce
Peel and thickly slice 2 ripe nectarines. Brush with vegetable oil and sprinkle with sugar and ground ginger to taste. Grill nectarines over direct medium heat until soft and caramelized, about 8 minutes. Stack with remaining ingredients.
— Recipe from Parade magazine
PEANUT BUTTER BANANA S'MORES
2 bananas
1 tablespoon vegetable oil
Sugar cookies
Grilled marshmallows
1 tablespoon peanut butter
Cut bananas in half lengthwise, leaving skin on. Brush with oil. Grill, cut side down, over direct medium-low heat, 2 to 3 minutes. Peel and cut each piece into thirds. Stack with remaining ingredients.
— Recipe from Parade magazine
STRAWBERRY AND CHOCOLATE S'MORES
8 strawberries
Confectioner's sugar
Chocolate chip cookies
Grilled marshmallows
Milk chocolate squares
Soak 2 wooden skewers in water, 30 minutes. Halve strawberries and toss with confectioners' sugar. Thread on skewers and grill over direct medium-low heat, turning often, 5 minutes. Take strawberries off skewers and slice. Stack with remaining ingredients.
— Recipe from Parade magazine
Contact reporter Heidi Knapp Rinella at hrinella@reviewjournal.com or 702-383-0474.