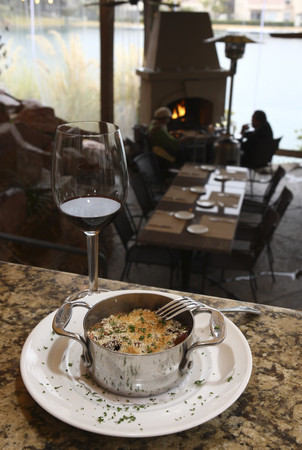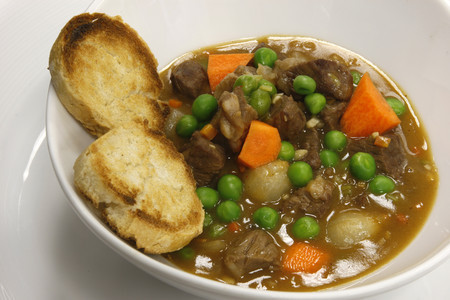 We don't exactly get bone-chillingly cold weather here in Southern Nevada, unless we head up Mount Charleston. But the bleak dampness we've had lately has come close enough to prompt valley residents to pine for warm, hearty foods, and stews definitely do the job.
The very definition of a stew?
"It has to be a rich, stick-to-your-bones kind of thing, especially for this season," said Jean Paul Labadie, executive chef at Marche Bacchus.
Labadie said stews originally were a way to use less-desirable cuts of meat and vegetables.
"You'd kill your goat or lamb or your cow and leave the rougher cuts for this purpose," he said. "That will feed your family."
And true to its origins, a stew still is best if it's made from less-expensive cuts of meat. One of the secrets is "making sure the meat is not too lean," said Philip Pinkney, academic director of the International Culinary School in Henderson. "It should have really good connective tissue — good chuck or a good piece of Boston butt."
"You need meat with fat, because it cooks a long period of time and it tenderizes," said James McParland, chef/instructor at Le Cordon Bleu College of Culinary Arts Las Vegas. "Plus, you get the flavor from the fat."
Good stock also is essential, McParland noted. He said it's possible to buy good stocks, some of them organic, in local supermarkets. When buying, he advises checking to be sure the first ingredient isn't salt.
Pinkney said he generally uses homemade stock, but if he doesn't have any he'll use a miso broth, or he'll add miso to a less-than-flavorful stock.
But cooking methods also are essential in making a successful stew.
"You want to caramelize the meat," McParland said, then leave the particles on the bottom of the pan and deglaze by adding liquid. "That's where you get the flavor from the meat." He suggests sauteing the vegetables, too.
Pinkney usually uses onions, celery and garlic.
Labadie said he uses carrots, onions and potatoes in nearly all of his stews.
"The potatoes, as they break down, help thicken the stew and absorb so much flavor from the wine and tomatoes — little pockets of flavor, and that helps with the richness," he said.
Tomatoes and wine add acidity, Labadie said, which livens up the stew.
Pinkney said he prefers to cook his stews in a slow cooker, preparing the meat and vegetables in the morning.
"What I like is leaving in the morning and coming back to that welcoming smell," he said.
Or, you could try McParland's means to the same end.
"My son just made Julia Child's version of beef bourguignon for dinner," he said. "It's comfort food. When is comfort food never good?"
CASSOULET
1 pound dried white beans
3 onions, diced
Salt and black pepper
1/2 pound bacon, cut into lardoons (narrow strips)
3 tablespoons oil
1 pound lamb shoulder or leg, cut in 1-inch cubes
1 pound garlic pork sausage, sliced
2 ribs celery, diced
1 carrot, diced
1 tablespoon garlic
1 cup diced tomato
2 tablespoons tomato paste
1 cup red wine
2 quarts beef or chicken broth
1 teaspoon thyme
3 bay leaves
4 confit duck legs, picked into bite-sized pieces
2 cups bread crumbs
Cover the beans with water by at least 3 inches and soak overnight.
Drain beans. Put beans and one of the onions in a pot and cover with water; cook until tender. Season with salt to taste just before the beans are done (the skins will get tough if you season too early). Drain and set aside.
Render the fat from the bacon in a large, heavy pot and add the oil. Season the lamb with salt and pepper and add to pot along with sausage; brown on all sides. Stir in vegetables and cook for about 5 minutes. Add the tomato paste and cook for another 3 minutes; then pour in wine. Reduce by half. Mix in the broth and herbs and cook for 2 hours. Add the beans and duck, check for seasoning and cook until everything is tender.
The stew should be very moist but not soupy. Check again for seasoning and transfer to individual serving pots. Top with bread crumbs and cook under broiler or in oven until crumbs are brown.
Serves 6 to 8.
— Recipe from chef Jean Paul Labadie, Marche Bacchus
LE CORDON BLEU BEEF STEW
1 pound beef, preferably chuck
31/2 to 4 tablespoons all-purpose flour
2 tablespoons blended oil or olive oil or salad oil
1/3 cup carrots in small dice
1/3 cup celery in small dice
1 tablespoon minced garlic
3/4 cup onion cut in small dice
3 tablespoons tomato puree
1/2 quart veal or beef stock
1/4 bay leaf
1/8 teaspoon dried thyme
1/2 cup pearl onions, blanched (optional)
1/2 cup peas (optional)
Cut meat in 1-inch cubes, coat with flour and sear in hot oven-going pot. Add oil and stir to make roux.
Add carrots, celery, garlic and diced onion; saute for a few minutes. Add tomato puree and stock; bring mixture to a boil and reduce it until it's thick enough to coat the back of a spoon. Add herbs, cover and place in an oven preheated to 350 degrees until the meat is tender, about 11/2 hours.
Add onions and peas, if using, about 10 minutes before you're going to serve the stew and cook just until warmed through.
Serves 2 to 3.
— Recipe from chef James McParland, Le Cordon Blue College of Culinary Arts Las Vegas
CALABRIAN PORK STOVETOP STEW
1 pound lean pork cut in 3/4-inch cubes (loin, fresh leg, tenderloin)
2 tablespoons flour
1 tablespoon olive oil
3 medium carrots, pared and sliced 1/2 inch thick
2 cloves garlic, crushed
1 141/2-ounce can tomatoes, diced
1/2 cup dry red wine
1 teaspoon Italian seasoning
1/4 teaspoon salt
1/4 teaspoon black pepper
1/8 teaspoon cayenne
1 cup pearl onions, frozen
1 cup green beans, frozen
Toss pork cubes with flour and brown in hot oil in large skillet until browned. Remove pork and reserve. Saute carrots in skillet, adding more olive oil if necessary, until brightly colored; return pork to pan with garlic, tomatoes, wine, Italian seasoning, salt, pepper and cayenne. Bring to a boil, lower heat, cover and simmer for 20 minutes, until pork and carrots are tender. Stir in onions and green beans and heat through, about 5 to 7 minutes.
Serve over hot noodles or polenta, accompanied with crusty Italian bread and a tossed green salad.
Serves 4.
— Recipe from the National Pork Board
Contact reporter Heidi Knapp Rinella at hrinella@ reviewjournal.com or 702-383-0474.