Where to eat during Golden Knights games at T-Mobile Arena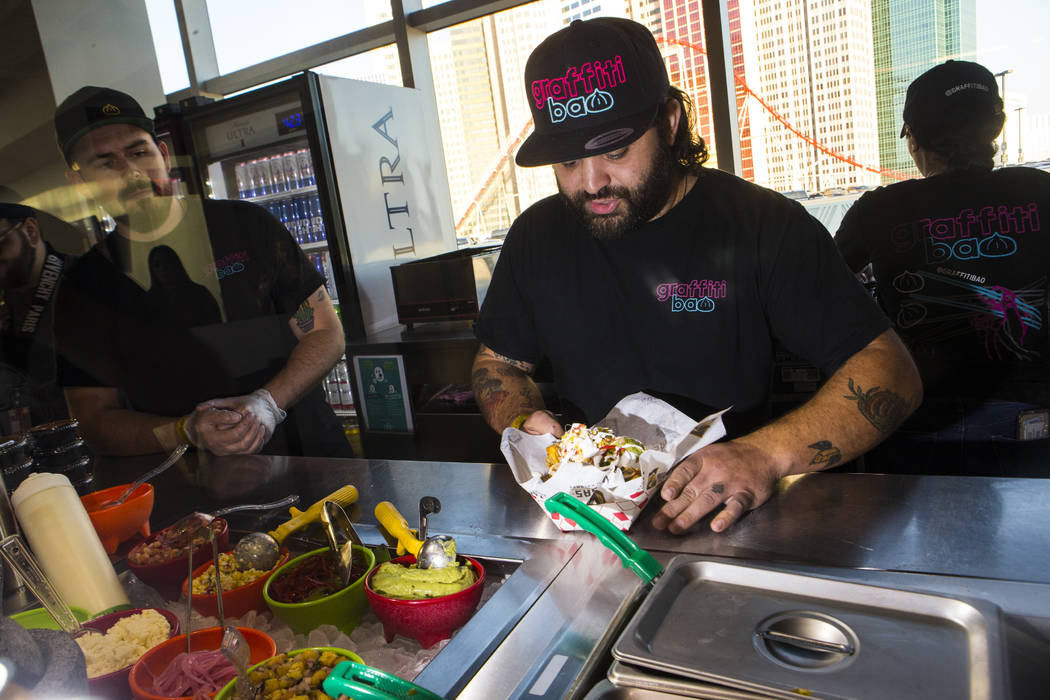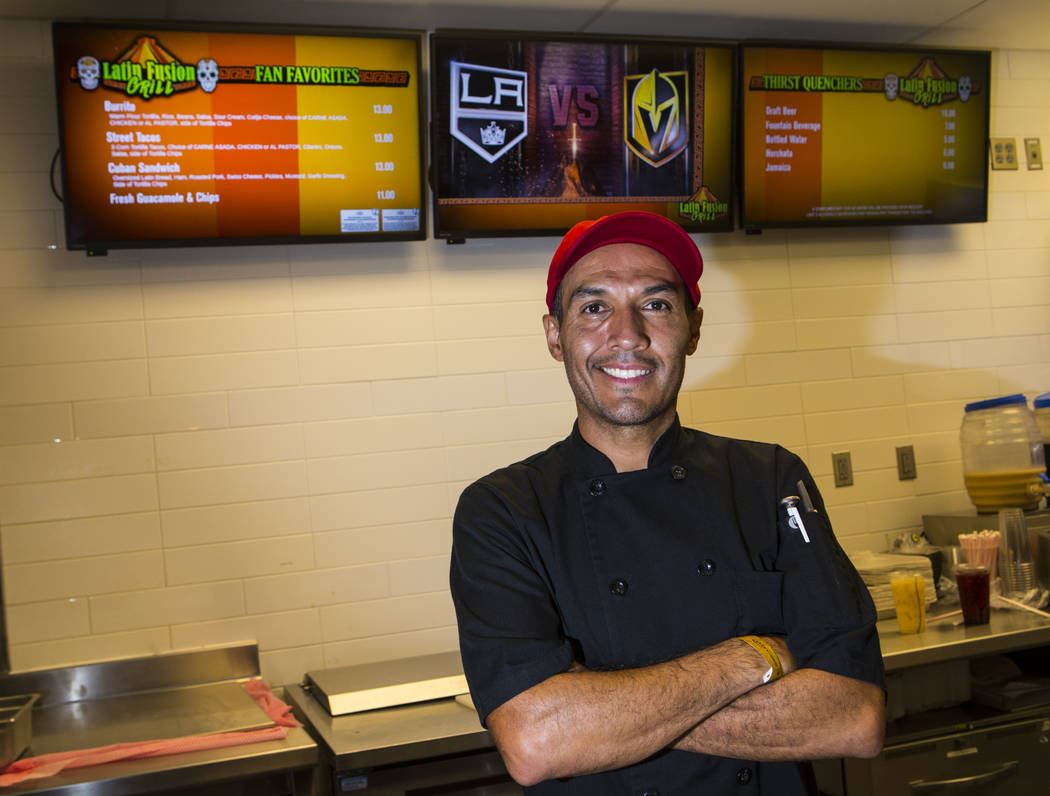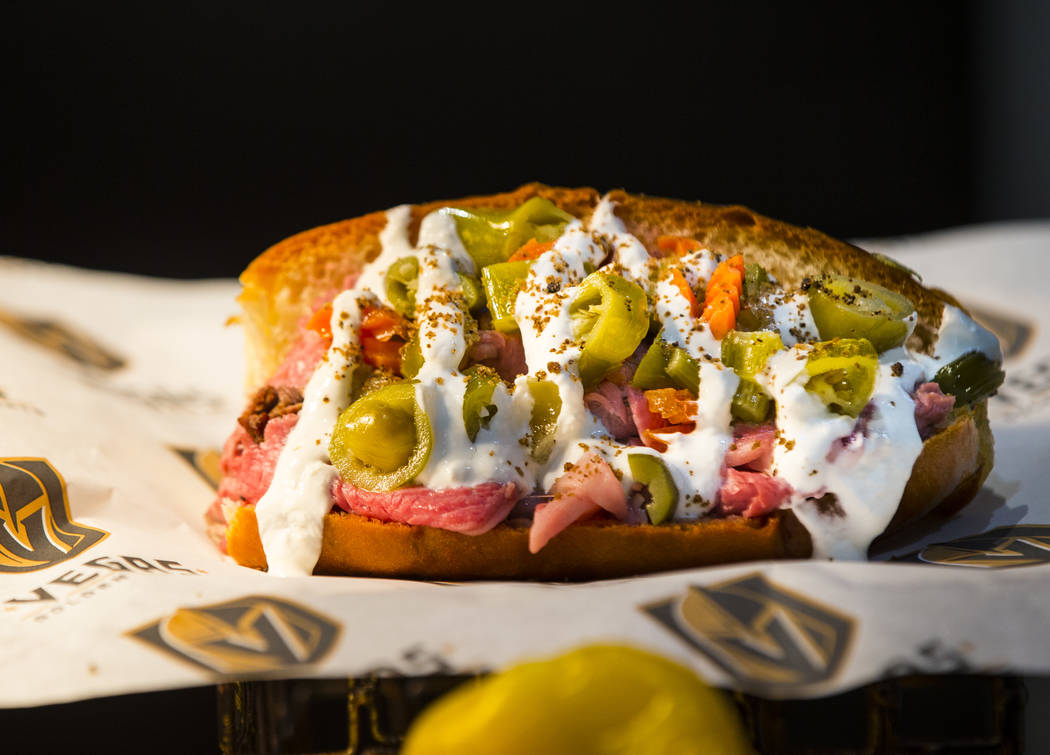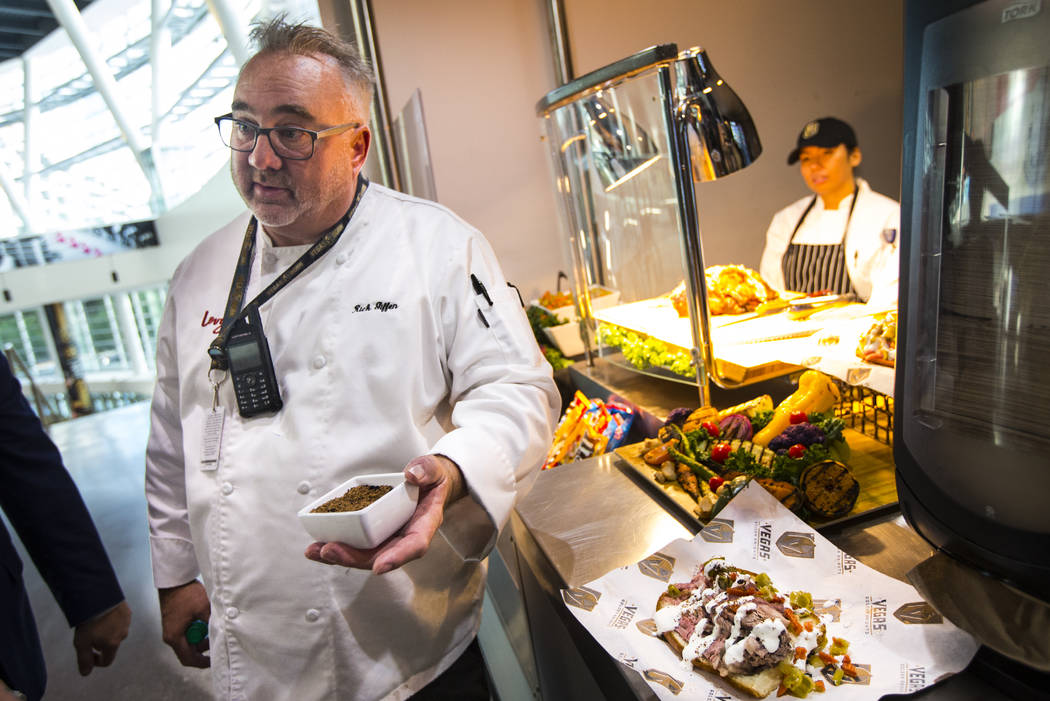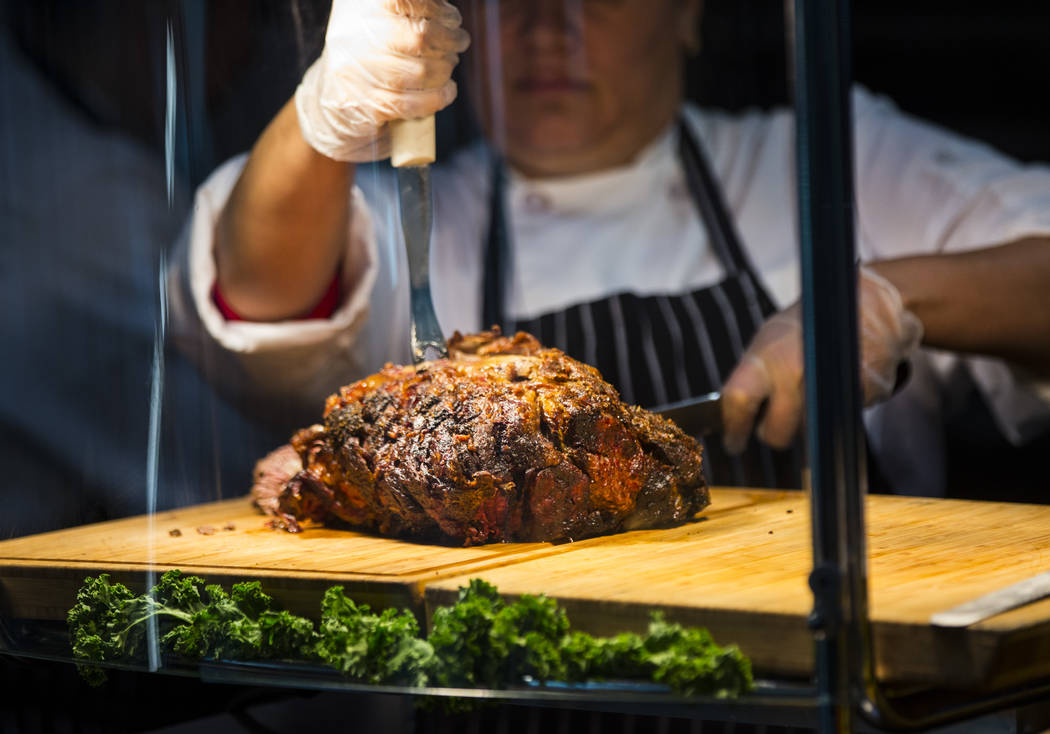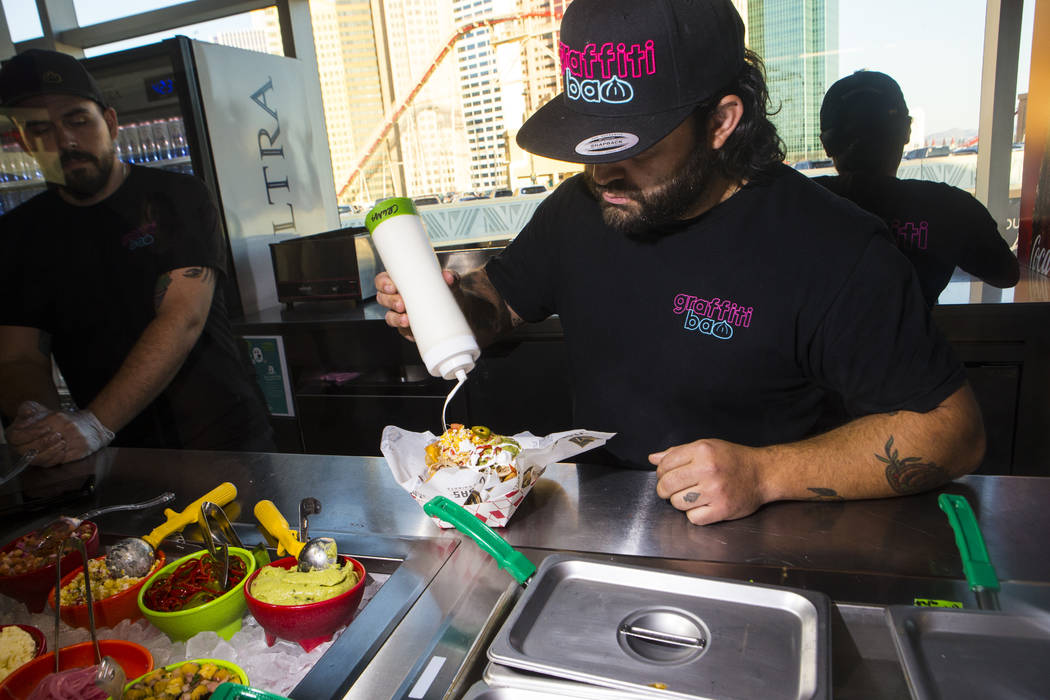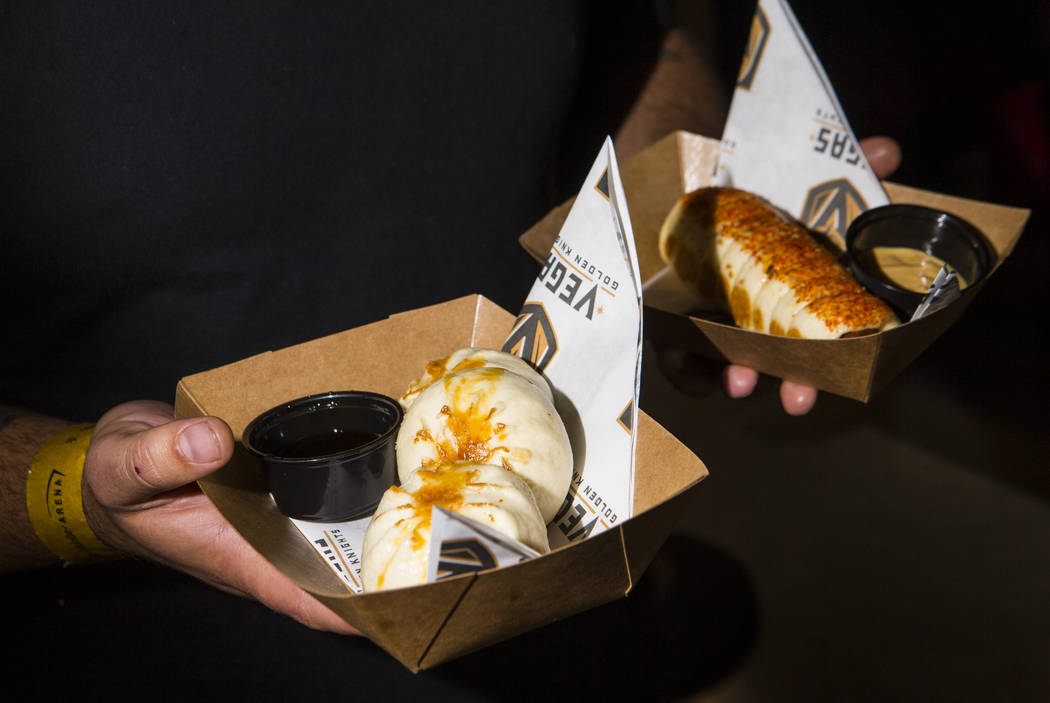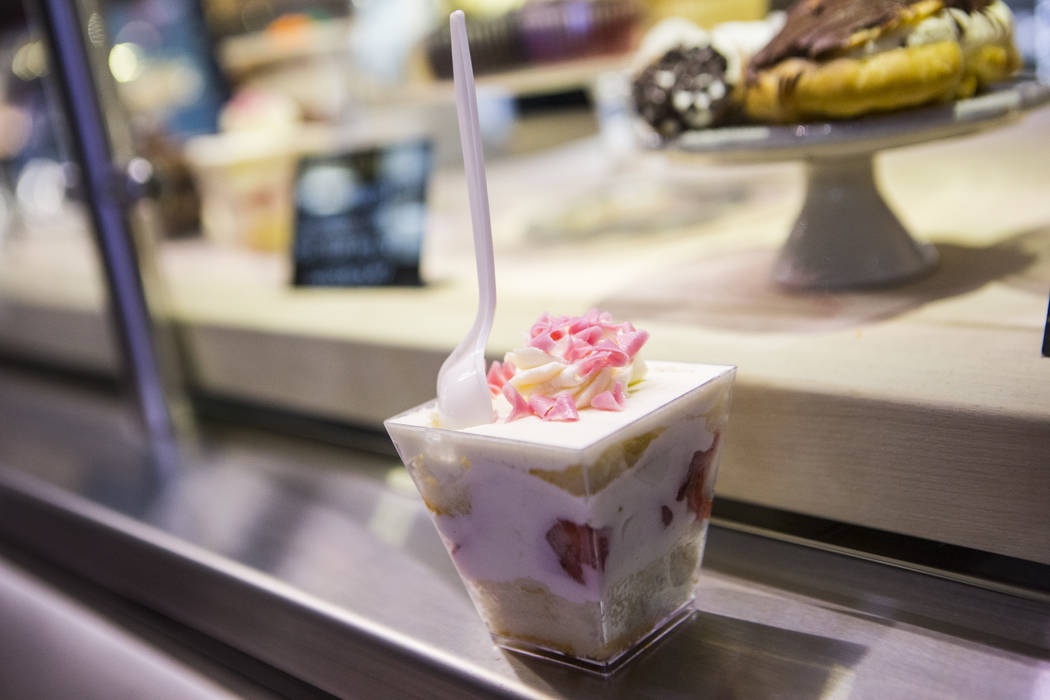 The Vegas Golden Knights kick off their third season Wednesday night at T-Mobile Arena. And if you arrive at a game hungry this season, you're in luck. Arena food has come a long way since dinner at a sporting event meant plain old hot dogs and soft pretzels, and the offerings at a Knights game are better, and more varied, than ever. Take, for example, the first food concessions most Knights fans encounter as they arrive on T-Mobile Arena's Main Concourse.
Game-night revelers using the escalators or stairs to the left as they enter from Toshiba Plaza immediately encounter a cart serving freshly carved prime rib on lobster rolls with giardiniera and horseradish sauce. It's been one of the arena's most popular items since the very first Golden Knights game in 2017.
"We've tried to change it," says Senior Executive Chef Jesus Cibrian, "and we (always) go back to prime rib, because people keep asking us. It's a Vegas thing."
Guests who ascend on the right as they enter the building are greeted by another side of the local culinary scene as they reach the top of the stairs: Graffiti Bao. Created specifically for the arena by local chef Marc Marrone, this home-grown cart debuted near the end of last season with a handful of sweet and savory bao buns, and has added a new item (the bao dog) for the 2019-20 season.
That contrast of a classic Vegas concept verses cutting-edge local cuisine is the first hint that there's a lot of food to explore in The Fortress. And Levy, which oversees all the arena food and beverage, has brought in some new options this year. From traditional to modern, casual to classy, there's something for just about everyone.
Home-grown grub
A Vegas-born team deserves Vegas-born food, and Levy has assembled a great collection of partners that represent the city's exploding off-Strip dining scene.
"We wanted our guests to have locally-rooted businesses and food choices," T-Mobile Arena executive chef Rick Giffen says.
The sushi burrito craze that's spread across the valley over the past few years is represented by local chain Tail & Fin, which you'll find on both the main and upper concourses this year. Mimmo Ferraro, whose family had been serving Las Vegas at their eponymous restaurant since 1985, is a regular fixture in the two Pizza Forte concessions outside of Sections 1 and 11. And local barbecue heavyweights Rollin' Smoke are excited to bring their Arkansas-style brisket, pork, chicken and hot links back to Section 10 for their third season, along with some newly added chicken tenders.
"We have so many regulars at this point, it's nice to see familiar faces and people that come to the arena that know you and love you," says Rollin' Smoke manager Karina Litvak. "It's such a good feeling."
The new NHL season is also bringing new local restaurants to the lineup. The success of Marrone's bao stand has inspired him to open a second concept on the upper concourse called Pina Nachos, offering "a higher-end fun take on street tacos that we kind of put in a nacho form." The departure of Chronic Taco during the off-season opened a space for Chinatown's Latin Fusion Grill. And the 60-year-old local institution Freed's Bakery will provide desserts such as eclairs, cannoli, chip chillers, cake cups, and, as soon as the new "donut robot" is delivered, hot made-to-order donuts.
"Freed's is an institution out here, and we're excited to be part of the Vegas Golden Knights family at T-Mobile," says Freed's' Anthony Fusco. "It's great because it's kind of old Vegas-new Vegas."
National brands
A few spots around the arena will be recognizable to fans from around the country. Danny Meyer's New York-based chain Shake Shack anchors the large main concourse concession area behind the goal that Marc-Andre Fleury defends in the first and third periods (at the intersection of Section 1 and Section 20).
Anheuser Busch infuses its beers into everything from bratwurst to cheese sauce at several spots that bear the names of its products. They include the exclusive Bud Light Lounge, open only to fans seated in Sections 15 and 16, as well as the more populist Michelob Ultra Pure Gold (Section 17) and Golden Road Gastropub (Section 3), both open to everyone. The latter is home to one of the most outrageous hot dogs available anywhere: a half-pound bacon-wrapped frank topped with crispy shrimp, pico de gallo and Kilt Lifter chipotle barbecue sauce.
For those who want a more traditional dog, Pink's Hot Dogs has outposts outside of Sections 9, 12 and 219 where they offer their signature chili cheese dogs alongside other traditional game-day fare such as pretzels, popcorn or loaded chips.
Contact Al Mancini at amancini @reviewjournal.com. Follow @AlManciniVegas on Twitter.
Munchies meet merch
You have your Knights jersey, your Knights hat, your Knights scarf, your gold sequined blazer and a few other pieces of merch you plucked from your game-day wardrobe. You're also going to want to represent when buying dinner. Here are a few spots where you can add some commemorative cuisine to your evening at The Fortress.
Neon Eats (Sections 208 and 221): The concession stands at the far end of the Upper Concourse will be rolling out some special player-inspired dishes all season long.
"We kind of went after the team players and said, 'Hey what did you grow up with?' " T-Mobile executive chef Rick Giffen explains. "When you got home from school and you were starving, what was it your mom made you?"
First up are the Marche-burger (poutine-topped cheeseburger) and Fleury fries (poutine-topped french fries), which debut at Wednesday night's home opener against the Sharks. Look for Nate Schmidt's venison dog later in the season.
Freed's (Section 15): The giant cake with the Knights logo is for display only. But the Freed's team will offer some exclusive vanilla, chocolate and red velvet cupcakes and shortbread cookies decorated in team colors or similarly Knights themed.
Michelob Ultra Pure Gold (Section 17): The beef tenderloin shrimp sword offered at this concession is basically a "surf and turf" style kebab skewer made with filet and shrimp in a Michelob Ultra honey-citrus glaze. It's inspiration was a Golden Knights weapon.
"The GM came down and said, 'Chef I want a sword of some sort,' " Giffen says. "So there it is."
And if you look at it from the right angle, it does look like a sword lodged in a an onion "stone."
Living large
Las Vegas is known for finding ways to make everyone feel like a high roller, even those who aren't working with unlimited budgets. T-Mobile Arena is no exception. So while the private luxury suites, with catering, are the gold standard for viewing Golden Knights games, there are some other dining options that pamper a select group of guests who aren't quite privy to that experience.
Goose Island Lounge: Located on Suite Level of the arena, this lounge is only accessible to suite guests and a select group who are seated in the Loge Level Boxes (not to be confused with the 100-level loge seats). If you're lucky enough to have a ticket in Loge Level Boxes, you'll have your choice of an unlimited buffet that changes twice during each game, an a la carte menu with wait service and one of three rolling dessert carts.
Hyde Lounge: Located at the top of the arena in the Tower Level, the Hyde Lounge has select table with views of the action that operate under a nightclub's "bottle service" model, which means that on crowded evenings, you have to guarantee a minimum purchase to reserve them. But the bar area is open to everyone, and it's become a popular spot for revelers who want to have a shot or two between periods, or who are more interested in socializing than in watching the game. Bar patrons also have access to a menu of flatbreads, sliders and small bites.
Glass seats: If you're lucky enough to have tickets on, or very close to, the ice (within the first two rows), you'll also have access to exclusive Event Level lounges that include a complimentary buffet.