Where to find tender, flavorful dry-aged beef in Las Vegas
Updated June 28, 2017 - 11:49 am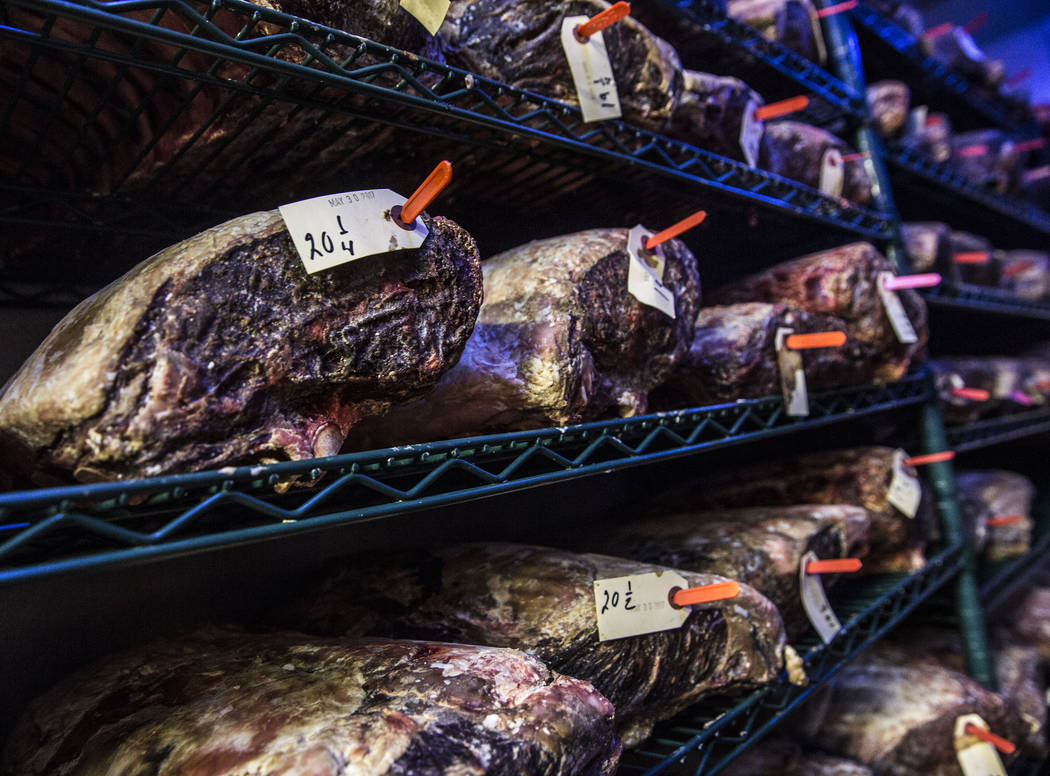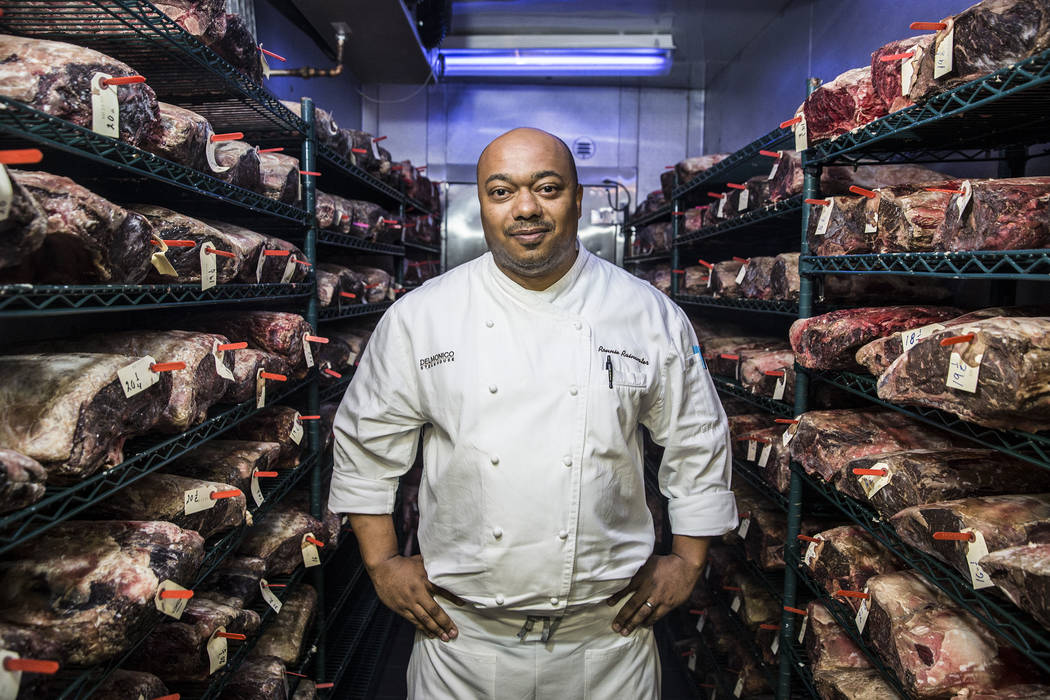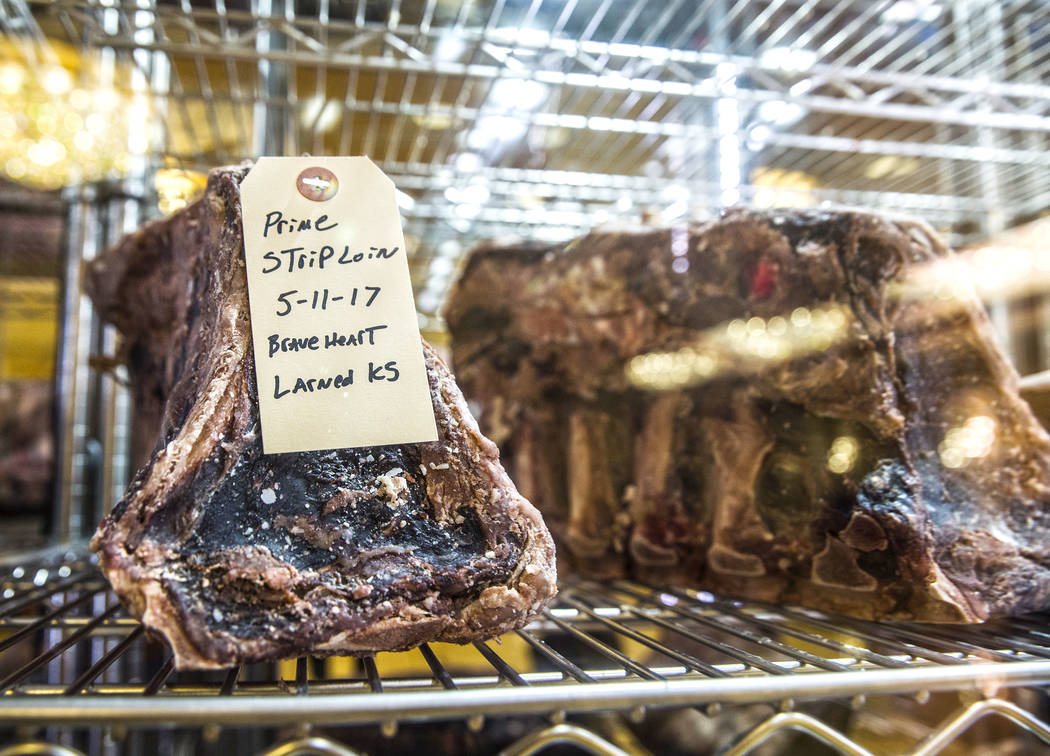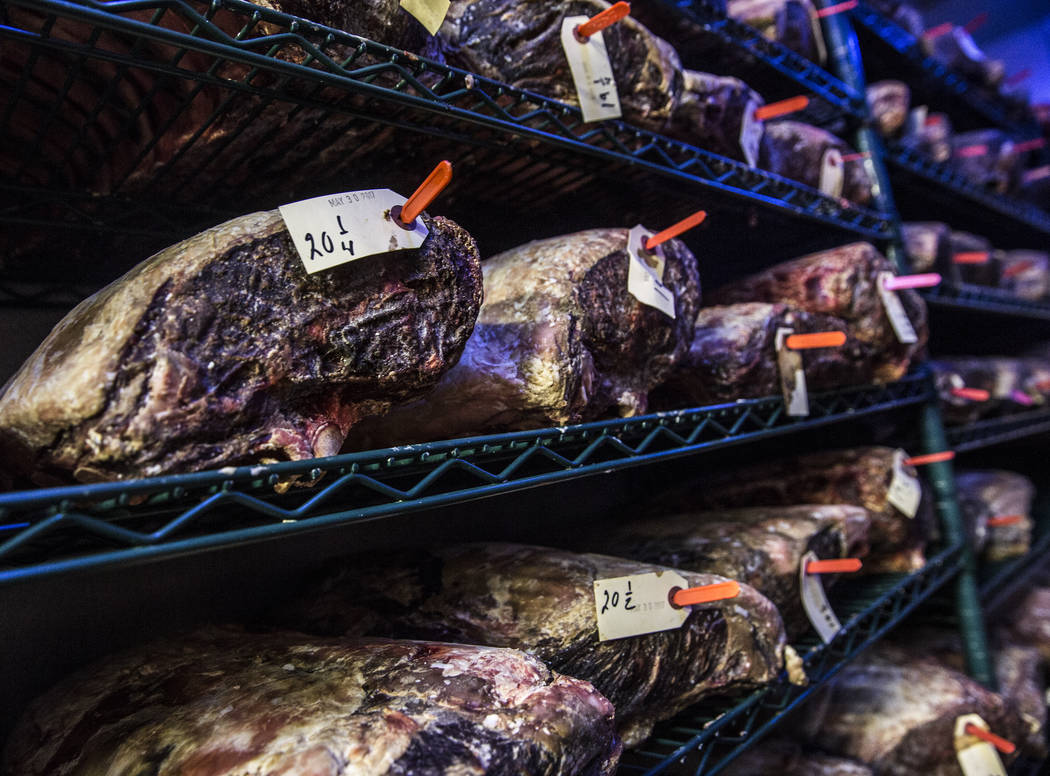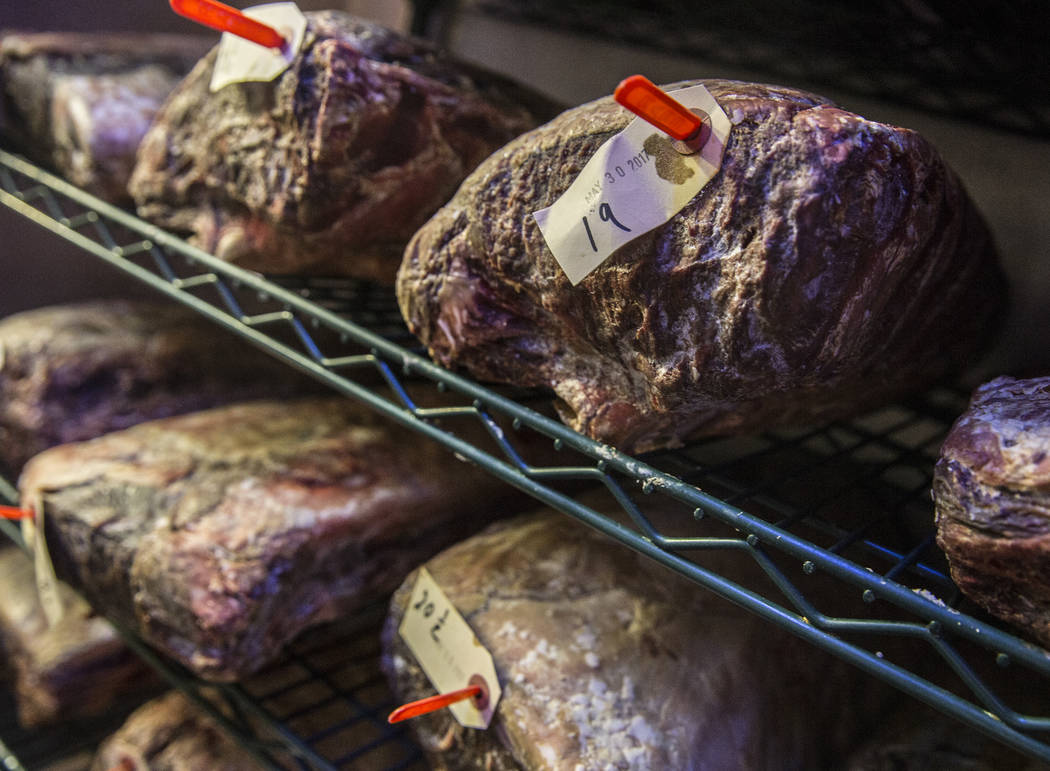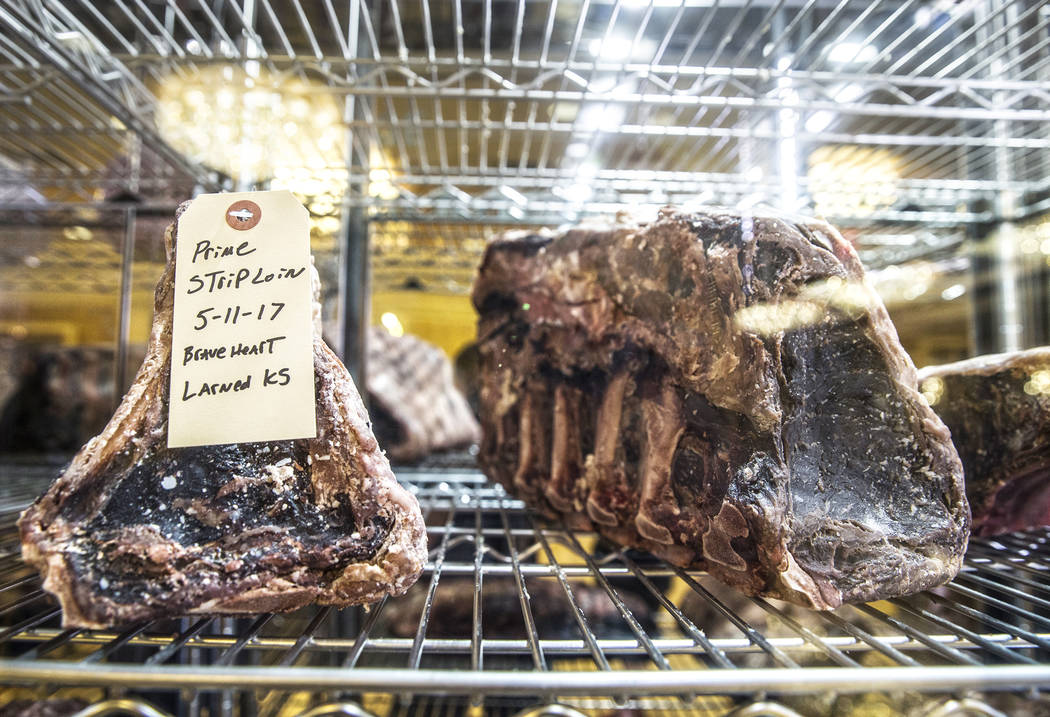 Taken individually, they are two words that do not sound like hallmarks of a great steak dinner: "dry" and "aged." And the first time you see a really old cut of beef that's been sitting uncovered for weeks in an aging room, the outer crust of mold it accumulates can be a little off-putting.
The mold is removed before cooking. And much like fine wines and great cheese, aging can be what differentiates a good steak from a truly superb one.
The science
Aging beef has long been known to tenderize the meat naturally.
"The natural enzymes go to work on the connective tissues," explains Steve Young of Westgate's Edge Steakhouse, which ages its steak on property in a room that can be viewed from the casino's restaurant promenade. "You have to break down that tough muscle, which is going to result in much, much more tender steak."
But this tenderizing process has a secondary effect. Over time, water evaporates from the cut, reducing its size and concentrating its flavor. Some choose to avoid this pricey loss by vacuum-sealing the beef in plastic, or wet-aging, allowing it to tenderize without changing its size or taste. Others "dry-age" the beef in the open, accepting the pricey loss of volume in exchange for more flavorful meat.
The art
Deciding how long to allow that flavor to concentrate is an art form. And every chef or butcher who oversees such an operation has his or her own recipe. It starts with selecting the right piece of meat.
At Edge Steakhouse, one of the few Las Vegas restaurants that dry-ages their own meat, Young starts with Black Angus cattle from Kansas. For cuts, he says he wants "bone-in, lots of fat — so we chose the rib-eye and the strip loin."
The temperature and humidity level in the aging room are key to the process. But perhaps the largest decision every chef must make is just how long to rest a cut and achieve the flavor customers will like. The industry norm ranges from 14 to 42 days. But there are no hard-and-fast rules.
"When we were playing around with aging, we'd look at it and say 'Are we still in that zone?' explains Ronnie Rainwater of Emeril's Delmonico Steakhouse. "Are we getting enough? Or when it's slower, is it too much?"
He and his team finally arrived on a formula that starts with beef that has been wet-aged for three to four weeks to tenderize it. From there, it hits his dry-aging room for another two to three weeks.
"As far as flavor profile, I think what we do provides good tenderness, a kind of nuttiness, but not funky (and) gamey," he explains. "It's still beefy. You still get that juiciness, that tenderness and that slight nuttiness. But as it goes longer, you kind of get more blue cheese-like characteristics. And not everyone likes blue cheese."
After cutting down individual steaks, Rainwater's team adds Creole seasoning before cooking, then finishes the meat with butter.
At Edge, Young opts to go longer, shooting for 40 days. He also stores a block of Himalayan sea salt in the room to gradually deep-season the meat.
"I like Himalayan salt on steaks — I prefer that over some sea salts, actually," Young explains. "And I think by putting that block in there, it just slowly, very, very slowly, deteriorates … it's kind of a slow permeation of the beef while it's sitting there for 40 days."
Pushing the limits
In the meantime, over at Carnevino, Mario Batali's team is pushing the upper limits of aging in both time and sheer volume. They have a massive facility on Dean Martin Drive that brings in 8,000 to 10,000 pounds of beef a week, and ages it far longer than anywhere in town — among the longest times in the nation. Most steaks spend 90 to 120 days there before they hit your plate.
"We found after 45 days (the taste) plateaued until you hit that 90 day mark," Nicole Brisson says of their decision. "Then you start to really see more flavor development — those gorgonzola cheese characteristics. Those truffle flavors. A lot more complex meat flavors instead of just kind of a little bit of funk. Now you have slightly more funk, the enzymes broke it down over time. It was more palatable (after 90 days). You could cut the steak much more easily. And there's a nice crimson kind of color to the center of the steak. You knew you were getting a real dry-aged steak."
But Brisson and her team don't stop there. Once their beef gets to the 90- to 120-day mark, they scout out cuts of optimum size and marbling to place into a special part of the aging room.
"Then we hand-select maybe one or two cuts out of 2,000 pounds and … those live there until six or nine months (total aging). And that's where our 'riserva' program stems from."
Those "riserva" cuts aren't on the menu and are available only by special advance request if something in that room meets very exacting criteria. "Then, if that cut is gone and we don't have any more," Brisson notes, "it's not available."
Go ahead and try it
Given the wide variance in flavors dry aging can achieve, it's important newcomers explore slowly. If you've never tried it, perhaps sample a friend's first, or experiment with something that's been aged for a short period.
Some restaurants, like Edge, offer beef tastings with dry-aged samples alongside more familiar ones. But be warned: Once you acquire a taste for dry-aging, it can be a pricey habit to maintain.
What's your beef?
When ordering a steak in a good restaurant, you should always ask about the aging. Here are the basic rules of thumb.
■ Unaged: This steak is exactly the way it came from the cow. That's not necessarily a bad thing, as long as it comes from a cow that's been raised properly. The catch is, many of the things that make a cow tastier also tend to make it less tender, and vice versa. So there can be a natural trade-off of flavor for tenderness.
■ Wet-aged: When aging occurs in vacuum-sealed plastic, natural enzymes break down connective tissue and tenderize the beef. All moisture is sealed in (hence, the term "wet"). So there's no change in flavor, weight or cost per pound. The longer a piece of beef is wet-aged, the tenderer it becomes.
■ Dry-aged: When unpackaged meat ages under the right conditions, those same enzymes do the same job of tenderizing. But simultaneously, moisture evaporates, the beef shrinks, and flavors become more concentrated. The longer dry-aging occurs, the costlier the weight loss, and the greater the change in flavor.
The more extensive (and therefore expensive) the aging process, the more excited a restaurant usually is to tell you about it. Details will likely be mentioned on the menu. And whether they are or not, your server should be able and happy to speak to you about it.
"If you're doing that, you want to showcase that," Delmonico's Ronnie Rainwater says of pricey aging processes. "So we're going to talk about that on our menu. We're gonna talk about that with our service staff, because our service staff is our liaison to the guests. And it's kind of a unique, special thing. You're not cooking steak at home that's dry aged … it's not something that's common."
Contact Al Mancini at amancini@reviewjournal.com or 702-387-5250. Follow @AlManciniVegas on Twitter.