Who will taste victory in final round of Sommelier Smackdown?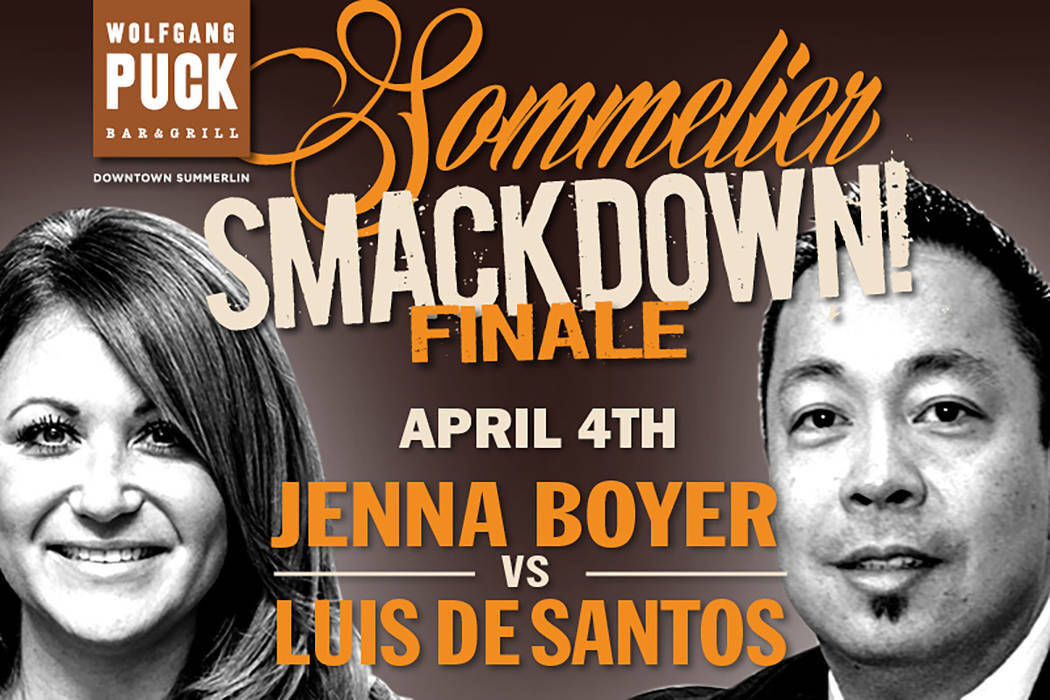 Luis de Santos of Southern Glazer's Wine & Spirits will battle Jenna Boyer of Lupo on Tuesday in the final round of the Sommelier Smackdown at Downtown Summerlin's Wolfgang Puck Bar & Grill.
De Santos earned his way to the finals by defeating Jasmine's Sarah Pollock on March 7, when two of his three choices were deemed to pair better with the dinner served to guests. Boyer was the winner of the first battle of the series, taking down Jason Jones of the Wolfgang Puck Bar & Grill in the MGM Grand in a similar split decision. And while the competition may be friendly, they're both ferocious competitors.
"I feel good, I feel strong," Boyer says. "I have good pairings up my sleeve, and I'm ready to crush Mr. de Santos."
De Santos says he feels like an underdog since he's been concentrating on sake rather than wine for the past few years. (Ironically, his decision to offer a sake pairing in the last round resulted in his only losing course of the night.) Nonetheless, he insists that's a "nice" position to be in. And he warns his opponent not to be too confident: "I'm gonna be creeping up (on you) there."
Their choices for the final battle won't be revealed until that evening. But we know the contest's menu. The first course will be a market spring vegetable salad with shrimp, upland cress and lemon vinaigrette. That will be followed by English pea agnolotti with spring onions and pea tendrils. The evening's entrée will be a duet of lamb with potato puree and mustard greens. Dessert will be dark chocolate cremeux, praline crumble and salted caramel ice cream.
You'll have to attend the dinner to see each sommelier's pairing choices. Boyer is promising a "fun, youthful fresh pairing for spring," while de Santos will only say his selections will be "about discovery and mystery." If you want to sample them and vote on the winner, tickets are $89.29 each, including tax and gratuity, and available online at Eventbrite.
Contact Al Mancini at amancini@reviewjournal.com. Follow @AlManciniVegas on Twitter.