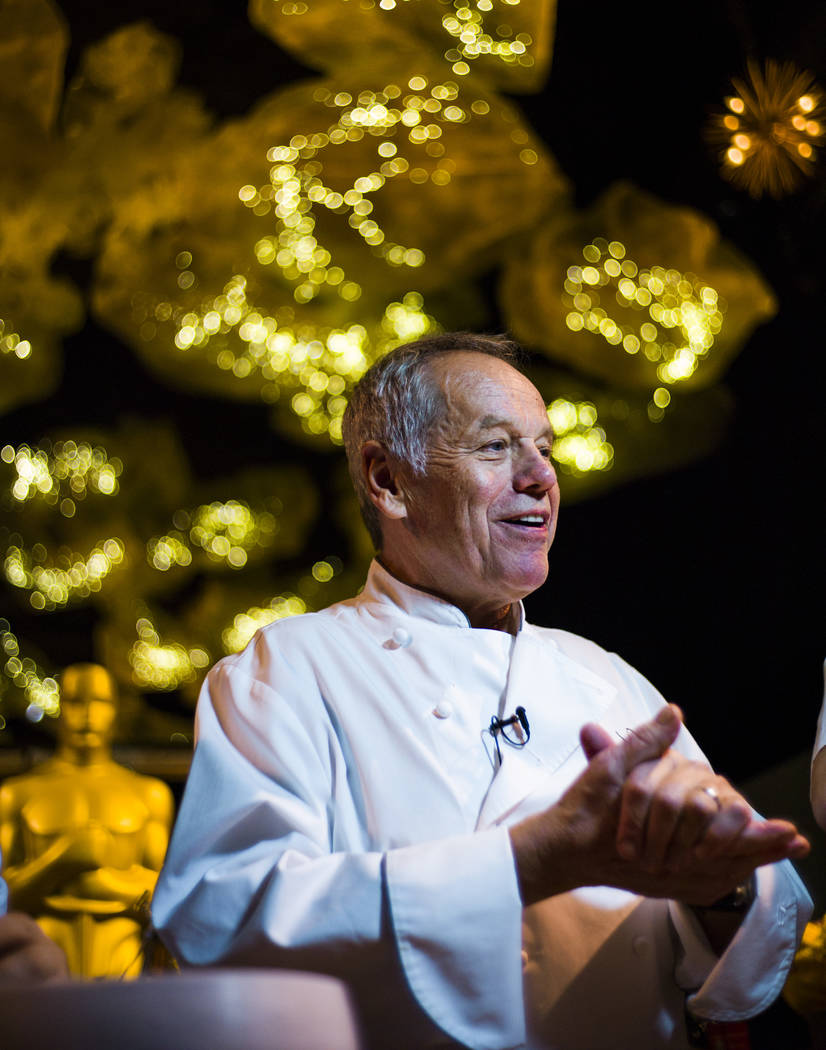 Wolfgang Puck said Tuesday the Bellagio is the perfect location for him to move his landmark restaurant Spago.
"A lot of people came to us over the years and said 'Why don't you put Spago in my hotel?' " Puck said, a day after the news broke that the restaurant would move from The Forum Shops at Caesars, where it opened in 1992. (The Puck organization is working to secure a new lease at The Forum Shops that would allow it to develop a new, casual concept in a portion of the current Spago location.)
"We heard that many times. (But) it had to be the right partnership. We already work with MGM (Resorts International) at MGM Grand and at Mandalay Bay. And we know all the people who run the company. So it makes it an easy choice for us to be in their No. 1 property."
The new Spago is expected to open next spring in the current location of Todd English's Olives, which Puck described as "a great space."
"You're not in the casino," he said of the location in the shopping promenade at Bellagio. "We've always said you have to get interested in the community where you are if you want the community to get interested in you. So there is valet parking right outside of our restaurant, on the side (of the hotel) so you don't have to come through the casino. Then, we sit right above the lagoon, with the water (show) there. So to me, it's really an iconic place at the Bellagio."
At the same time, Spago will be part of Bellagio's restaurant portfolio, which will give him a level of access to hotel guests he didn't receive at the Forum Shops, which are separate from Caesars Palace.
"Caesars is different," he explained, "because they have their restaurants in their hotel. So it's not very often, almost never, that a Caesars host is going to bring a high roller to Spago. They bring them to their restaurants."
Puck said he's not worried about competing with the Bellagio's all-star roster of chefs. "Our brand, Spago, is known worldwide. Julian (Serrano) and Jean-Georges (Vongerichten) are very talented chefs. But their brands are not known as well as ours. … So we're not going in and saying 'OK, we are the little brother.' I feel we are at the same level they are as far as quality and service. And on top of that, we are better known."
Over 25 years in Las Vegas, Spago has changed with the times while never forgetting its roots. Puck said he'll continue that at the new locale.
"There will be tradition and innovation," he said of the menu in the earliest stages of planning. "There will be some of the traditional dishes, just like in Beverly Hills. We actually have Wienerschnitzel still on the menu (there). We make our smoked salmon pizza and our truffle pizza. And then, we're also going to have newer things."
Puck said he'll miss regularly serving Caesars Palace headliners such as Celine Dion and Elton John, before joking, "Well, I see them in L.A., so it's OK," and noting that "Bellagio always gets celebrities to stay and to gamble there."
He got a bit more serious, however, as he reflected on the place the Forum Shops location has played in Las Vegas history.
"We're going to miss it," he said. "We were the first really iconic place in Vegas. We always had the big customers. I remember when we started out, Frank Sinatra used to play there and we used to send him bread and charcuterie up to his room, because we were the only ones that had the good bread."
Nonetheless, he says he learned one important lesson 20 years ago, when he moved L.A.'s Spago from West Hollywood to Beverly Hills: "Change is good."
Contact Al Mancini at amancini @reviewjournal.com. Follow @AlManciniVegas on Twitter.