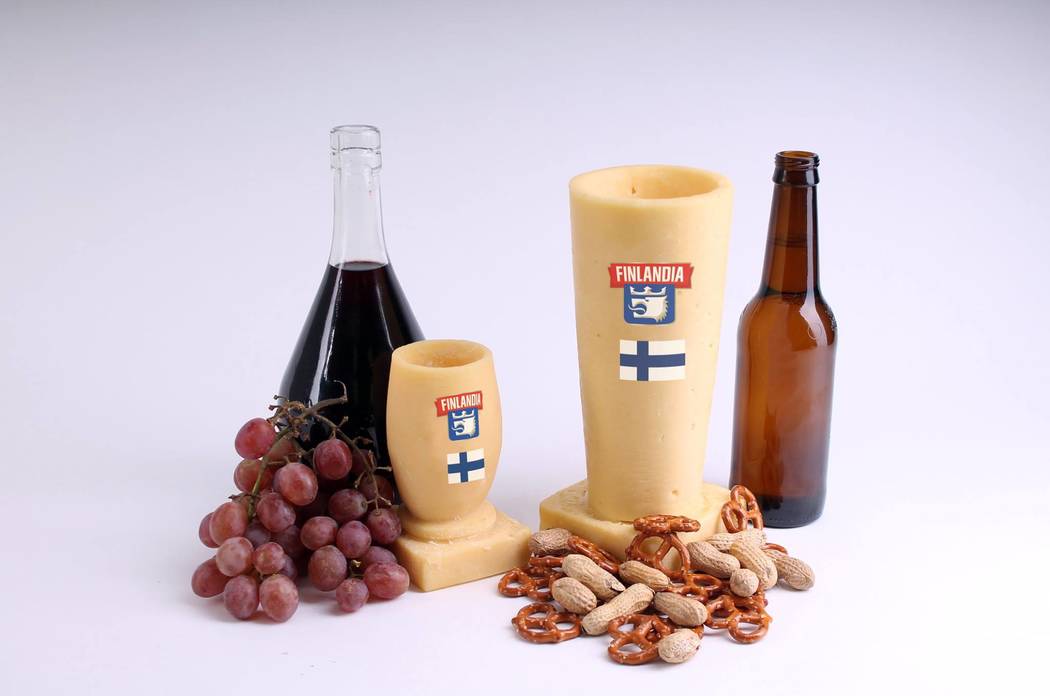 Wine by way of cheese
You'll need to act fast to score this unique — if cheesy — gift, because it's available only through 8:59 p.m. Wednesday (Pacific). It's a wine glass and a beer mug from Finlandia, made entirely of cheese. The mug is made of Gruyere, the "glass" from Gouda, and they commemorate the 100th anniversary of Finland. They're $5,000 for the pair; send a direct message via facebook.com/finlandiacheese. Or you could get a couple of blocks of cheese and start whittling.
Lotus of Siam
The new Lotus of Siam location at 620 E. Flamingo Road, where Roy's Restaurant used to be, will open to the public on Monday. It will serve lunch from 11 a.m. to 2:30 p.m. weekdays and dinner from 5:30 to 10 p.m. nightly.
Pig roast a nod to NFR
Head chef Ronnie Rainwater of Delmonico Steakhouse at The Venetian has brought in a whole 208-pound pig for menu specials to be offered Thursday and Friday to celebrate the National Finals Rodeo. While select parts (like the head and the hooves) have been reserved for special customers, six dishes utilizing tasso (ham), sausage, pastrami, pate, blade steak and bacon made from the hog will be on the menu those two nights, with ribs expected to be used in the days to follow.
Cut-rate cognac
If one last meal isn't enough to get you into Alize before it closes on New Year's Eve, how about some incredible specials on cognac and Armagnac? Everything from chef Andre Rochat'slegendary collection of rare and pricey libations is being offered at half off, including prized selections such as Hardy Perfection. With prices as high as $900 a glass, those 50 percent discounts add up quickly.
Guest chefs
Graham Elliot joins Shawn McClain at his Aria flagship Sage this week to collaborate on a special five-course dinner. Available through Saturday, it's priced at $95, plus $60 for an optional wine pairing.
Harvest's Roy Ellamar will welcome Michael and Bryan Voltaggio as the latest participants in his ongoing Snack Wagon Takeover series this Friday night.
Downtown Italian
Chef James Trees, who worked at Bradley Ogden, Alize and Michael Mina, is expected open his eagerly awaited Arts District Italian restaurant Esther's Kitchen by the end of December. Sonia Stelea of San Francisco's Michelin-starred Cotagna, will head the bar program.
Sightings
Nick Carter of the Backstreet Boys and wife Lauren Kitt at La Cave Wine & Food Hideaway at Wynn Las Vegas. Former NFL player Keyshawn Johnson and NBA player Chris Bosh in separate parties at Topgolf at MGM Grand. Actress Abigail Breslin at Beauty & Essex at The Cosmopolitan of Las Vegas.
Have an item for Kitchen Confidante? Email hrinella@reviewjournal.com or amancini@reviewjournal.com.