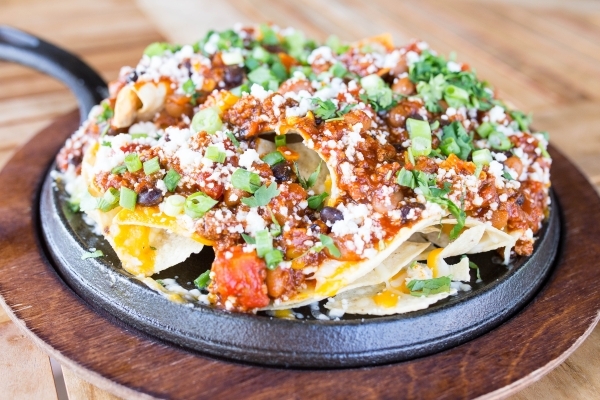 Family Fun
Load up the kids and head to Nacho Daddy to help celebrate the restaurant's fifth anniversary. For five hours (2 to 7 p.m.) on five days (Monday through Dec. 18), Nacho Daddy is offering $5 food and drink specials at its three locations. The first Nacho Daddy opened at 9925 S. Eastern Ave. in Henderson in 2010, followed by the branch at 113 N. Fourth St. in 2013 and one at 9560 W. Sahara Ave. last year.
Date Night
Live sitar music will set the mood for A Night to Remember, an Indian wine-pairing dinner Friday at Origin India Restaurant and Bar, 4480 Paradise Road. Seatings are at 6:30 and 8:30 p.m. for the three-course dinner (entree choices: Chicken Dahiwala, Lamb Nihari or Saag Paneer), which is $40 per person. Call 702-327-5074 or email desiree@originindiarestaurant.com.
For Friends
Do you have a friend who's getting interested in cooking? Get him or her a ticket to the competition that will decide the United States' representation in the Bocuse d'Or in Lyon, France, in 2017. The nearly five-hour competition, hosted by Daniel Boulud, Thomas Keller and Jerome Bocuse, will begin at 9 a.m. Thursday in the ballroom at The Venetian, 3355 Las Vegas Blvd. South. For tickets, which are $25, or $40 for VIP, visit www.venetian.com/ultimo.
Solo Trip
Buffets tend to be a good choice for solo diners, and here's a way to expand a buffet experience: Until Dec. 20, the Bacchanal Buffet at Caesars Palace, 3570 Las Vegas Blvd. South, will feature dishes from four of the resort's restaurants: Gordon Ramsay Pub & Grill, Payard Patisserie & Bistro, Old Homestead Steakhouse and Rao's. They'll be available during the dinner service.
Something New
You'll have something to tell your friends about if you're one of the first walk-in guests Tuesday at Mr. Chow at Caesars Palace, 3570 Las Vegas Blvd. South. The restaurant, beloved of celebrities since its birth in London in 1968 and known for its raucous atmosphere and Beijing-based cuisine, won't start taking reservations until Dec. 19.