For Super Bowl, clubs turn to classic maneuver
February 5, 2016 - 11:18 pm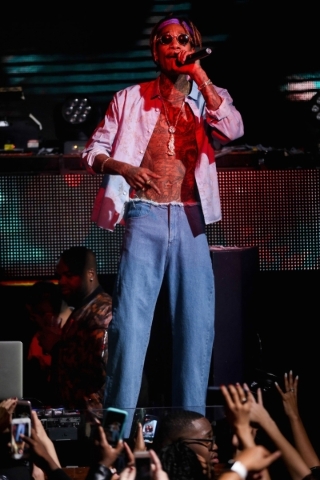 Nightclubs are running the world's oldest trick play to draw men offside to Super Bowl viewing parties: T&A.
"Cleats and Cleavage" is the name of the game at the Sayers Club in the SLS hotel on Sunday afternoon, and the "celebrity" host there will be Ava Fiore, a social media model who enjoys posing with Cool Whip-esque coverings, instead of clothes.
Hyde Bellagio is complementing its Super Bowl viewing with prancing-around by female models belonging to an organization called Bikini Brigade LA.
Other clubs are opening in the middle of the day Sunday to run their own Super Bowl viewing party events: Surrender in Encore, Tao in The Venetian, Marquee Dayclub Dome in The Cosmopolitan, Lavo in Palazzo and Vinyl in the Hard Rock Hotel.
A typical viewing party ticket is priced similar to Marquee Dayclub's Dome, where $65 covers all-you-can-drink; $65 is all-you-can-eat; and $125 promises the gluttonous all-you-can-eat-and-drink.
Pregame Saturday
You can see how swiftly Las Vegas has moved away from staging international dance DJs and toward American hip-hop stars by considering these famous names clubs hired to perform on Saturday.
* Marijuana rapper Wiz Khalifa will DJ under the name Daddy Kat at Tao as part of his new residency there.
* Rapper Big Boi (from Outkast) performs at Surrender as part of his new residency.
* Hip-hop's Ne-Yo (who grew up partly in Las Vegas) sings at Chateau nightclub in the Paris hotel.
* J. Cole raps at Light nightclub in Mandalay Bay.
* Big Sean raps at Drai's nightclub in The Cromwell hotel.
* Hip-hop's DJ Khaled performs at Marquee nightclub in The Cosmopolitan hotel.
* As for electronic dance music, Kaskade DJs at XS nightclub in the Wynn.
* Dimitri Vegas & Like Mike DJ today at Omnia nightclub in Caesars Palace.
* Pauly D DJs in Vanity nightclub in the Hard Rock Hotel.
* And Tiesto DJs at Hakkasan nightclub in the MGM.
* Oh, you like rock? Debauched rocker Andrew W.K. DJs after 11 p.m. at the Hard Rock Hotel Center Bar.
* Reality stars are all but over, but Scott Disick, of the Kardashian monolith, DJs at 1 Oak nightclub in The Mirage hotel.
• And more T&A peeks in at Hyde Bellagio with hosting duties by UFC Octagon Girls Arianny Celeste, Brittney Palmer, Chrissy Blair and Vanessa Hanson joining that 30-model Bikini Brigade LA and UFC host Kenda Perez.
Meanwhile, a modeling agency of women (correct: a whole agency) hosts at the Bank nightclub in Bellagio.
This trend of hip-hop stars behind DJ booths heated up with Lil Jon and then Jermaine Dupri DJ gigs at XS quite a few years ago, then got fiery with Snoop Dogg a few years ago, but it has skyrocketed ever since Drai's reopened in The Cromwell and turned its 2015 into a lineup of Chris Brown, rappers and crews. (Future plays there Sunday.)
The Wiz residency
The past few years, rapper and pot ambassador Snoop launched a vibrant residency at club Tao, puffed up with rapping, DJing and dancing women.
This year, rapper and pot ambassador Wiz Khalifa has been headlining his own vibrant residency at Tao, puffed up with rapping, DJing and dancing women.
Saturday, Khalifa returns to Tao under the booth moniker DJ Daddy Kat.
Last year, Khalifa gave us a preview of his DJing skills by joining Snoop onstage at Tao. But hanging with Snoop isn't how his own residency came about, Wiz tells me.
"It was more of an idea I started, and then it just turned into something bigger," he says.
"I originally just started messing around with DJing, and wanting to play music. As time went on, my business mind kicked in, and we started doing parties at different clubs, and people were saying they were interested in booking me."
As you can see, Wiz will talk about creativity, but he doesn't hide his business sense. He also has been starring in behind-the-scenes YouTube videos. He basically defines them as commercial art.
"It started out as just fun," he says of his videos of home life, traveling and backstage talk. "But then I started seeing the benefits that were coming from it, and how much marketing and promotion and big things that were happening from it, so I kind of just kept it going."
— Doug Elfman can be reached at delfman@reviewjournal.com. He blogs at reviewjournal.com/elfman. On Twitter: @VegasAnonymous.